We don't have any really good comprehensive threads on T5HO lighting on NR, so I thought it was about time one got started.
I've been doing a lot of recent research on T5HO after buying a 24" 4x24w T5HO fixture from HelloLights.com at the incredible price of $100.
http://www.helloligh...A...D=1718&HS=1
One of the really cool things about T5HO is the endless bulb combinations that can be used to produce various lighting effects.
Below are some pics and bulb information from different NR members who are using T5HO.
Masterbuilder
30G Finnex – 24x18x16 Tank
Aquactinics TX5 T-5HO Light Fixture
Bulb Configuration:
ATI Aquablue
ATI Blue+
ATI Procolor
KZ Fiji Purple
ATI Blue+
Sac_State
75g Reef Ready Tank
8 bulb Tek Fixture
Bulb Used (configuration and brand unknown):
4 Actinic
2 75/25
2 Actinic Whites
chickendude10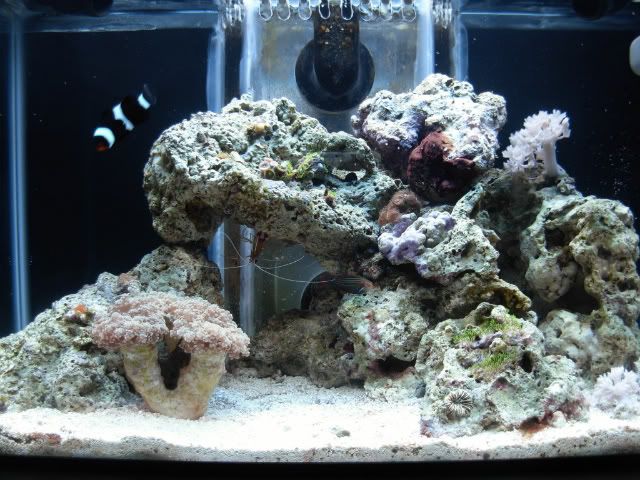 10g tank
Fishneedit 4x24w fixture
Bulbs Used:
2 ATI Blue+
1 ATI Aquablue
1 UVL Aquasun
SaltyVT
20L Tank
24" Tek T5 HO 4x24 unit
Bulb Configuration:
Actinic Plus
Aquablue
Aquablue
True Actinic
BKtomodachi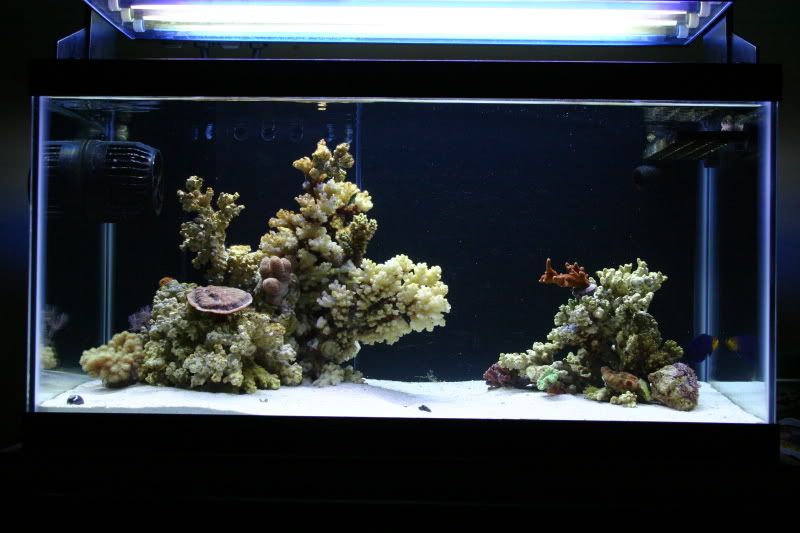 15L Tank
Tek 4x24w Fixture
Bulbs Used:
1x GE 6500K daylight
1x Giesemann Pure Actinic
1x UV Actinic White
1x ATI Blue Plus
Comment from BK on above bulb combo-- "For what its worth, I'm replacing the 6500K. The tank is just too yellow for my tastes, but not by much. I just want a bit more blue."
Phixion
30g Finnex Tank, 24w X 18L X 18h
4x24w T5HO fixture w/ moon LEDs built-in
UVL 75/25 14000K AquaBlue
UVL Super Actinic
ATI 12,000K Aquablue Special
ATI Blue+
GobyInPeace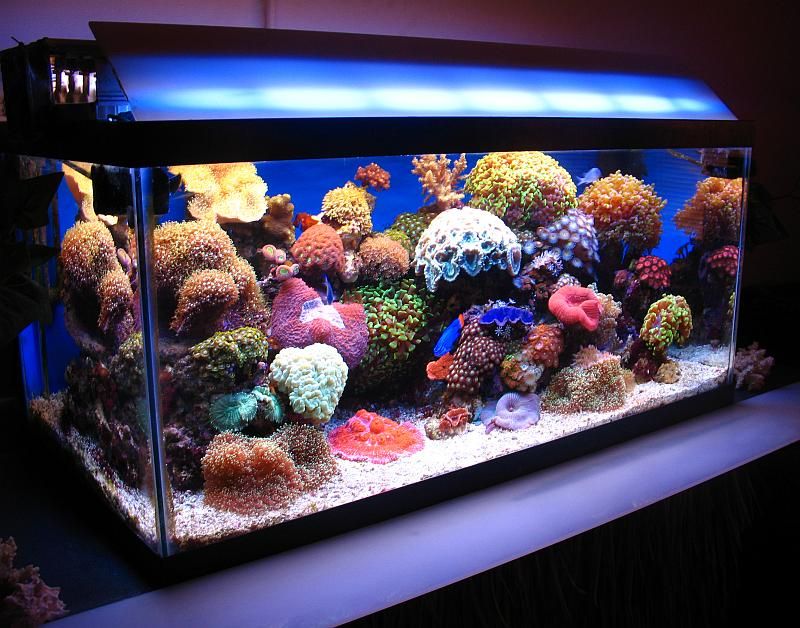 Tank: AGA 40 gallon breeder. Started 12/7/05.
Lighting: 4x39 watt T5s overdriven to 64 watts each. One of each: ATI Blue Plus, ATI Aqua Blue Special, UVL Superactinic, GE 6500K Daylight.
Wawawang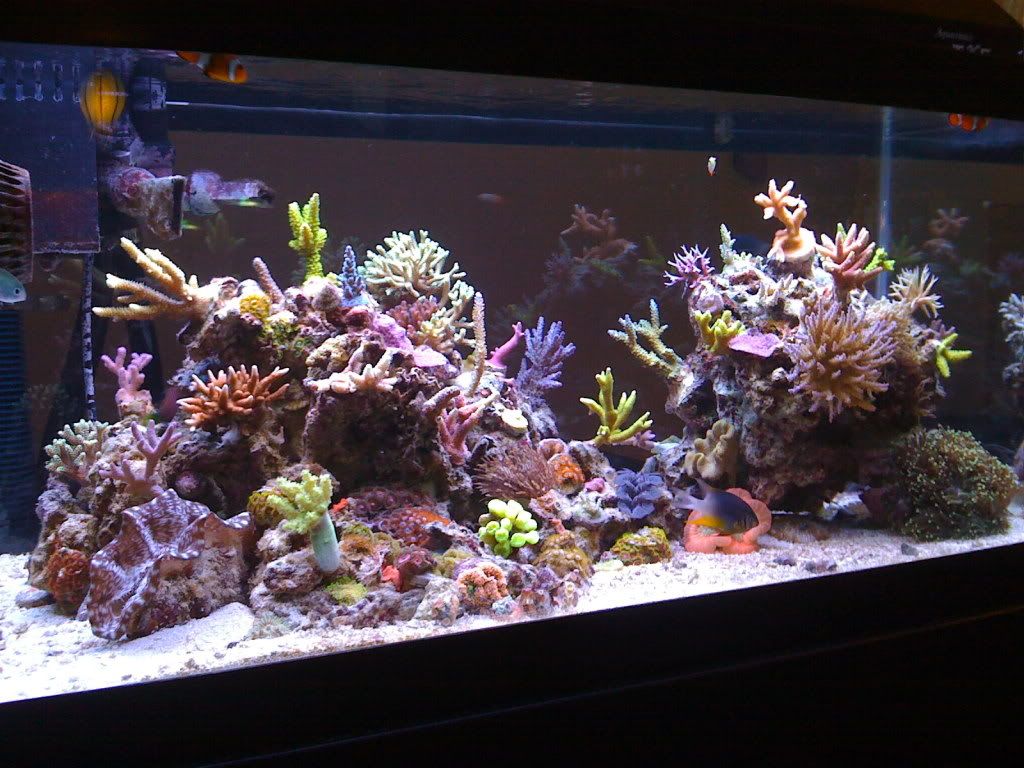 40b Tank
Aquactinics 36 inch tx5 T5HO fixture
Bulb Combo, front to back:
ATI Blue Special
ATI Actinic Blue
Fiji Purple
ATI Blue Special
ATI Blue Plus
fishez4alivin
60g Tank, 36x24x16x 3/4" Cell Cast Acrylic
ATI Powermodule 6x39W Fixture
Front
ATI Blue +
UV Super Actinics
ATI Blue+
UV Aquasun
ATI Blue+
ATI Aquablue special
This is exactly how the tank and corals look under that bulb combo
cpreefguy
6x24w ATI Powermodule Fixture
ATI Blue Plus
KZ New Generation 14K
UV Actinic
KZ Fiji Purple
UV Actinic
KZ New Generation 14K
here is one with 4 bulbs.Its hard to show in my pics but this is close to true color as i can get.It works very well and not pink at all in person.Ill get one of the 6 bulb later.Its just a tiny bit more white and very bright



2 ATI Blue+
1 KZ Fiji Purple
1 GE6500
Some excellent information on T5HO including different bulb combos and PAR values can be found here:
http://tfivetesting.googlepages.com/
I will continue to add FTS w/bulb combos as I find them.
In the interests of keeping this in a more useable format, if you have a tank with a T5HO fixture, please PM me your FTS and bulb combo to add to this post, instead of posting it yourself.
That way I can hopefully just keep all the pics together here instead of having them in different places all over the thread.
I will be continuing to post much more info that I have gleaned from various places and people over the next couple of days.
Edited by Weetabix7, 26 March 2010 - 06:01 PM.