Before you get started with this thread - if you are looking for information on how to breed clownfish or what I do when I'm breeding; there is a condensed cliff's notes version of the things I've learned along the way here:
Pickle's Guide to Breeding Clowns
which is stickied at the top of this forum. By all means feel free to jump in and ask if you need help or to share your progress here in this thread.
I started this thread as a diary of my personal breeding experience. Since then, it's become a place where other new breeders and experts alike have come to share their wisdom and experiences. So welcome to Pickle's N-R Breeders Lounge! All are welcome - novices - experts and even those with no intention of breeding. If you've got an opinion, question, advise to share or are just curious - this is the right place!
And so it began:
First of all... I had no intention of starting this thread this early, but todays events led me to want to document what's happened so far so here I go.
At the end of last summer I decided that I wanted to try my hand at breeding clowns, but the whole idea was very intimidating. The more I read the more confusing it became and at times I thought I would just shell the idea. But then guys like Christosclowns and GT Aquatics showed up and reading their posts and seeing the fruits of their labor pushed me to pull the trigger and start gearing up for breeding. Make no mistake - I am in no way ready to raise fry - yet.
Here's what I've done so far:
I've purchased a 4 20g high tanks which are all going to be plumed into a 50+ gallon sump with lots of LR and cheato. I have accumulated several pound of LR that has been curring for some time. My old 40 Breeder will get some dividers and will be turned into a grow out tank and I've purchased some smaller tanks to hatch the fry.
Along the way I've decided that I'd like to raise Osc's and Snowflakes. The choice was really easy... I had a pair of Osc's that I paired up over 3 years ago and by all accounts they are a strong healthy good looking pair of clowns. I acquired another pair of Osc's here from a friend and then I chose the snowflakes just because I love the patterns.
I contacted Erik (Christosclowns) and he spent a while on the phone with me discussing my plans and how to get started. He discouraged me from buying a pair of his clowns right away and suggested that I look for proven Osc females first to pair the new snowflakes with. His reason was because males carry the dominant genes and that if I where to buy the snowflakes first and did not find them suitable females for some time they could very well turn female if left alone for too long.
So the hunt began - It didn't take me too long through my local club to find a couple of females that had the qualities I wanted and had proven to have laid eggs. Truth is I got really lucky on this one and some of the guys in my club want snowflakes.
Once the females where here and in place I contacted Erik and purchased two of his snowflakes. knowing my intentions, Erik was careful to select two very nice snowflakes from different clutches. This way if I wanted to I could of them paired as well.
Introducing the babies to the females was a little intimidating. The smaller of the two snows was only 3 months old and very small. He surprised me though by swimming straight to the female and she accepted him immediately. The larger of the snowflakes which appears to be 4 or 5 months old was a little more cautious in approaching the female. He sat in a corner next to a power head. The female spent the next couple of hours venturing up into the corner to check him out and then backed off and gave him space. Finally though he followed her back down into the display. Since then both new pairs have been inseparable. It's a good sign.
The new snowflake males are still a couple of months away from being mature enough to fertilize eggs, which is fine with me. I'm taking my time and using the down time to learn all that I can.
The day after the snows arrives Erik called to follow up on the babies to make sure they arrived alright and to see if I needed any help or suggestions on how to introduce them to the females. Luckily my females did accept the new mates with no problems - but he had a few great suggestions like taking the female out and changing up the tank or even switching the tanks since I had multiple tanks going. What impressed me the most was that he spent a bunch of time on the phone talking about the breeding process giving me all kinds of information overload. We discussed everything from temps, lighting, tanks, feeding, salinity and even culturing rotifers. Mind you - the guys wife just had a new baby a couple of days before - he didn't have a whole lot of time on his hands.
At any rate... I decided to use some of his advise to start getting the fish ready for spawning. I extended my lighting schedule, raised my tank temps and started lowering my salinity. I researched different foods and began feeding a variety of prepared and homemade foods.
The clowns have all adapted well - and seem to enjoy the constant feeding. The tanks all have their share of algae but with regular water changes the parameters are excellent.
Then it happened...
My original pair of clowns that I've had for the last 3 years spawned today. I've spent the last two hours watching in amazement as my female laid her eggs and the male quickly followed behind fertilizing the eggs. The clutch is not very big... I didn't expect the first one would be and the clowns are hard work fanning and mouthing the new eggs. The male seems to be catching on but I'm not sure just yet if he is eating them - I half expect that being his first time he most likely will.
So it looks like I'm going to have to get in gear a little quicker then I expected.
Stay tuned for updates... notes, frustrations and hopefully some babies in the near future.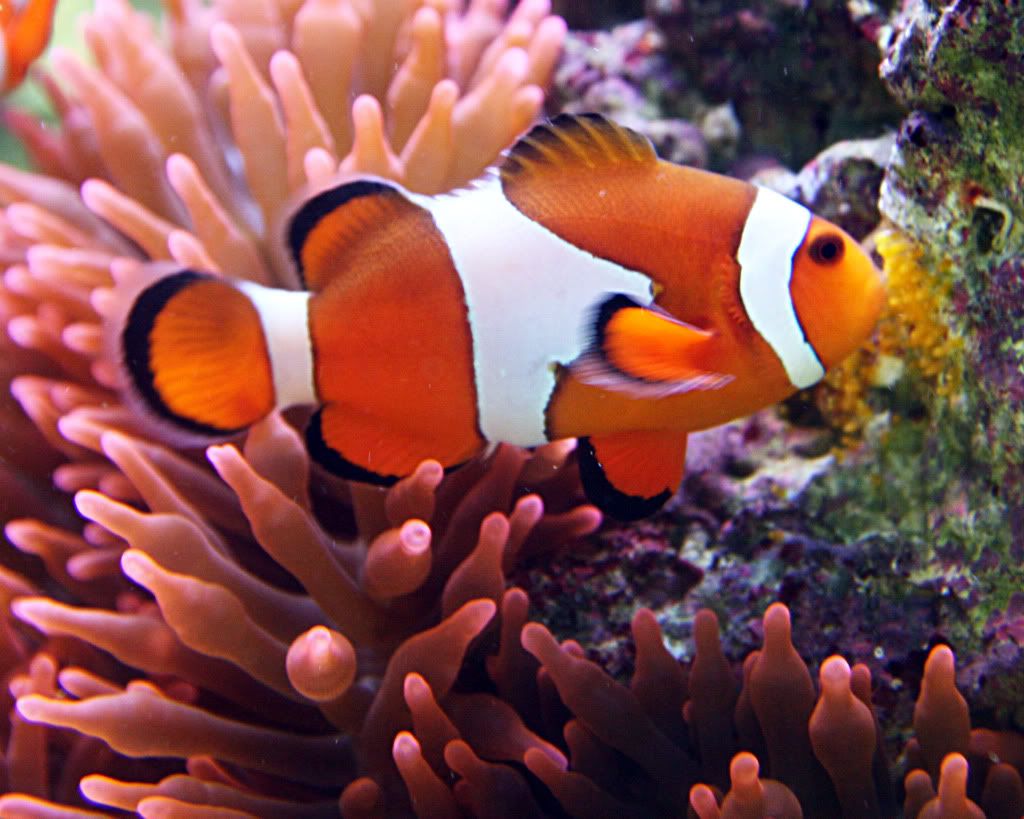 Edited by Pickle010, 14 March 2012 - 05:26 PM.