Ok I see sooooo many "WHAT IS THIS" posts. I decided to make a thread where people can come look BEFORE they post. SO I hope this helps someone. Also help pass this along to anyone who is looking for an ID. Its taken me a while but let me know if I forgot anything I will add it. Its going to be very basic with a brief description and with pictures that will be under each description. The goals of this is not to provide information to get rid of the hitchhikers, or any detailed info but to simply ID them and then leave it up to you to search and find more information on removal of critters and algae.
I will start with the harmless critters:
Amphipods, Copepods, Good Isopods and Just Bugs: Pics in that order. HARMLESS
Now there are some 5,000 species so I will list the most common ones. These are all harmless, you will see them on the glass rocks and your hand if you leave it in there long enough, These are the most common species. Pictures in this order, Amphipods, Copepods, Isopods.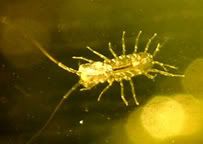 Mysis Shrimp: HARMLESS
You will probably only get a short glimpse they are VERY fast lol. You will almost always see them in your fuge, sump or back in the LR at night. At night with a flashlight their eyes will glow. They also make great tasty treats for your fish so as they reproduce toss them in the display!
Bristle Worms: HARMLESS
Jury is out on these, but IMO if they stay small they are harmless and actually keep your sand nice and clean. There are also large other species that can be very damaging to a reef tank, they will be listed later.
Spirorbis: HARMLESS
Tiny while calcareous worms, that mostly will develop in the dark areas. Filter feeders and a sign your tank is doing well, very common.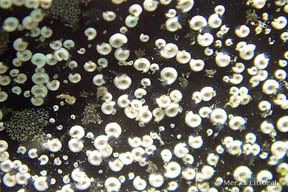 Feather Duster Worms: HARMLESS
Again like pods there are too many to list here however they are harmless filter feeders, and some can be BEAUTIFUL! I have some red spotted ones and some pretty frilly white ones.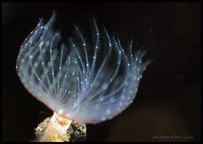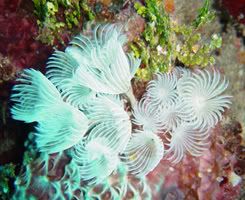 Stomatellas: HARMLESS
Probably the most common "WHATS THAT!?!?!" Looks like a snail with ½ a shell. You've got to love these guys they are SOO cute! If I could buy them at my LFS I would. GREAT algae grazers, and have been known to even eat cyano.

Collonista Snails: HARMLESS
Often mistaken as sundial snails, these are harmless grazers. They multiply very quickly and while they are out in the daytime, you will usually see tons on the glass at night.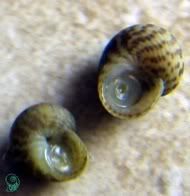 thanks tuidizzle for that second pic.
Edited by Helfrichs Chick, 28 January 2008 - 12:16 PM.