40 Gallon Breeder Display
40 Gallon Long Sump/Refuge
1 WP-40 Pump (circulation)
1 MP40 Vortech wireless.
Reef Ocotopus 250 Needle Wheel Skimmer
36" Nova Extreme 6 bulb T5HO  32" Reefbreeders full spectrum LED fixture.
Ebo Jager 250w heater
BRS Reactor running Ecobak by Warner Marine (for over 3 years now)
Korallin C1502 calcium reactor with 10lb co2 tank.
QuietOne 4000 Return Pump
60lbs Sugar sized sand(removing with water changes)

Livestock plans

Coral:
SPS and LPS minimal to no softies

Fish:
2 Black and White Ocellaris.
1 Golden Dwarf Moray Eel. Now lives in a 150 gallon tank.
1 Pygmy Cherub Angelfish
1 Vermiculated Wrasse Female MIA
1 Hector's Goby Died perhaps of age
1 Yellow Tang, trying to sell.  Need to catch, has a home ready in a 200 gallon cube.
1 (Temporarily) Sailfin Tang juvenile Sold and now lives in a 120 gallon elos system.
1 Target Mandarin (Male) Jumped during night
1 Dragonface Pipefish Vanished without a trace.
1 Orchid Dottyback
1 Copperband Butterflyfish. Lives in the sump.
more to come...
FTS 3/29/2014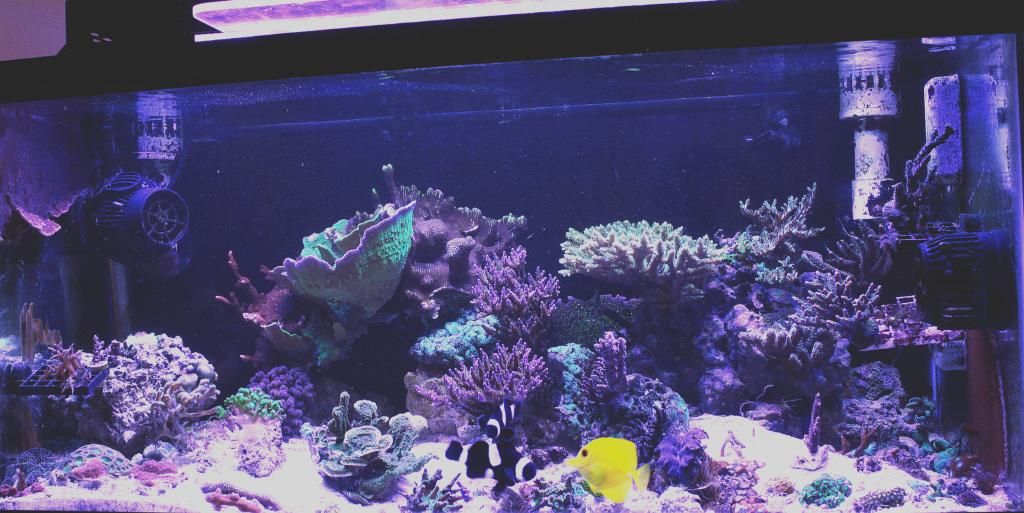 FTS 6/14/2013"</IMG>
FTS 3/31/2013

FTS 1/20/2013
Edited by MGDMIRAGE, 31 March 2014 - 03:56 PM.