So, there are many here that keep Clams or have kept clams or are thinking about keeping clams that have used this forum for a couple of great write-ups on proper lighting requirements and general care and tank size. But there are some (like me) that have gotten very involved in the "in's and out's" of what actually makes them tick
I was very surprised to discover that when I got involved with clams for the first time that they are quite more complex they many people think they are.Clams actually have a stomach, intestines, and even a heart. I bet some people here didn't know that! Just some info for the ppl that are as crazed about them as i am on this site!!
First off the Taxonomy...These clams can be broken down in to:
Phylum: Mollusca
Class: Bivalvia
Order: Veneroidea
Family: Cardiidae
SubFamily: Tridacninae
The giant clams have long belonged to the family Tridacnidae, but according to the World Registry of Marine Species (WORMS) they are now included in the family Cardiidae as the subfamily Tridacninae. As such,Tridacnidae is no longer being accepted as the family though the genus names are still the same.
The Tridacninae family can be broken down into two genera containing nine species as follows:
Hippopus (genus)
Hippopus hippopus - Hippopus Clam, Horse's Hoof clam .
(H. hippopus also known as Bear Paw Clam and Strawberry Clam)
Hippopus porcellanus - China Clam
Tridacna (genus)
Tridacna crocea - Crocea Clam, Crocea
(T. crocea is also known as the Boring Clam, Boring Giant Clam, Crocus Clam, and Saffron-Colored Giant Clam)
Tridacna derasa - Derasa Clam
Tridacna gigas - Giant Clam
Tridacna maxima - Maxima Clam, Maxima
Tridacna squamosa - Squamosa Clam
Tridacna mbalavuana Ladd - Tevoro Clam
(Syn: Tridacna tevoroa)
Tridacna costata. This species of giant clam is very new discovery. It was first reported and described as a new living species in 2008 by Roa-Quiaoit, Kochzius, Jantzen, Zibdah, and Richter. This giant clam has a small population, is highly endangered, and not found in the aquarium industry.
This species is said to represent less than 1% of the giant clams found in nature. However most of the giant clam shells that have been found, about 80% of them, are of this species. Due to this large number of shells, experts believed that the few number of clams seen today is because it has been heavily harvested by humans for thousands of years. They suggest harvesting these clams goes back to humans occupying the Red Sea area since about 125,000 years ago.
Now that we have all the Technical crap out of the way. a closer look at a clam's anatomy is the thing that shocked me the most as they have quite a simple yet sophisticated anatomy for....well a clam
The digestive tract of typical bivalves consists of an esophagus, stomach, and intestine. A number of digestive glands open into the stomach, often via a pair of diverticula; these secrete enzymes to digest food in the stomach, but also include cells that phagocytose food particles, and digest them intracellularly.
In the filter feeding bivalves, an elongated rod of solidified mucus referred to as the crystalline style projects into the stomach from an associated sac. Cilia in the sac cause the style to rotate, winding in a stream of food-containing mucus from the mouth, and churning the stomach contents. This constant motion propels food particles into a sorting region at the rear of the stomach, which distributes smaller particles into the digestive glands, and heavier particles into the intestine.
The muscular system is composed of the posterior and anterior adductor muscles, although the anterior muscles may be reduced or even lost in some species.
The paired anterior and posterior pedal retractor muscles operate the animal's foot. In some bivalves, such as oysters and scallops, these retractors are absent.
here's a pretty good representation of the typical clam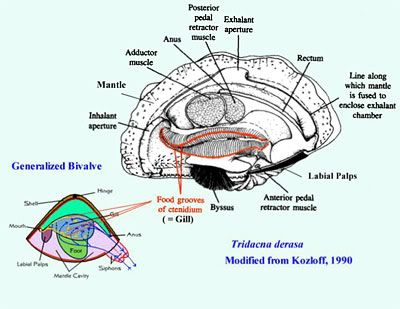 Much more complex then people (us as reef keepers) think they are
Now, factor in there mantle system that contains the Zooxanthellae algae (Zooxanthella live in other protozoa and in some invertebrates. Most are autotrophs and provide the host with energy in the form of translocated reduced carbon compounds, such as glucose, glycerol, and amino acids, which are the products of photosynthesis. Zooxanthellae can provide up to 90% of a coral's energy requirements. In return, the coral provides the zooxanthellae with protection, shelter, nutrients (mostly waste material containing nitrogen and phosphorus) and a constant supply of carbon dioxide required for photosynthesis. Available nutrients, incident light, and expulsion of excess cells limits their population) they need to turn light in to nutrients for sustainability and you can see why these beauties need to be well cared for in the home aquarium
hope this has been a bit interesting and not too boring for ya!!
Edited by Rockfish, 04 January 2010 - 06:54 AM.