2.5G
5.5G
10G
20L
now... 40B, all within 1 year. This hobby is more addicting than anything in this world. We are in serious need of reef anonymous.
FTS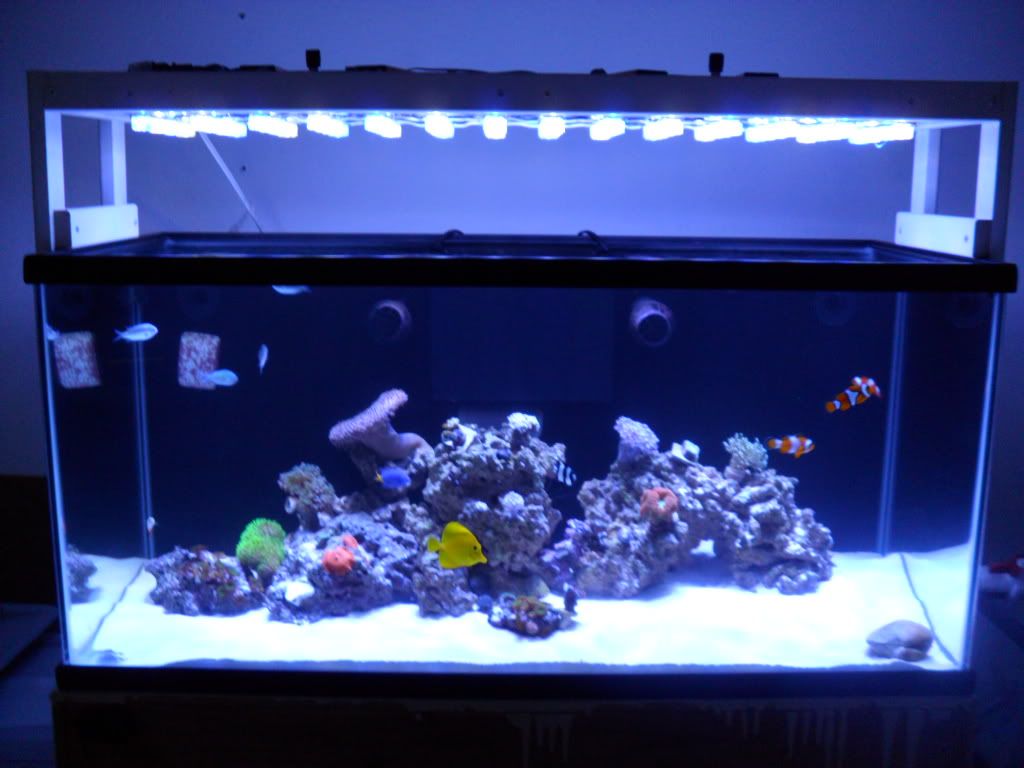 Yes. I have 13 fishes in this small tank. Before the flaming begins, I had to adopt and take care of few fishes that I got from friends and family members who wasn't able to take care of their fishes in their tanks.
Fish list:
Yellow Tang (doesn't give a f**k boss)
Yellowtail Damsel (no aggression)
Three Strip Damsel (peaceful guy)
Chromis x4 (the gang)
Fire Goby (doesn't care about anything)
Yellow Watchmen Goby (defender of a crack between the rock)
Scooter Blenny (eats pellets and mysis and everything else. fattest of them all)
Clownfish Percula/False Percula x3 (nothing in the world bothers them)
Inverts:
Fire Shrimps x2 (cleans the yellow tang)
Porcelain Crab (defender of anemone)
Pistol Shrimp (can't find the watchmen)
snails and hermits x many
Fortunately, my tank-mates do not act aggressive towards each other. They just do their thing and eats ravenously. Biggest pig is the scooter blenny. In the beginning, it didn't eat anything but few pods but after being really skinny for 2 weeks it started eating mysis and so after started taking pellets. Now he grew about an inch and his belly is plump.
I feed heavily, two to three times a day with frozen and pellets. They favor frozen, and its costing me a fortune. I hope I don't need to upgrade soon again T.T
Edited by michelleshusband, 11 March 2012 - 02:57 PM.