Ok so here goes Im building this led setup for my tank which is currently the 6.6 fluval chi, although I have since decided to modify my original plans as im in the process of putting together a 25 3/4"l x 14w x 16h rimless tank to upgrade to anyway
Tools:
Drill press
Hand tap
4-40mm Tap
Walton 4mm tap extractor
20-40w soldering iron
Wire Cutter/Stripper
Tape Measure
Square
Other Stuff
Cutting oil
Thermal grease
Masking tape
Pencil
Sharpie
razor blade
Parts
LEDGroupBuy Dim4 Controller
5A Power Supply
3 Rapid Led Moonlight Drivers
4.25 x 9" Heatsink
4.25 x 4" Heatsink
4.25 x3" Heatsink
5 XM-L T6 Cool White 5200-8000k
6 True Violet 420nm
5 XP-E Royal Blue 445-460nm
3 XP-E Blue 465-480nm
4 XP-G Natural White 3200k
4 Osram Red 660nm
22 guage solid core wire
Anyway Ill start with some drilling and tapping and add as I go.
First thing first once you have your parts your going to want to decide on a lay out for your leds. Take your heatsink and masking tape off the bottom side to protect it from scratches and also to draw/mark on. Your gonna use your square/tape measure and create a symetrical line formation to place your leds on so they are all properly and evenly spaced(sorry didn't take pictures of this point). Once you create your lay out lay the leds onto the heatsink in theyre places and use your sharpie to make a dot on each side of the led..this will be where you drill. remove the leds and place them back in theyre labeled bags you wont need them for a while. Now your ready to drill(the way to pic the drill bit is find the screw to match the leds, then the drill and tap for the screw. I used 4-40mm screws with a tapered/cone head to push the leds down but not touch the solder pads)
Me drilling out some holes in my kitchen oooh lol
Once your done drilling(Still more on this heatsink as i ordered more leds for the change of aquariums soon to 350square inches of surface area) This is what it should look like, minuse the screws lol.
Now your ready to start tapping going 3/4 turn and backing out using cutting fluid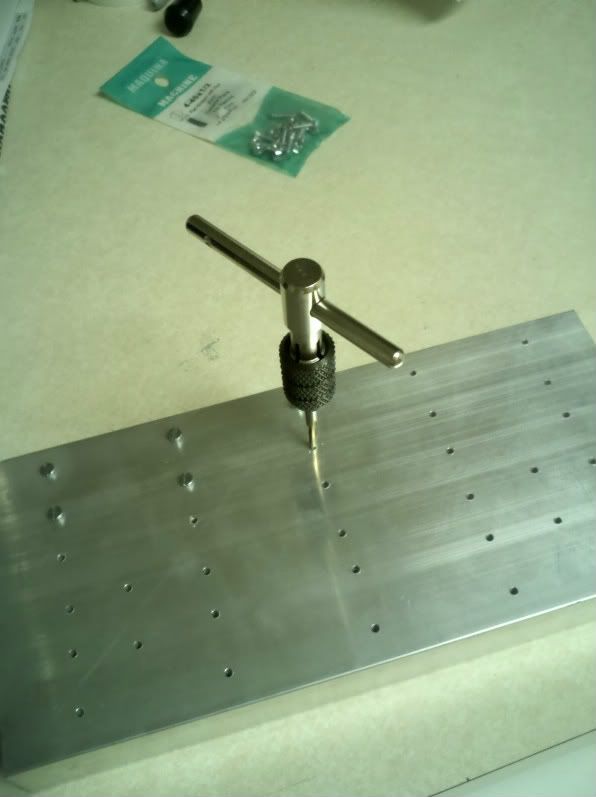 Now don't be in a hurry like me and go breaking a tap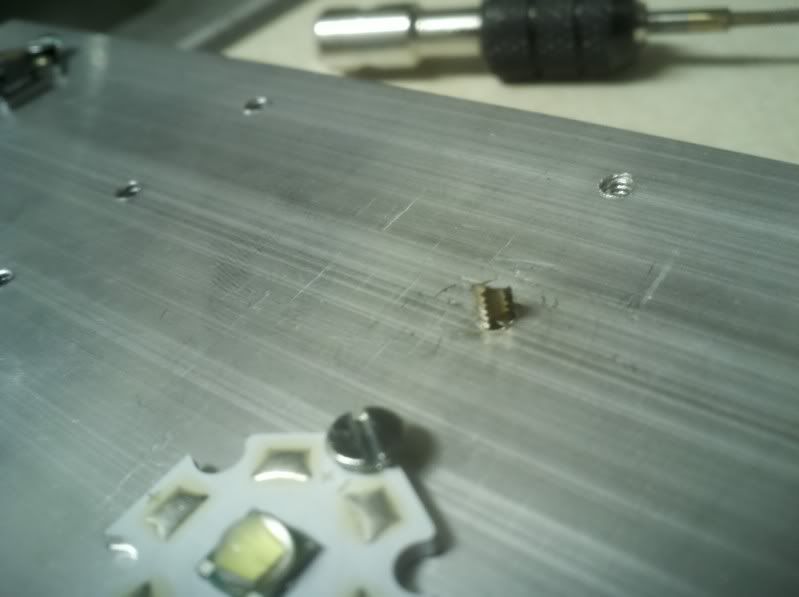 Thank fully I had a walton tap extractor of the same size already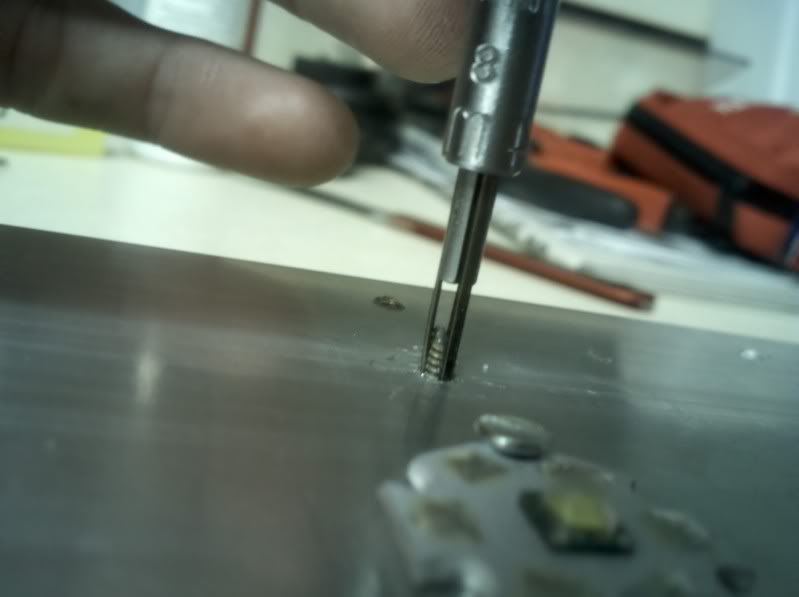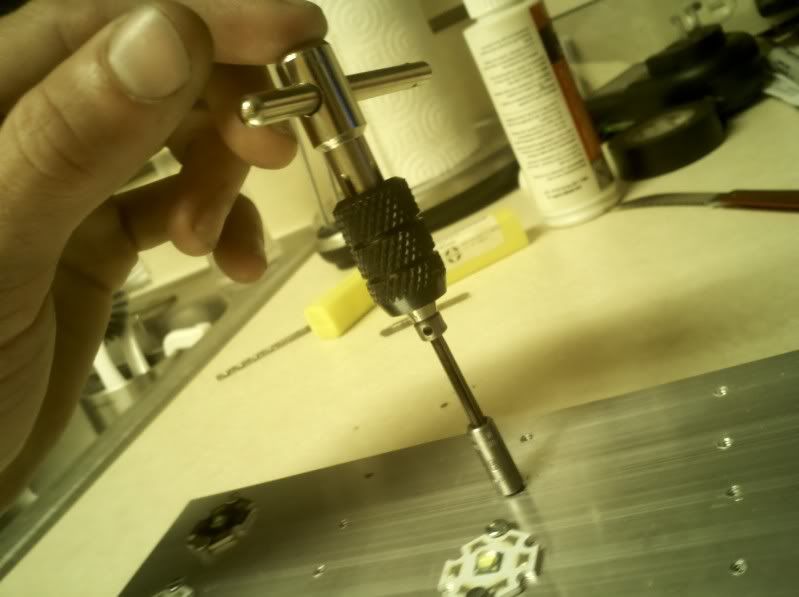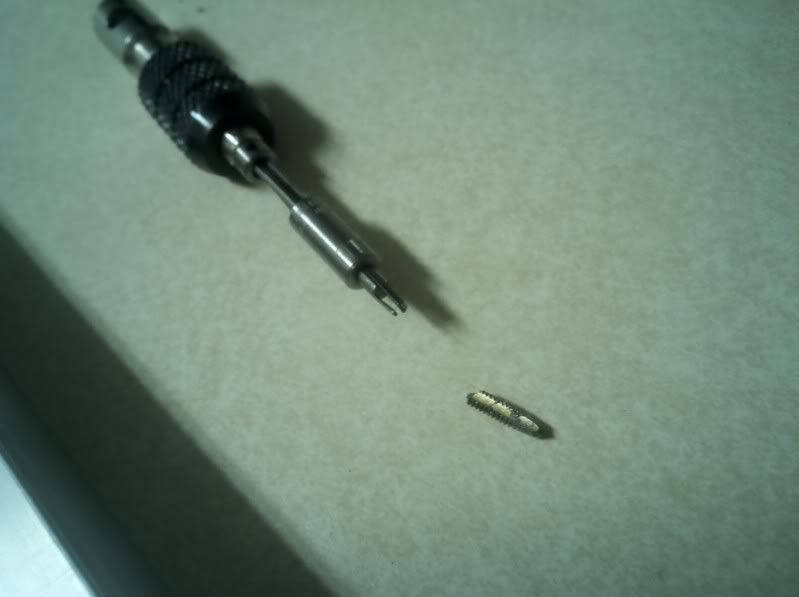 Now once your done tapping rinse the cutting oil off the heatsink and dry with a shop towel or paper towels and let sit for a while to ensure dryness. Next were going to take our leds and apply a small bead of Arctic silver grease to the bottom center of the led and then place the led on the heatsink spinning the led to spread the grease for maximum thermal transfer before screwing down
Next will be soldering/wiring my refugium lights
Edited by Deckoz2302, 30 October 2011 - 07:42 AM.