First off, I have a 27 gallon bowfront that has been established for over a year now. It currently houses two frogfish and some hermit crabs and snails. I have been noticing for a while now that some of my zoas have not been looking so hot. I have lost a few colonies over the course of 4-5 months but attributed it to other things (i had a huge cyano problem and lost some corals, lighting has changed and I also thought my emerald crab i had went rogue etc). I know for certain it is the amphipods in my tank. I have literally seen them with my own eyes eating a healthy colony of zoas. They have their sights set on a new frag i just purchased from my LFS that was completely healthy two days ago, and now there are pods that look bitten and chewed, and half of them will not open. I am at a standstill as far as what to do. These pods are EVERYWHERE and they are HUGE.
I have decided to try to at least lessen the population in any way that i can. I cant buy a sixline wrasse or goby to try to eat them, because those fish wouldnt last 5 minutes in my tank before they themselves got eaten by my frogfish. I got some Chaeto and i currently have a small ball in a soap dish container hanging in my tank. My hope is that it will attract some pods and then i can simply remove the chaeto and rinse them off. Tonight, i took out the zoa rock that is under attack and fresh water dipped it for 5 minutes. I WAS SHOCKED!!!!!!! Almost 40 huge pods were there, and now dead and removed. I have taken some pictures and will keep you updated.
Any advice would be greatly appreciated, im really frustrated right now and any help would be great!
The Zoas in question as of two days ago. you can see some of the ones on the bottom look a bit nibbled and irritated.
THE FIRST REMOVAL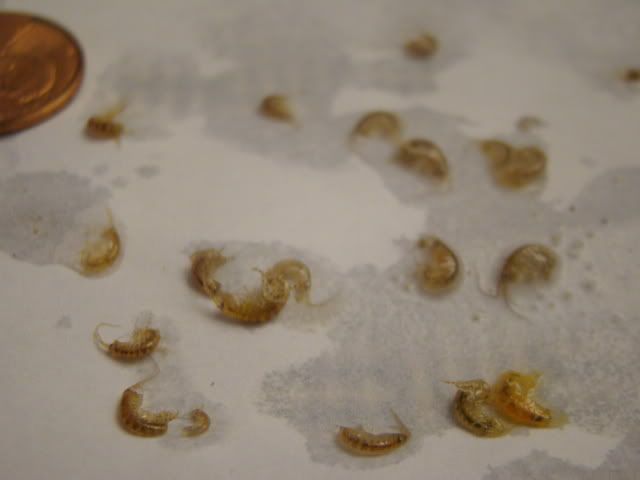 my tank