INTRO
This is my first post on Nano-Reef.com!
My stock class 10G glass aquarium will display species of macro algae as the main focus of the tank. Everything else will be added on the fly as the tank progresses. Nitrogen production from nitrates instead of nitrate reduction will be the main focus and the reason for success in an aquarium such as this. I've got to get the algae to grow well and maintain its growth in order for this reef setup to be successful. From there I plan on adding soft corals such as colony polyps and ricordeas, and I may attempt a small clam on the sand bed. I look forward to this contest as well as my time spent here on Nano-Reef.com. Good luck to everyone in both the stock and the custom categories. Thanks for following along.
EQUIPMENT
Standard 10 Gallon Glass Aquarium
Current USA Satellite 20" 40W 50/50 Power Compact Fluorescent Fixture
Marineland Penguin 200 BIO-Wheel Power Filter
Aquarium Systems MaxiJet 600 Powerhead
WON Brothers Pro-Heat 50W Titanium Heater
Coralife Digital Thermometer
2 Standard 6 Outlet Power Strips
2 Intermatic Heavy Duty Timers
Custom Built Light Dimmer
LIVE ROCK / LIVE SAND
7 lbs mix of Marshall Island and Fiji Live Rock
15 to 20 lbs Live Sand Mix:
--- Nature's Ocean BIO-Active Live Aragonite Reef Sand
--- CaribSea Aragonite Select, fine grain
--- CaribSea Geo-Marine Aragonite Formula Florida Crushed Coral, coarse grain
--- CaribSea Eco-Complete Planted Aquarium Substrate
WATER AND REEF MAINTENANCE
Instant Ocean Salt Mix
Seachem Reef Builder
Seachem Reef Advantage Calcium
Kent Marine Super Chelated Iron and Manganese
Greg Watson's Potassium Nitrate 13.5-0-46.2
Greg Watson's Mono Potassium Phosphate
Ocean Nutrition Forumla One Small Marine Pellet
American Marine Selcon Concentrate
Reef Nutrition Phyto Feast
Sweetwater Zooplankton
Kent Marine Micro-Vert Fine Filter Food
STOCKING
Macroalgae:
--- Caulerpa spp.
--- Codium sp.
--- Valonia sp.
--- Actinotrichia sp.
--- Coralline spp.
--- Sargassum sp.
--- Other unidentified algae species
Fishes:
--- 1 Randall's Goby, Amblyeleotris randalli
--- 1 Ocellaris Clownfish, Amphiprion ocellaris
--- 1 Barnacle Blenny, Acanthemblemaria sp.
--- 1 Neon Goby, Elacatinus oceanops
Invertebrates:
- Corals:
--- Acropora sp.
--- Seriatopora sp.
--- Zoanthus spp.
--- Actinodiscus spp.
- Motile:
--- 6 Blue Leg Hermit Crabs, Phimochirus operculatus
--- 4 Scarlet Reef Hermit Crabs, Paguristes cadenati
--- 1 Trochus Snail, Trochus sp.
--- 2 Astrea Snails, Astraea tecta
--- 4 Cerith Snails, Cerithium litteratum
--- 4 Tonga Nassarius Snails, Nassarius sp.
--- 1 Common Nassarius Snail, Nassarius vibex
--- 1 Randall's Pistol Shrimp a.k.a. Candy Stripe, Alpheus randalli
--- 2 Sexy Shrimp, Thor ambeonesis
--- Feather Duster Worms, Bispira sp.
- Motile Hitchhikers:
--- Stomatella Snails
--- Micro Brittle Stars
--- Asterina Stars
--- Zooplanktonic Animals (Amphipods, Copepods)
ENTRY PHOTO

- October 7
(
Go to Post
)
OCTOBER

- October 24
(
Go to Post
)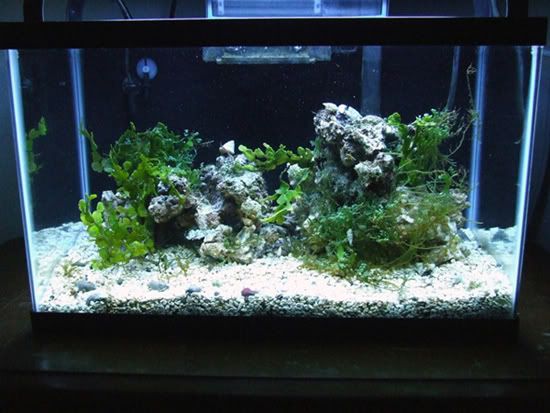 NOVEMBER

- November 22
(
Go to Post
)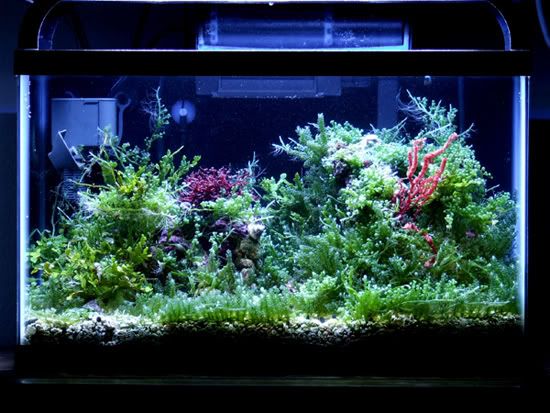 DECEMBER

- January 03
(
Go to Post
)
JANUARY

- January 31
(
Go to Post
)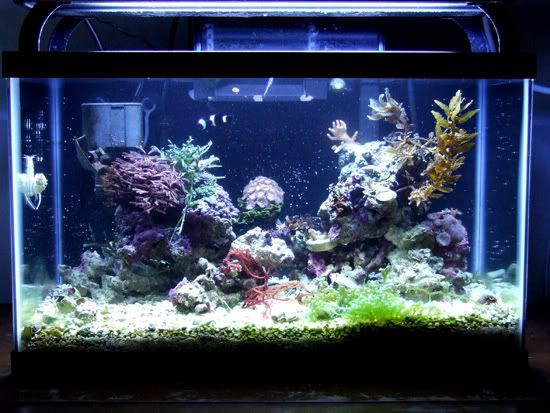 FEBRUARY

- February 27
(
Go to Post
)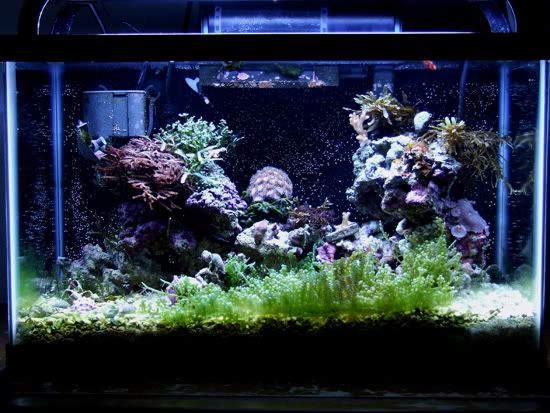 MARCH

- April 8
(
Go to Post
)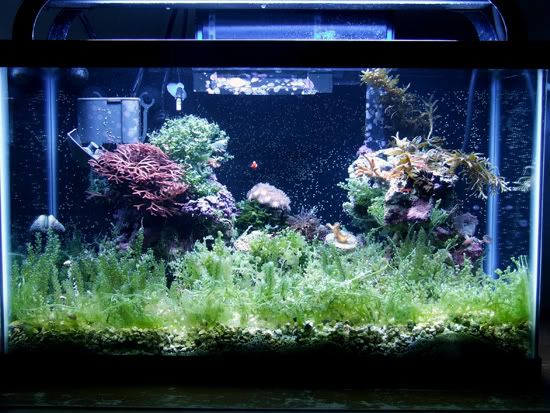 Edited by WarEagleNR88, 08 April 2007 - 08:04 PM.