Greetings N-R! My tank is 4 months old so I guess it's safe to start a tank thread of my own
Let me start by recapping my introduction to nano reefing over the last 4 months.
Like many noobs on this site I've had FW tanks all my life and always wanted to try SW but thought it would be too difficult to maintain. This past summer a buddy at work made me an offer I couldn't refuse. He was taking down his well established 100+G tank at home and offered to give me ~30lbs of LR from his tank. He warned it would be expensive (little did I know then how right he would be) but he said he would show me how to get started. Needless to say, I took the plunge and bought a tank for the office.
He suggested getting a 3G all-in-one by CPR Systems to start but I chose the 24G aquapod after reading up on this site. My hope was a larger nano would be more stable...plus it would give me more room for coral
I love my little cube but didn't realize how much customization would be required to make the system work for my setup at work. You see the AC gets turned off at night and over the weekend so keeping temps stable would be a challenge.
I'm not a real DIY guy so I kept the mods to a minimum but did add a fan, dremeled open the fan vents, and upgraded the stock pump to a MJ1200 as many on this site suggested. Unfortunately, the tank still ran hot. In the end I downgraded to a MJ900 (much lower wattage) and a minijet 606 with a hydor, and opted for an ICA 2.0 chiller from Nanocustoms. They hadn't officially launched this product at the time but Chris at Nanocustoms was awesome and he sold me a pre-production prototype to help me beat the summer heat in Nor Cal. The ICA worked so well that I decided to upgrade the lighting from the stock 64W of PC to 80W.
Here's an FTS of my tank back in May
As you can see the LR had a ton of mushrooms on it and I added some pretty easy to keep corals:
Yellow Fiji Leather
Neon GSP
Devil's Hand
Candy Cane
Assorted Zoos and Palys
I also stocked it with the following fish/inverts:
Black and White Clown from ORA
Red Firefish
Lawnmower Blenny
6 Line Wrasse (went MIA after a month)
Skunk Cleaner Shrimp
After a month and a half the tank was doing pretty well and everything was settling in nicely.
Here is what it looked like in June. The only addition was a rock with some bleached out rics that I picked up at a local LFS. I put it at the top, behind the CC.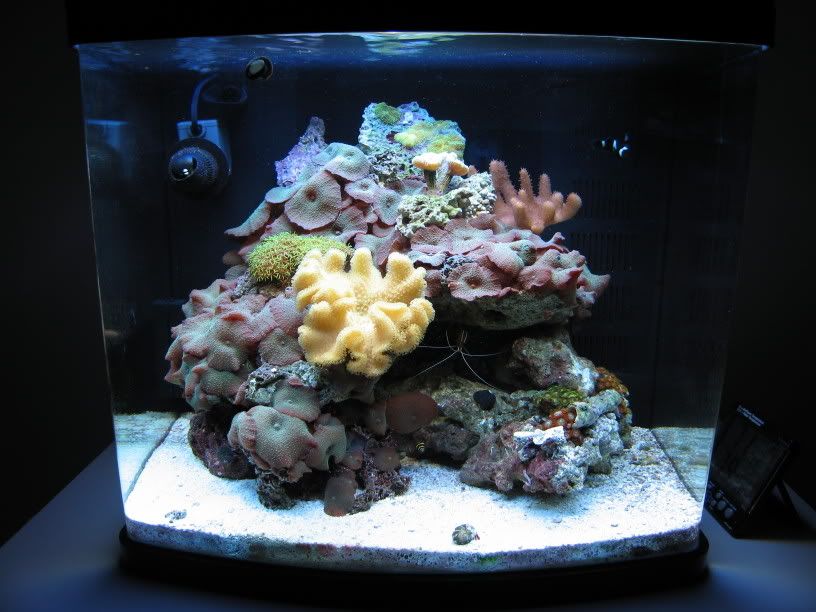 I was psyched! Using C-Pure (treated sea water) to do 5G water changes each week was much easier than I had expected and the tank's params were rock solid. Little did I know then that the next two months were going to be battle against the hottest summer that the SF Bay Area had seen in decades.
It's getting late so I'll post the rest of the story and pics of what I call the Great Overheat of July 2006 tomorrow.
Edited by junkitu, 14 February 2008 - 02:04 AM.