So I'm trying to go for a very simple look as far as equipment and really clean layout/placement for my corals. I'm still kinda new at this saltwater stuff (this being my 2nd 3rd tank) so suggestions are welcome.
 

FTS 2/3/13 by dmok14, on Flickr
 

FTS 1/27/13 by dmok14, on Flickr



FTS 4/14/12 by dmok14, on Flickr



1/15/2012



1/11/2012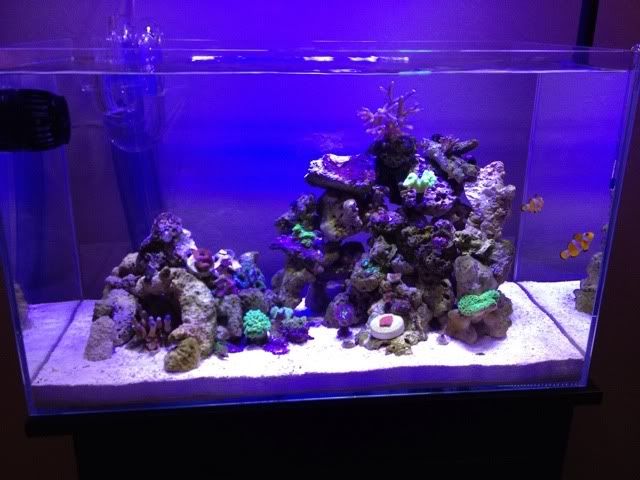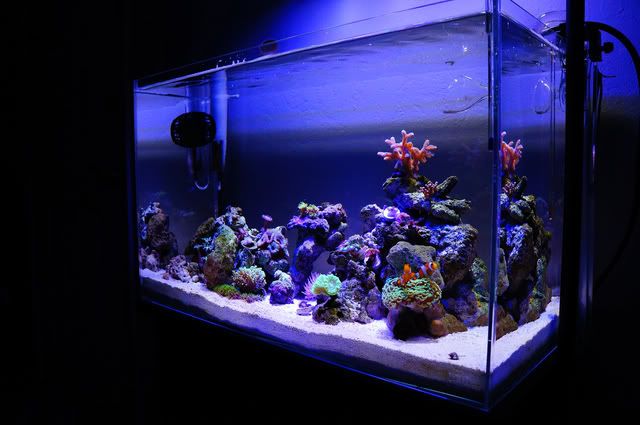 9/17/2011
Equipment

Tank:
10g rimless(Sea Star) ADA 60-P (18g)
Lighting:
Aqua Illumination Sol Blue
Filtration:
Sea Star/Sump (10g) - filter sock/carbon/sand/cheato
Skimmer:
Bubble Magus NAC 3.5
Return Pump:
Eheim 1048
Overflow:
GH Super Nano Con Dientes
Flow:
EcoTech Marine MP10
Heating:
Fluval M200
ATO:
Tunze Osmolator Universal 3155
Stand:
Custom built stand


Livestock

Fish:
2x Percula
1x Yellow Watchman Goby
Inverts:
1x Cleaner Shrimp
10x Various Hermits (Blue Leg, Mexican, Caribbean)
1x Mexican Turbo Snail
1x Trochus Snails
3x Nassarius Snails
Coral:
Octopus Frogspawn
Ricordeas
Birdsnest Coral
Acan
Paly
Zoa
Hammer
Green Star Polyp
Clove Polyp
Edited by dlogfx, 03 February 2013 - 11:15 PM.