I have had a tank thread for my pride and joy, what was my 40br, now my 58 Oceanic, for a long time now, but I thought it was time to show off the 55 gallon tank that was thrust upon me last year. My story begins with a horrible decision to purchase two Green Spotted Puffers because my wife thought they were cute...
I started a reef tank 2.5 years ago, and that was my first ever aquarium, I never had with a freshwater system before that I was able to learn with. So after about six months I was given a 15 gallon planted tank from a friend who was moving. I thought hey great, took it home and set it up. There were no fish in it so my wife and I decided to head down to the local shop where I bought all my saltwater stuff from. Of course when we got there, I let my wife pick out a fish, and she chose this guy: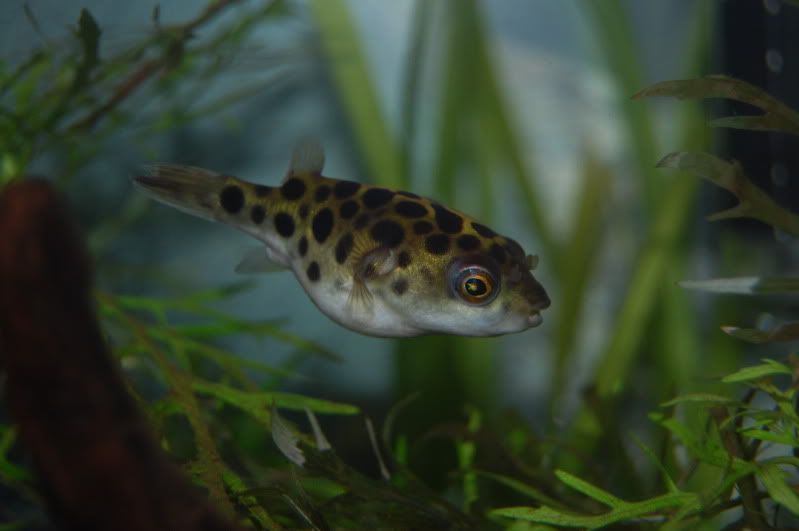 A Green Spotted Puffer, henceforth to be known as a GSP. She even named him Marcel. I don't name fish, but as soon as someone does, I start to worry more about them. So I started to do some reading on GSPs. Uhoh, they are supposed to be in brackish water. Okay I thought, easy enough, I have saltwater around already, I'll just siphon out 5 gallons of fresh and replace it with salt, done. Uhoh, I crashed the bio filter, obviously. I had no clue how to take care of a freshwater tank, after five months of salt water I barely had a grasp on that. So I found out what to do, and started a 29 planted tank, with intentions of raising the salinity slowly this time.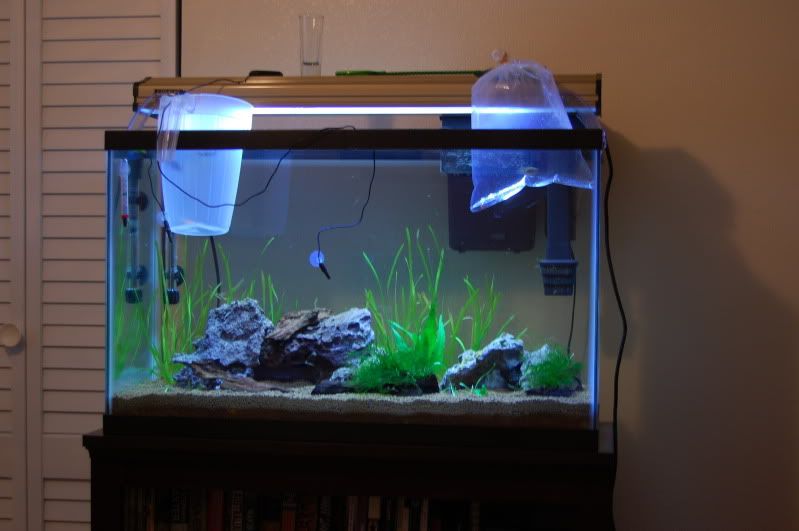 That's Marcel acclimating in the pitcher, and the new puffer, named Ham Ham by my wife, acclimating in the bag. Things went well for a while, both puffers were doing fine, I kept them well fed, as you can see.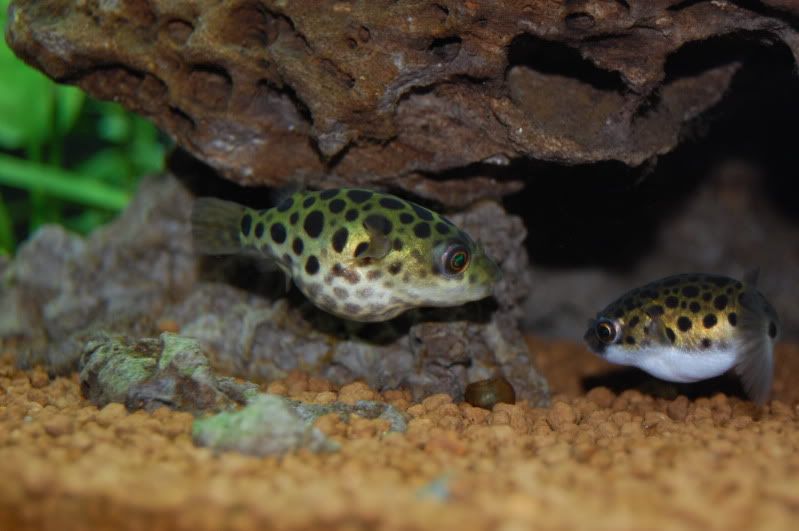 I quickly found out that puffers need more hiding places so I had changed the theme of the tank from planted to, well, rocky I guess. It kept the puffers happier and gave them something to do rather than glass surf all day.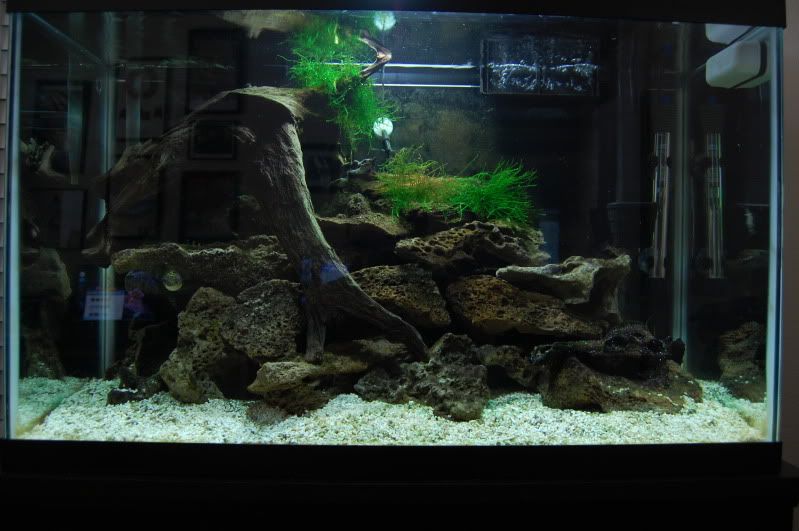 When we moved into a new home I took the opportunity to upgrade Marcel's tank to a 55, in anticipation of his growth. He was about 3.5 inches at this point, and reach about 6" eventually. I had been raising the salinity slowly for almost a year, not really religiously, I was taking my time. GSPs can live just fine in full 1.024 water, and it was my goal to get him there so I could use a skimmer for waste removal, and to make it easier on myself for maintenance and water make up, etc. Unfortunately I didn't take any pictures of the 55 as it was set up, I guess because of the move and what not.
Well, as this story closes, I had just gotten the water at about 1.024, added a skimmer, and thought I was in the clear from here on out. Then Ham Ham jumped to his death between the plastic and the back of the tank. I kept the tank well covered to avoid this, but he seemed determined to find any little hole he could and get out. Then a few months later, Marcel found his way out too. It was sad, he was like a family pet at this point, my wife fed him by hand every other day, she would let him bite a thawed shrimp and she could pull him out of the water slightly and he didn't even mind.
I was despondent. Looking at the empty tank made me sad, I figured i would just scrap it and store it, i didn't want to think about it. But, the tank stayed where it was, and a friend convinced me to keep it since it was basically a saltwater tank, albeit with lava rock instead of live rock (and aragonite sand).
Part II continued below.