Hi all,
Since I finished the LED retro on my xcube26 I have been really impressed with the vibrant colours, coral growth and amazing shimmer so after much planning and advice (thanks evil) I have decided to start a bigger project and upgrade my 75g to LEDs.
I know this is nano-reef.com and this tank is not a nano but I thought it was appropriate to post this build thread here as its where I got all the advice from and I would like to share it with the other members but MODs please delete the thread if its a problem.
The tank is a Fluval Osaka 320 and measures 48"(L)x18"(W)x24"(H) and is currently running 4 x 54w T5's. The rock is arranged in 2 "islands" so the plan is to have one array above each island and Im hoping this will give a nice unique lighting effect as well as reducing the cost a little as I will be using less LEDs than if I were to cover the entire tank. each array will have 12 CREE XR-E R2s and 12 CREE XR-E Royal Blues giving a total of 48 LEDs. These will be fitted with 60 degree optics.
The LEDs will be cotrolled by an arduino which will allow automatic dawn/dusk as well as monitoring of the heatsink/led temperature. The Arduino will also control a small LCD screen allowing me to veiw usefull info such as temp and the current intensity of each colour of LED and there will be a joystick allowing me to set the time etc. Luckily, someone I work with has kindly done most of the work for this and its almost ready to go.
I have made some drawings of the design I would like to follow.
Light fixture in dark oak to match the cabinet. The panels on top will be made of metal grille to allow enough ariflow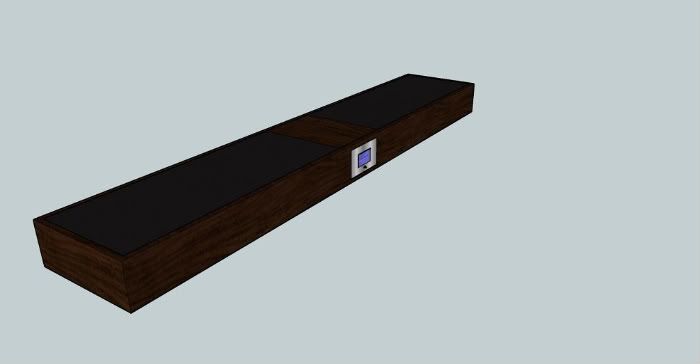 Heatsinks/Fans: 2 heatsinks on each side. They will be closer together than in the image. There will be enough space to add a third heatsink in future if required.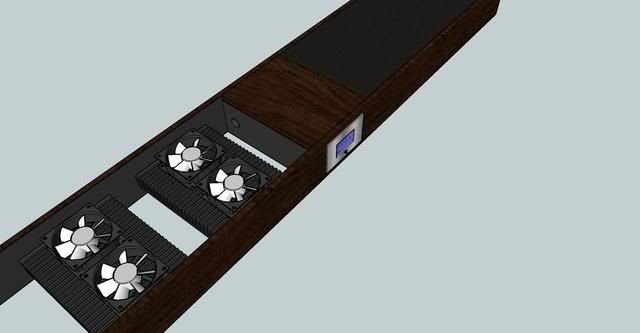 Centre/cotrol box: The centre of the fixture will house the buckpucks, wiring and aduino etc.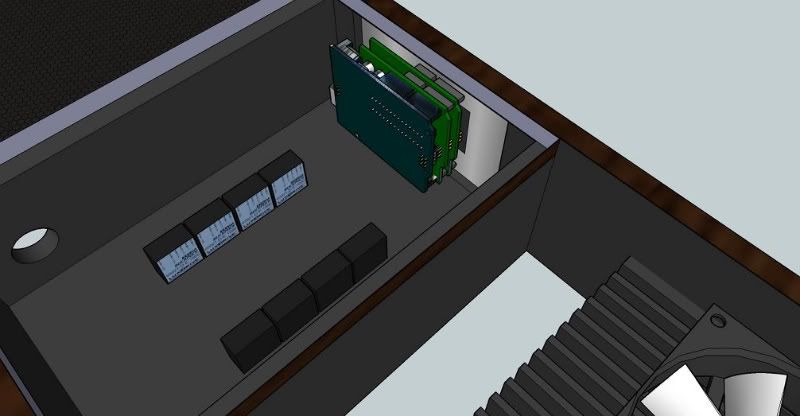 LCD Screen and joystick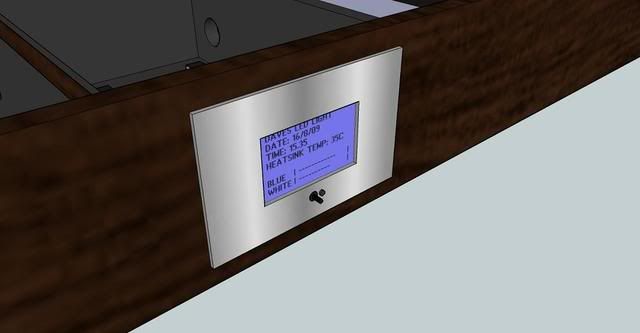 Underside.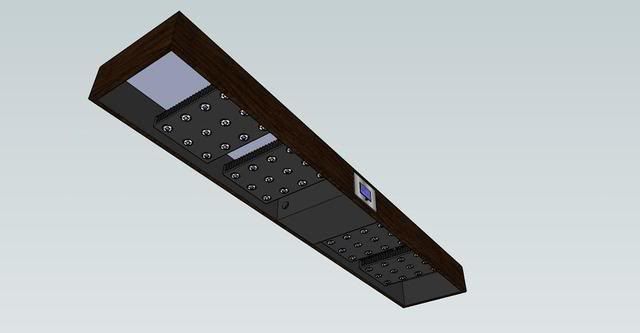 Photo of arduino, LCD screen and other components.