Here is my attempt at keeping a thread. I have learned a lot from reading about others members aquariums so I hope to continue the cycle and hope to provide some input for others.
BioCube 14 - newer version with higher divider to keep snails and fish from back chambers and precut window for center chamber for fuge applications
Modifications
- Removed floor of third chamber (right side when facing front) - installed Jager 50W heater
- Removed BioBalls and trays in center chamber - installed Steve T's media rack with Filter floss on top and Purigen in center chamber - third chamber Chaeto fuge setup
- Upgraded Stock pump with MJ 900 submersible pump, removed stock sponge and replaced with 5 oz Chemipure elite
- Led Lighting Upgrade
- Led Fuge Light
- Hydor Flo
- Koralia Nano
- DIY ATO
Live Stock
2 Narsius Snails
2 Scarlet Crabs
1 Turbo Shrimp
1 Cleaner Shrimp
1 Red Sea Star
2 True Percula Clown Fish
1 Purple Firefish
Corals
Frogspawn, Zoa's, Armor of God Paly, Devils Armor Zoa, Daisey Polyp, Green Star Polyp, Mushrooms
Florida Ricordia (Blue & Orange), Superman Monti, Purple Haze Monti, Ultra Acan Lord, Orange Acan Enchinata, Alien Eye Chalice, Inverse Hybrid Watermelon Chalice, Watermelon Favia, Aussie Duncan, True Montipora Undata, Rainbow Acan, Aussie Prism Favia
15 lbs of Figi Rock
5 lbs of Sand
5/19/10
3/11/10
10/9/09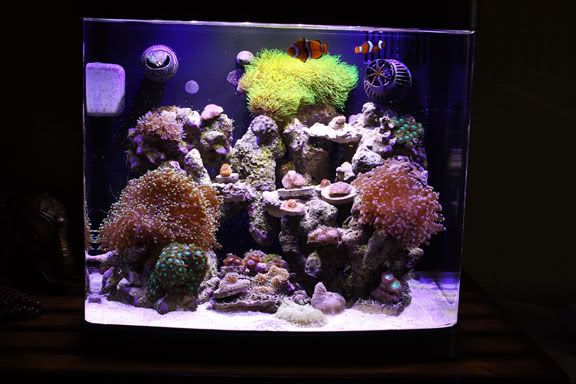 8/21/09
7/27/09
Edited by Crazy Tiki, 10 June 2010 - 08:25 AM.