I've totally filled up all my frag tanks, but find a need for "just one more" temporarily to hold some stuff from a 70 gallon tank takedown I've done. Not wanting to commit any real money to the project, until the frags are ready to go, I decided to try and "make do" with what I could scrounge.
So what does a frag system consist of?
Tank - I have access to some 55 gallon plastic drums. I've used them for fresh water and salt water reservoirs on my water treatment plant, as sumps for liverock and refugium systems, and after seeing dtfleming's tub, realized I could make a shallow "tub" out of a barrel.
Stand - I am such a terrible scavenger, I really embarass my wife. If I see a 2X4 on the side of the road, I stop and get it. Neighbors moving and don't want to carry a bunch of scrap lumber, I'll dumpster dive for it! So all the wood for the stand was free, but of course you end up making do with what you have, so here, is the first couple of steps in the project.
One of the bungs had a 3/4" threaded section available, so I ran a male adaptor through it and added a female threaded ell to the inside, then a 3/4" to 2" adaptor with a short piece of 2" pipe notched as an overflow. Where did I get the 2" pipe"? Well, I ordered some T5 bulbs from DIYreef.com and they shipped the bulbs in the PVC pipe!
Outside the tank I pulled some stuff from my PVC parts bucket, a 3/4" to 1" adaptor to 1" tee with pipe and 45d ells to run it into a plastic sump under the stand.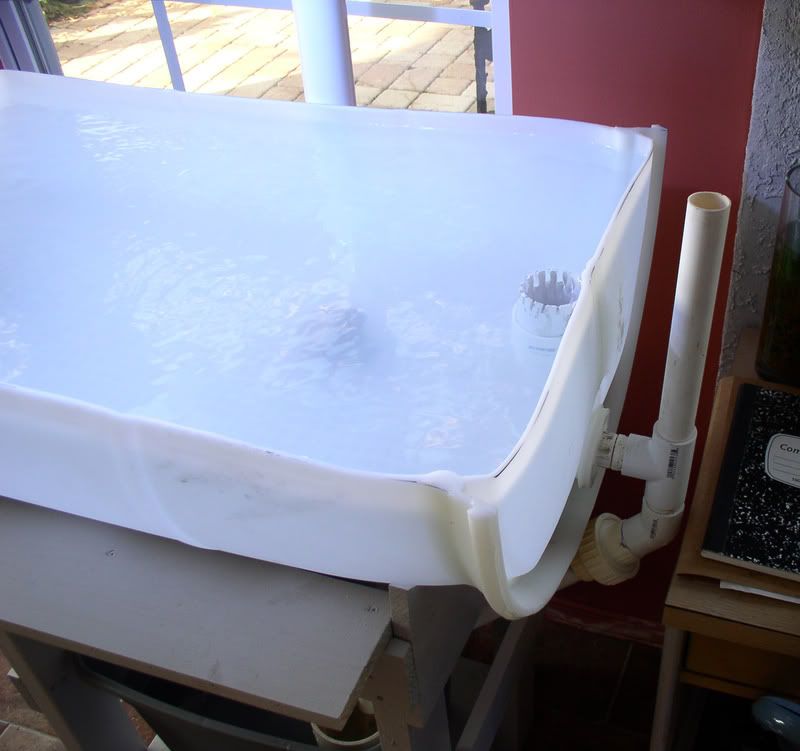 Light.
Redoing a road in town, they closed a used car lot. For the longest time I'd noticed some metal halde fixtures dangling from poles in the car lot, and when they ended up in a dumpster I dove in. I had to go it alone as Genie was totally aghast that I'd do such a thing.
More of the 2" pipe from the T5 purchase and a $2.50 2" electrical conduit sweep ell from Lowe's (amazing how cheap that was and some 2X4's made me pendant light stand.
A magnetic ballast mounted in a metal saltine cracker can and a cheap 250W chinese 20K bulb complete the ensemble.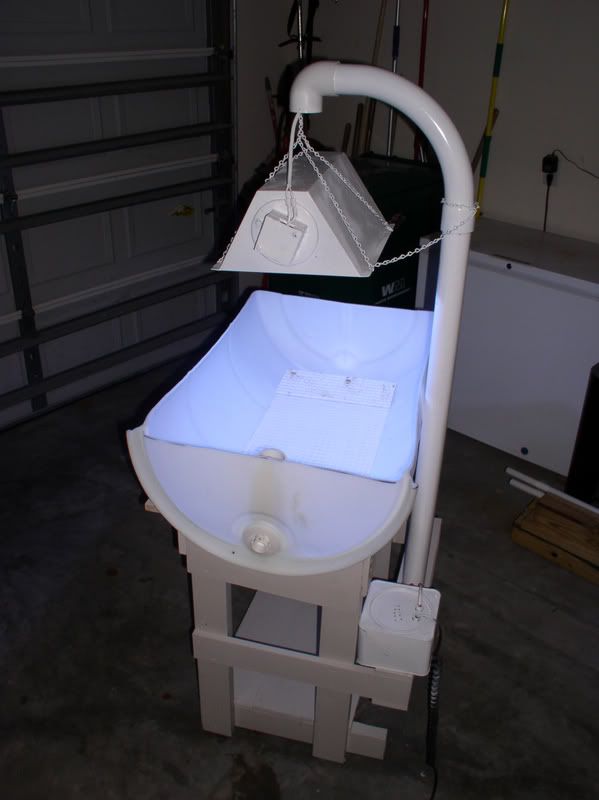 The light seems to be satisfactory.
Here's the setup in the Backyard reef lab
Edited by yardboy, 15 March 2010 - 06:57 AM.