Here we go again.
I must preface this I suppose by saying that the title is not in reference to that (oh-so-guilty-pleasure of a) movie starring miss ONJ, but rather to Coleridge's poem "Kubla Khan" (about an actual place in Mongolia.) The poem is said to be one of the most beautiful works ever written, yet throughout the text it narrowly teeters on the brink of chaos. (It also is about a palace surrounded by protective walls, closely watched by their keeper- get the dorky inferred reefing metaphor? lol.
) Anywho, I know it's a stretch, but I think this is what we as aquarists strive for- this beauty in tiny enclosures, never knowing if it will end up in chaos or bliss. And since a reef tank can last five months or five years, welcome to Xanadu.
So here we are. I'm going to repost my initial posts from my old thread for any newbs who haven't seen it (and just for continuity's sake) and then continue. Feel free to ask questions along the way.
______________________________________________________________________________
It has begun!
(April 27th)
After several months of my 12g JBJ nano-cube, i have upgraded to a 24g Aquapod. I'm keeping the 70watt MH sunpod for it, and drilling an additional bulkhead on the opposite side for added flow, more than likely with both pumps on 15 minute timers or something for wave simulation, but we'll see. All the livestock from the 12g is going in here but should fit a lot better, and some of my rehab corals from my prop tank will be added as well. I'm also refinishing a cabinet I got for $20 to match the rest of my living room, and custom venting it for my chiller to sit in. Here are some before pics to get this thing started- any advice is always appreciated as I dive into plumbing and electrics- lol. Thanks to Nick at nanocustoms for talking me through my pod mod freakouts!
tank being modded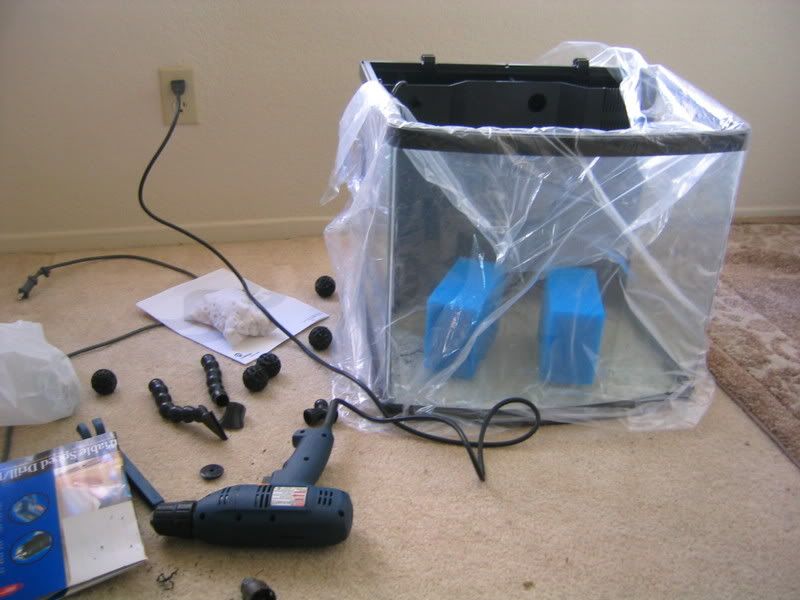 "before" shot of the lovely cabinet (and my first attempt ever at refinishing veneer!)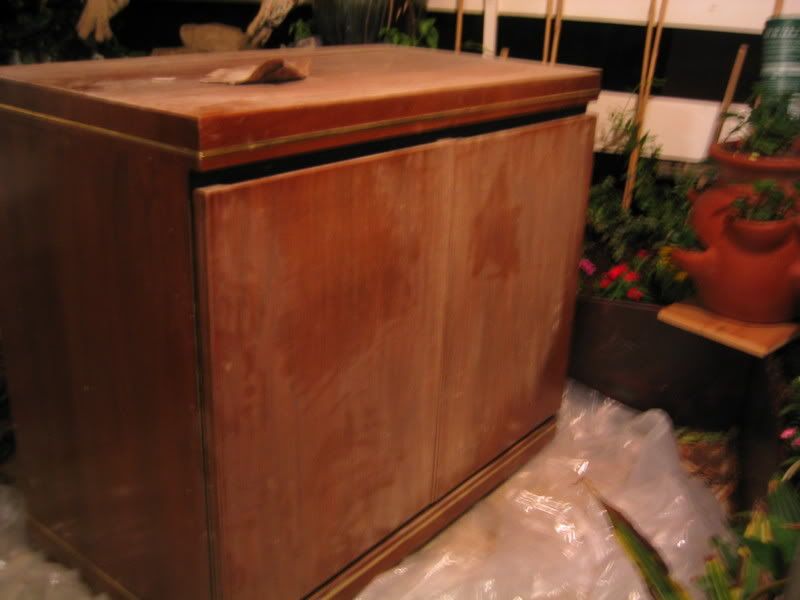 ____________________________________________________________________
let's see... what else... i'm keeping the stock pump on one bulkhead and putting an MJ900 on the additional bulkhead. there's also another rio pump in there for the chiller- a lot of pumps!!! agh.
as far as filtration goes, i plan on taking out all the stock media, and just running a bag of carbon, a bag of live rock rubble, and some cheato (which i'll rinse out once a week- sort of surface skimmer but a little more effective imo). that and water changes... but we'll see as we go.
____________________________________________________________________
this tank so far:
AP24g- $100 (no hood)
plumbing parts- $30-40
cabinet stand- $20
i already have the lights for it and the stain for the stand, and didnt have to buy special tools to drill bulkheads b/c my lfs owner let me use his attachments
i wish i had more $ to put into them, but am happy with what i can do.
because the cabinet is veneer, it was hand sanded. i used an all-in-one stain and seal that i LOVE to finish it. i've used it on a tv stand and planter boxes as well, and it rocks my socks. i painted the gold trim black with some epoxy i had lying around so it wasnt as cheezy.
i've also removed the back panel for better venting (since it didn't do anything structurally) and will see whether 1/2 a door gets cut off/slatted or not once the chiller is in place. i'm also looking at building shelving but may just get one of those wire hang-on-the-door ones that you put under your sink for now. i also braced the center of the stand with 2x6s and L-braces after realizing it was made out of MDF. whew! that was a close one. at least if it sags it'll be sitting on some tough boards. okay, off to the LFS for water!
_____________________________________________________________________
the finished cabinet: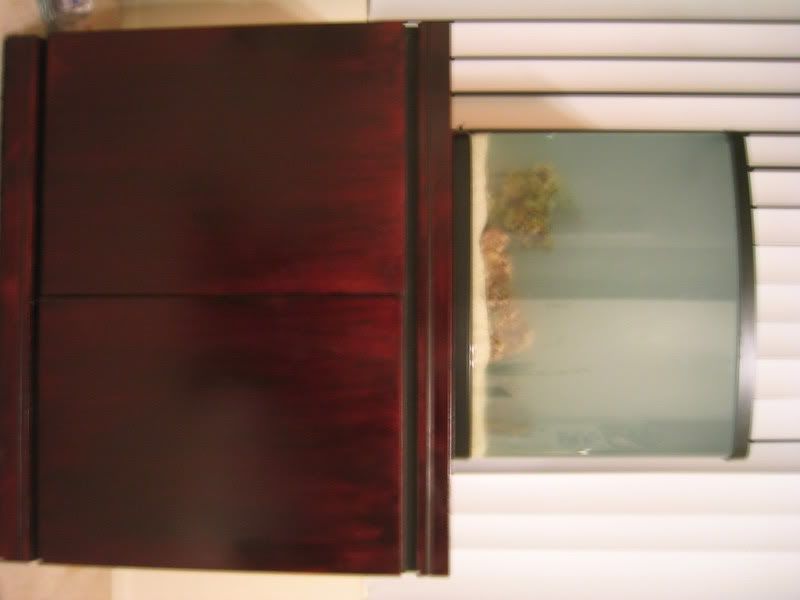 my tank, dust not settled yet:
stand open (chiller will go to the right and ATO to the left)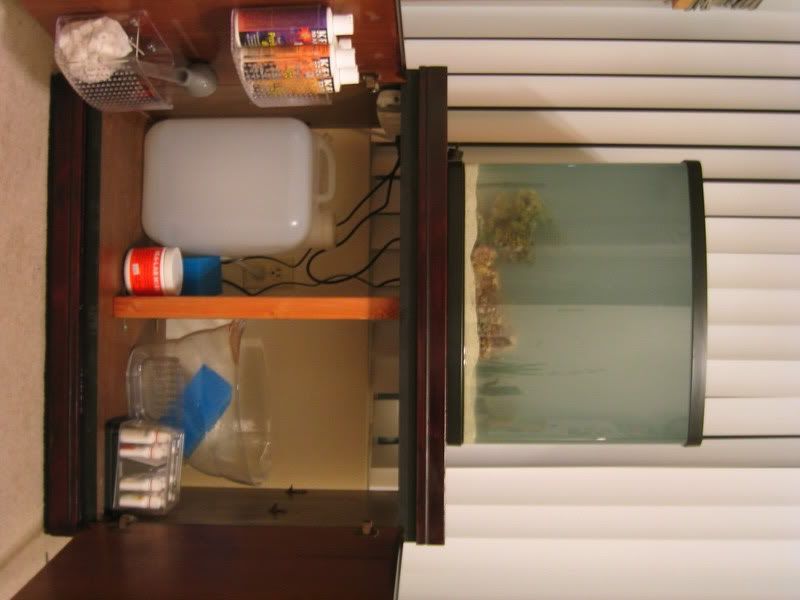 added some deep soapdishes inside the door as shelves (may do on other side too)
close up of inside of stand (mounted power strip and braced center with 2x6s)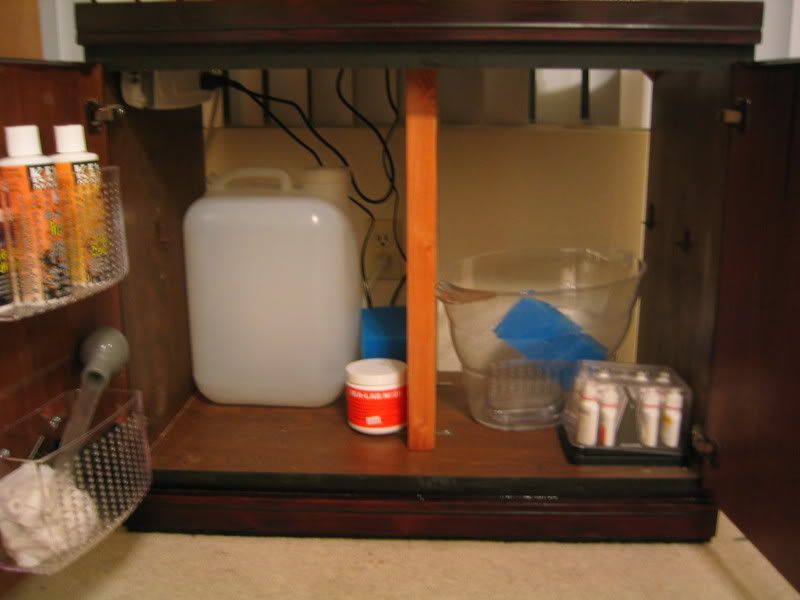 i know, it's not a huge project, but it's cool i turned something that was $20 (and some change for soapdishes) into this. when my chiller's in place, i'll prolly add another high shelf or two- haven't decided yet really, and suggestions are always welcome.
____________________________________________________________________
i admit it.
i'm obsessed.
and i don't sleep. well not much anyway.
what started as me wanting to arrange the rocks and add an inch or so to the sandbed last night turned into me setting up my entire 24g between 8pm and 3am. ha. it's at a place where i can leave it be- all water params were fine during course of setup, and are still okay this morning- the only thing that was off was the SG in my LFS water for my 24g (which is very unusual) and I didn't have salt to mix in and bring it up! (note to self- get salt) but I acclimated everything and moved some water from my 12g to try and bring the gravity up a bit.
also, here is a new FTS! not a great one, but i've gotta run- pardon the "dust"- it was feeding time: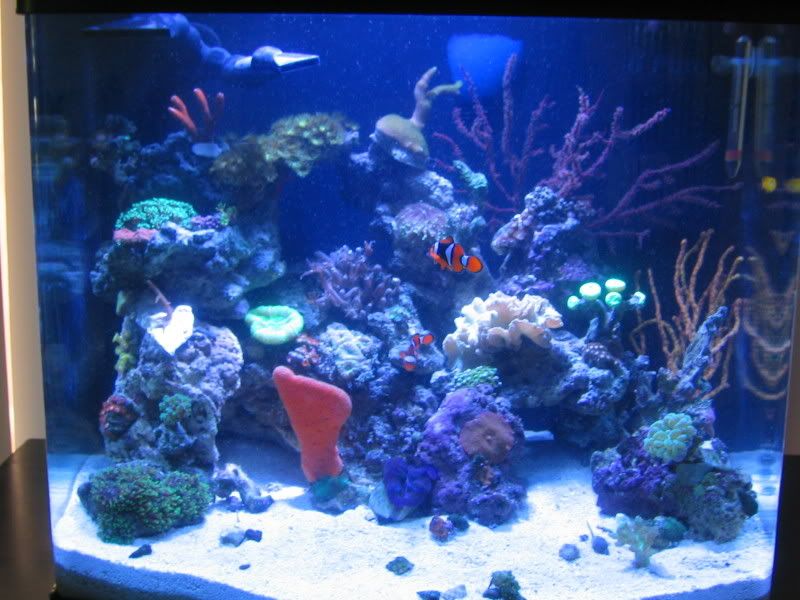 _______________________________________________________________________
and here we are now kids. i had a few rocks fall, so no FTS until i get a chance to fix them, but that about sums it up until the present.
Stocking list so far:
-2 Clownfish
-1 Clown Goby
-1 Aurora Goby (in QT)
-1 Croacea Clam
-1 Peppermint Shrimp
-1 Emerald Crab
-CUC of red leg hermits, nass. snails, astrea snails, an a few margaritas (i think)
-Lots of softies, some SPS, and a couple seafans/gorgs
i'll also be adding a royal gramma after the BBQ. (i recently had gotten one but it died, so i've decided to only buy fish from one source for now on. thanks m!
)
Edited by fraggle rockette, 05 May 2007 - 09:30 AM.