Pico1
10 Gallon AGA
Tank with Arrowhead Mountain Spring Water
Introduction:
I've been really excited to participate in a contest after watching the last two contests here. For this tank I plan to keep a variety of everything but SPS. I'm hoping to keep some smaller things that can be more appreciated in a smaller tank. I'm really excited to set-up this tank and will be taking the time to handpick everything for this tank. I have high expectations for this tank and look foreword to setting up a smaller tank.
Tank:
The tank is a 10 gallon AGA 20"L x 10"W x 12"H. I am currently planning the canopy for the tank. I will be painting the back of the tank black.
Lighting:
For lighting I will be using a Current USA 20" Single Satellite fixture.
Filtration and Flow:
Filtration and flow will consist of a Marineland Penguin 150 BIO-Wheel Power Filter and an Elite Mini Submersible Filter (58 GPH).
Temperature:
The temperature will be controlled by a small fan in the canopy that is on during the day and a 50W Titanium Heater.
Water:
Water will be made with RO/DI and Reef Crystals and will be topped off with RO/DI mixed with a small amount of Reef Builder.
Livestock:
Livestock will consist of a clean up crew and a no stripe percula clown if I can get one
Lots more to come...
October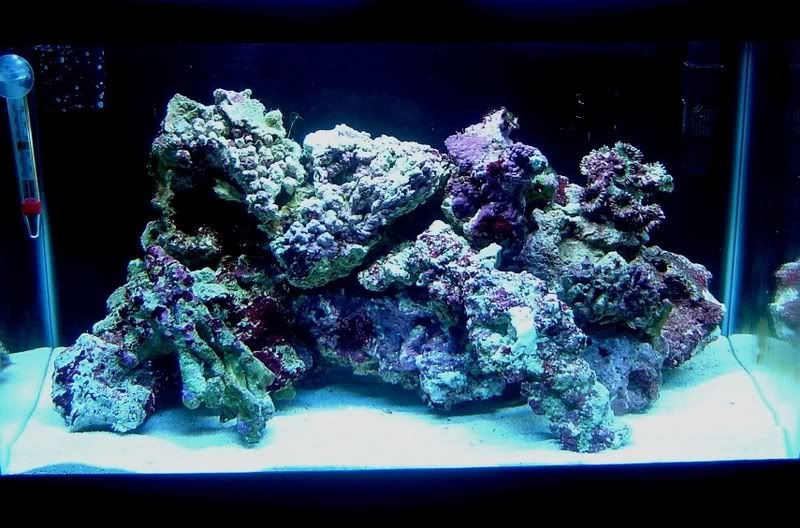 November
December
January
FebruaryMarchFinal
Edited by pico1, 02 February 2007 - 10:39 PM.