Hi all,  
Welcome to My IM Micro 30L Build Thread.  
FTS:  
Equipment:  
Tank-IM Nuvo Micro 30L
Stand-Aquatic Fundamentals 30/45/60 Stand
ATO-Tunze Nano Osomolator
Return-Stock IM Mini 38 Pump
Powerhead- Vortech MP10 WQD
Lighting-Nanobox Quad
Media Baskets-InTank Nuvo 30/40/ Lagoon 50 Floss Holders
Reactor-IM Minimax Midsize
Heater- Cobalt Neotherm 75 Watt
Mechanical Filtration-Filter Floss
Skimmer- Hydor Slim Skim Nano  
Livestock:
Fish:
Onyx Percula Clown-Jess
Extreme Misbar Midnight Ocellaris Clown-Griffin
Pajama Cardinal
Orchestriped Cardinal
4 Little Gobies (No Idea What Species)    
Corals:
Eagle Eye Zoas
Christmas Tree Rock
Kenya Tree
Pulsing Xenia
4 Ricordea Florida
Green Palythoas
Clove Polyps
Neon Green Branching Hammer
Neon Wall Hammer
Micro Hammer
Frogspawn
Sunny D Palys
Radioactive Dragon Eye Zoas
Green Duncan
Green Star Polyps
Green Snake Polyps
Scrambled Egg Zoas
Mandarin Orange Zoas
Australian Acans
Snakeskin Torch    
Macro Algaes:
Dragon's Breath
Halimeda
Ulva
Grape Caulerpa
Caulerpa
Gracilira    
Inverts:
Christmas Tree Rock
Hermit Crabs
Turbo Snails
Margarita Snails
Hard Tube-Shelled Coco Worm, whom I dubbed Glenn Coco
RBTA- he has a little green, though
Orange-Tipped GBTA
5 RFAs
Maxima Clam    
Tank History
​
​In late 2015, I drove out to Colombus and purchased an IM 24 and Midsize Reactor from Karen (Mirya). Here it is before I took it: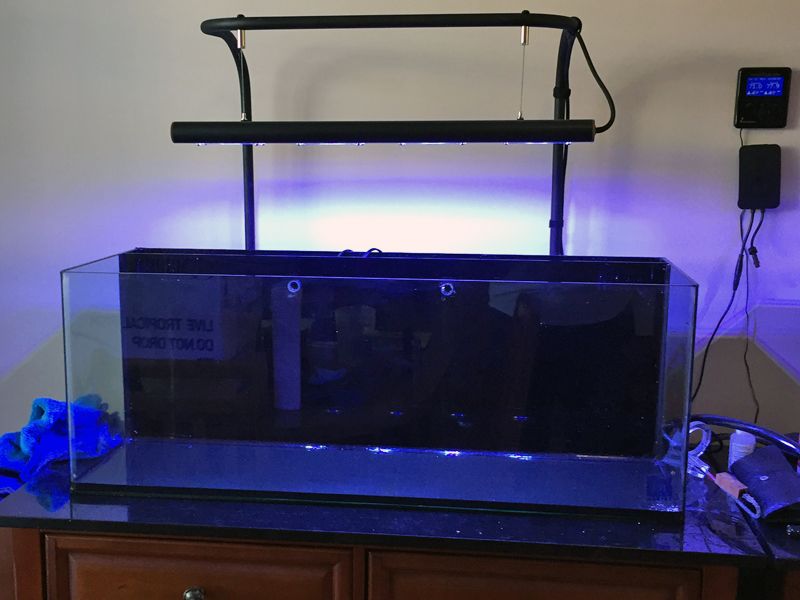 ​From there, I took it home, gave it a good rub-down, cleaned out the back chambers, and began the cycle.
I loved the curved glass. The 24 was/is a beautiful tank. It was kind of.....elegant. Ah, well. The next day:      
So, I salvaged some plumbing parts and the media baskets. The rock was taken out. The sand was put into a bucket. I promptly ordered a Nuvo 30L. The box was HUGE!    
Look at all the bubble wrap! Perfect for relieving stress.  
Now I know why no one orders directly from IM:
Then, after a few weeks, I had the time to set it up.  
If you look closely in the above photo, my lil' Jess is in there.  
The tank then entered its "Ugly Duckling" Phase. I didn't take many photos of it at all. Also, my photos are so crappy because I don't have a decent camera .Many things died and bleached, etc. As of now, my alk level is nearly acceptable!  
Thanks for stopping by!  
Nick