**Important, please read first! **
Hey folks, I just wanted to make a short statement about Gonodactylaceus ternatensis and coral habitat destruction. There are three things I'd like to cover here: The unfortunate collection process of G. ternatensis, misidentification of G. ternatensis and good alternatives for your aquarium.
Unlike most mantis shrimp, G. ternatensis makes its home in finely branching, delicate corals such as Pocillopora. Their dens are easily identified amongst the corals. To quickly collect the mantis for sale in the aquarium trade, the coral colonies are unceremoniously smashed to access the mantis den and the corals are severely damaged or destroyed altogether. Coral reefs are in enough danger without humans intentionally doing damage to them while collecting animals to sell for our entertainment. I would strongly recommend you chose a different variety of mantis.
Very often, because G. ternatensis has colorful markings, they are often misidentified as a Peacock mantis (Odontodactylus scyllarus). It should be noted that O. Scyllarus also has some issues. O. scyllarus requires some very specific aquarium conditions and is highly susceptible to shell rot. It should not be kept in a lighted aquarium which is one of the known factors in shell rot. Additionally, over the past 10-15 years, Dr. Roy Caldwell has noticed a sharp decline in large adult males in the wild. This would make the Peacock mantis another poor choice. Unfortunately, this is one of the most commonly available mantis shrimp and one of the most desired in the aquarium trade.
So, G. ternatensis and O. scyllarus are not the best choices for your new best buddy and you want a colorful and interactive mantis shrimp. Now what? Don't despair. There are a couple of better choices when it comes to mantis shrimp varieties. They might require you look a little further and spend a little more time locating them, but your effort with go a long way toward conserving both coral habitat and these awesome creatures. Gonodactylaceus graphurus is a very colorful and a better choice for your new pal. Also, Gonodactylaceus glabrous is another good choice as is Gonodactylus smithii, another beautiful and interactive mantis and a fairly common on in the aquarium trade.
I am also a proponent of adopting an unwanted hitchhiker and giving it a good home. Of course, all mantis shrimp will require a dedicated tank and you should do your research before setting up your own mantis habitat.
For more information, check out Roy's list!
********************************************
Ok folks, here we go!
If this tank looks familiar, it's because it's Micro-Reef's original 25 gallon display tank!
Current equipment includes:
25 gallon TruVu tank, stand and canopy.
1/10 hp Oceanic chiller
Tunze 9002 skimmer
Lighting is yet to be determined
Here's a video of the mantis shrimp that's going in this tank!
Pre-Buffing.... It's in pretty good shape, won't need much work: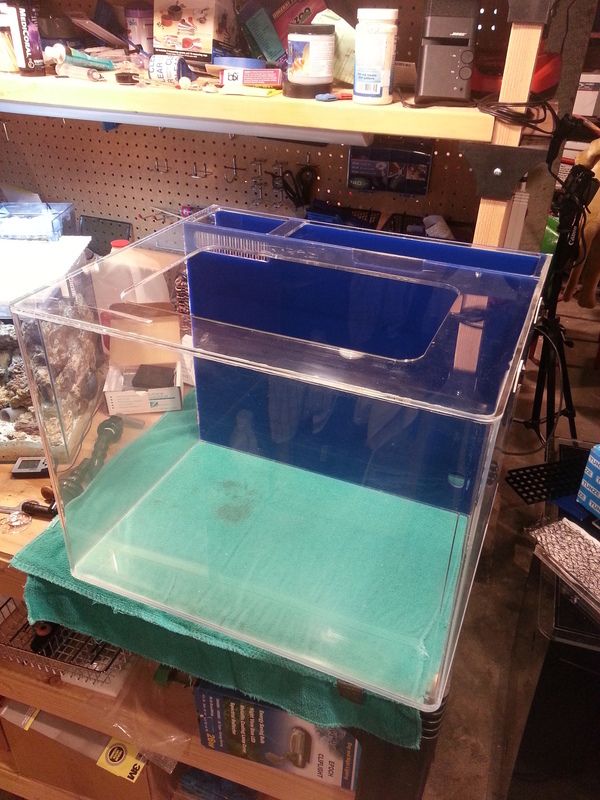 This is the rear chamber. The pump goes down at the bottom on the right side. There is a bulkhead fitting with a nozzle that goes in the hole on the left at the bottom, there are two media trays that fit on those shelves:
This is the chamber for the skimmer. It also holds the pump and the plumbing for the heater/chiller: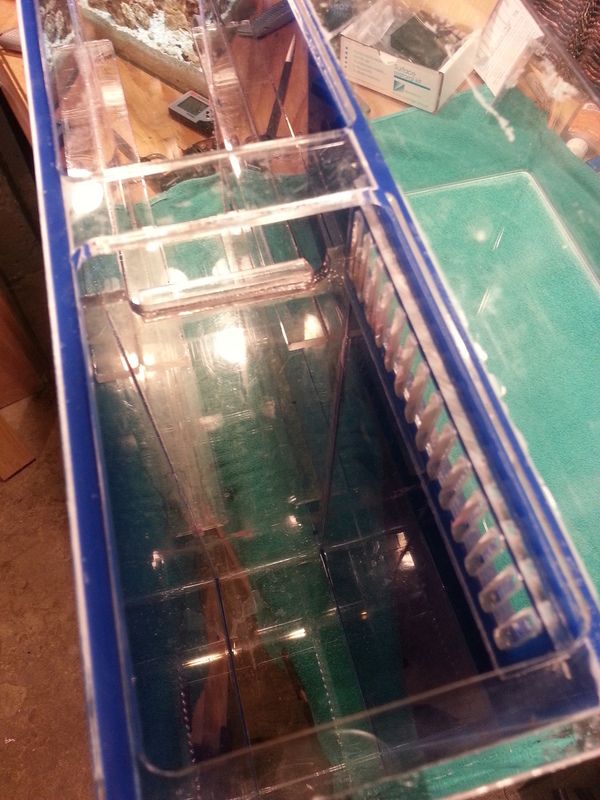 About an hour and a half later and 95% of the scratches are gone: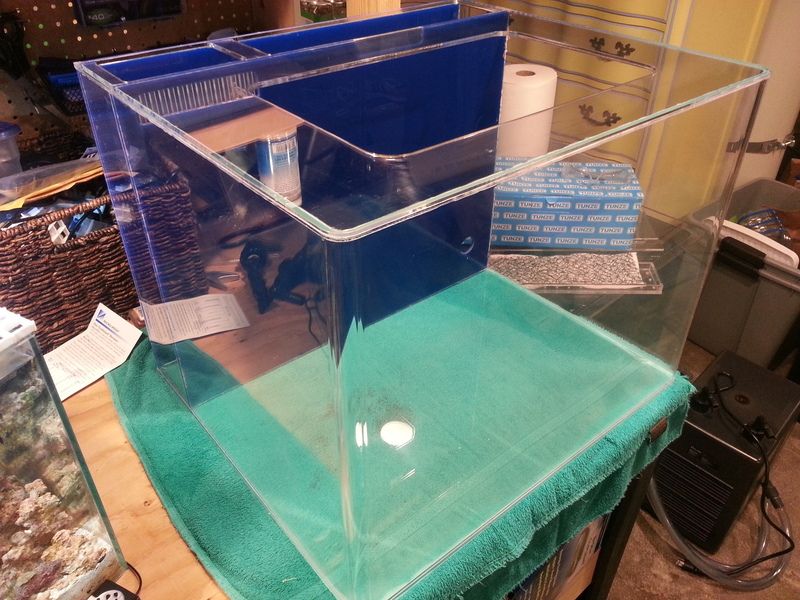 I've got both of the pumps running in a bucket with some water and some vinegar to clean them out. They are working great.
That's it for today. I hosed the tank out thoroughly after buffing it to remove any leftover debris. Tomorrow or tuesday, I'll fill it with water and hook up the pumps and chiller and let it run for a couple days to make sure the temperature is stable and the pumps are working well. During the testing period, I'll polish up the stand, the canopy and start working on moving shelves around in the room where it's going. It will be sharing a room with two African grey parrots.
I'm also going to give this tank it's own GFI electrical circuit since the nearest outlet only has two prongs and is on the same circuit with a bunch of other junk. I don't want to risk overloading it and losing power.
The LFS has some really nice live rock, so I'll pick some up once the tank is upstairs and filled with salt water.
Edited by Islandoftiki, 01 December 2012 - 05:35 PM.