Established May 29, 2012. Restarted July 19, 2012 with new rock from KP Aquatics.  The official birthday is July 19th.
Newest FTS April 2013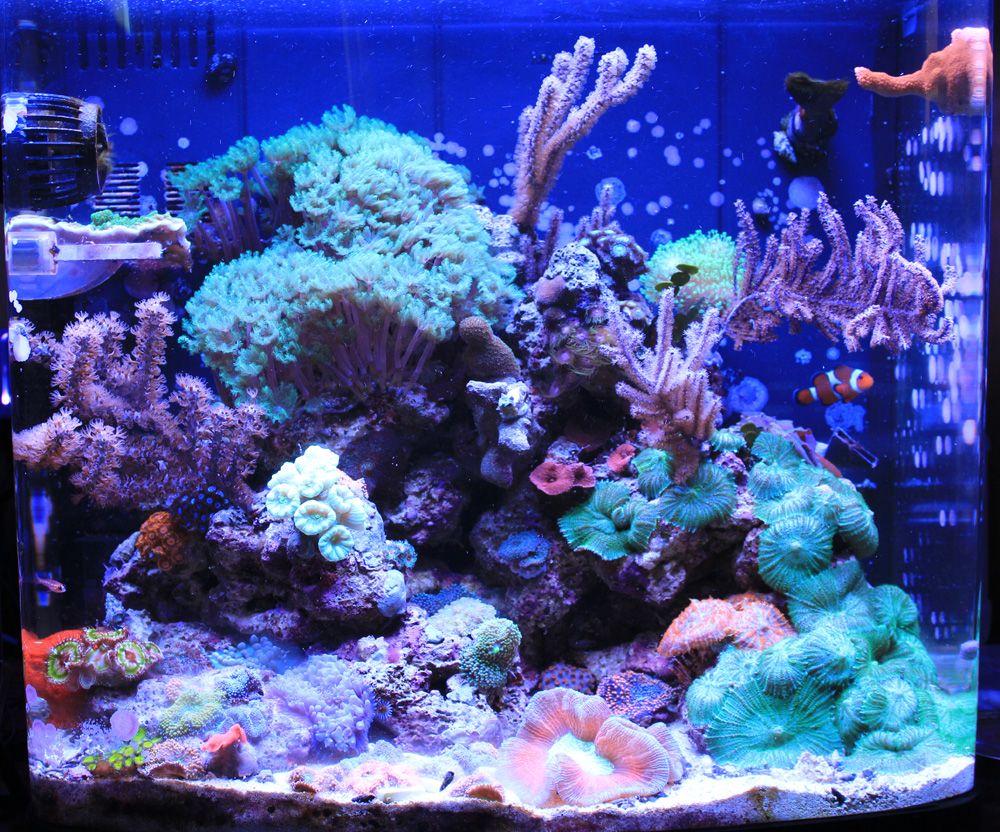 The 28 Gallon Itch Video!!!!
Background:
I found this 28 gallon AquaEuro USA All-in-One tank at a friend's garage sale for $35. It was barely used, in nearly new condition.
Initially I was planning to move the entire contents of my NC12 into this tank. But instead, I decided to transfer most of the inhabitants from my 10g macro tank and retire the 10g. After a few months I did end up breaking down my NC12 and transferring some of the inhabitants into this tank.
The tank stand is from a vintage singer sewing machine. We removed the original table top but kept the legs. My husband stained and varnished the new wood top to match the furniture in our den. I think it turned out GREAT
The thread name: I'm a huge Marilyn Monroe fan. It's a take on the movie she was in called "The Seven Year Itch"
I found it fitting because the reefing habit is an itch that can never be scratched away
This tank had a pretty rough start. I had trouble with the dry rock I had purchased. This was the fake purple painted rock. All Ca and alk would precipitate out of the water and coat the rock and sand. I still have not figured out why this was happening. After 2 months of trying to fix this, I gave up and purchased Live Rock uncured from KP Aquatics (formerly SealifeInc.). The following pictures are of the fake rock I started with initially, but then removed. The final picture is of the uncured Live Rock from KP Aquatics. The difference has been night and day. I'm so pleased with the uncured rock.
Photos:
I haven't tucked away the wires yet. I'll get there soon
KP Aquatics Live Uncured Rock (highly recommended):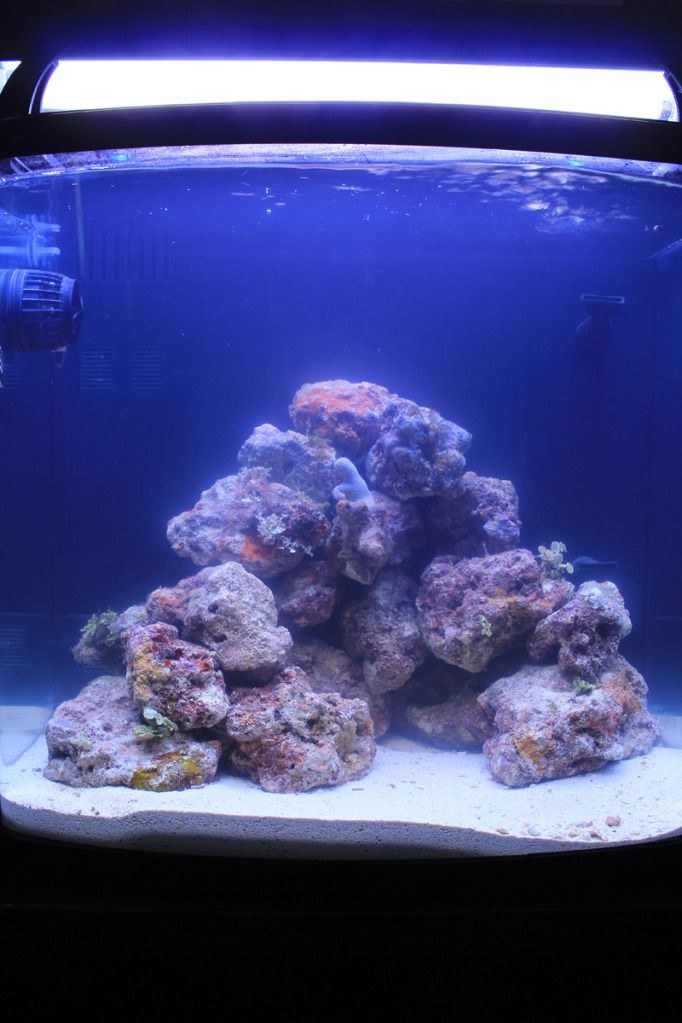 Specs
Tank
28G AquaEuro USA AIO Aquarium
Lighting
Coralife 96W T5HO
Filtration
All natural Live Rock and Sand
Refugium with Chaeto in back chamber
Lots of Macros in the display
Heater
Eheim Jager TruTemp 75 Watt Fully Submersible UL Approved Heater
Controller
Apex Lite System
Rock and Sand
approximately 30# Aquacultured Lived Rock (uncured)
CaribSea Live Sand
Livestock
Fish
2 Orange Ocellaris Clownfish
2 Rusty Gobies
2 Neon Gobies
2 Masked Gobies
1 Pink Streaked Wrasse
Cleanup crew
assortment of snails (Nassarius, nerite, cerith, etc)
Inverts
3 Porcelain Crabs
2 PomPom Crabs
2 nano serpent stars (from KP Aquatics)
1 Emerald Crab
1 Red Mithrax Crab
Coral
Softies
pink cabbage leather
clove polyps
red, rhodactis green, Superman rhodactis, pink, mushrooms
neon green toadstool
Asst. ricordeas
Asst. Palythoas
Zoas and Palys
Nuclear green
Mohawk
Sunny Delight
Asst. palythoa
Oxides
Tubbs Blue
Captain America
Space Monster
Pink Elephant
Grandis Paly
LPS
Turquoise candy cane
Open Brain Coral
SPS
Orange Digitata
Meteor Shower Cyphestrea
Green Monti cap with Pink Polyps
GORGONIANS
Purple Feather
Purple Sea Rod
Purple Plume
MACROS
Dragons Breath
Ulva
Halimeda
Chaeto
Maintenance Routine
Weekly 5 gallon water change with Red Sea Coral Pro Salt
Feed 2x per day (NLS pellets, Reef Chili, Fresh Frozen Cyclopeeze)
Live Phyto Every other Day
Oyster Feast once a week
Edited by gena, 19 April 2013 - 08:15 AM.