So I've had this bubble algae problem for a while and the red brush algae is starting to get out of control. I started preparing water last night and I've been going at it all day now. First off I made around 25-30 gallons in a rubbermaid container. This is a temporary holding place for live rock. I have over 100lbs in my display. I also prepared 2 five gallon dipping buckets. More on this later.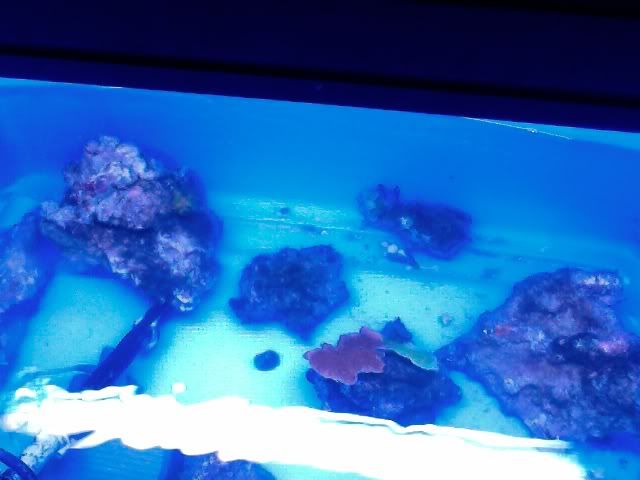 rubbermaid container housing the first (and easiest to remove) live rock batch. I put the rock and my starry blenny in here (so he would stop biting me while i break down the tank).
My display now looks like this.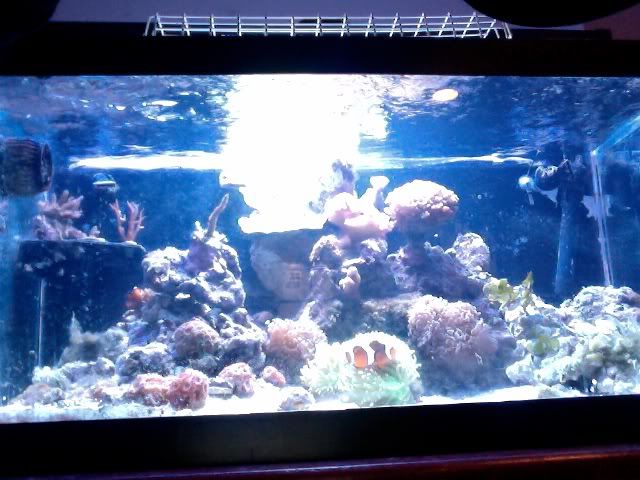 I can't remove any more rock because I also set up a 20L with saltwater in my back room and it's not quite up to temp yet. This tank will serve as a temporary house for my clown fish/mandarin and all of my nicer corals.
So basically here's what I'm doing. I'm removing my live rock in batches to the rubbermaid tub and then removing one piece at a time, scraping the algae off of it and spraying (using a spray bottle) H202 onto the rock.
Here's my make shift station.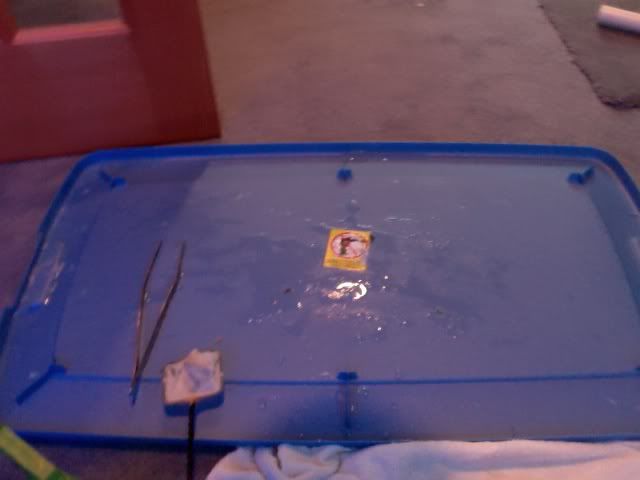 I let it sit for a few minutes and then I rinse it off really good in the dip bucket.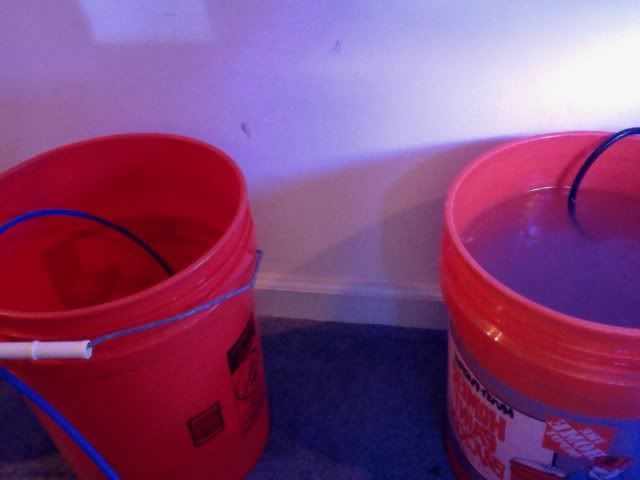 After that I return it to the blue bin for a little while to de-stress (if there are corals on the rock). Once the 20L is up to temp I'm going to transfer the cleaned pieces to that tank along with some coral from the display and the fish. Then I'm going to repeat my method on the rest of the rock in the tank until I finish.
Now I have a couple of questions on an idea I'm about to try out. I want to give either a blue spotted jawfish or a blue ribbon/snowflake eel a try in my tank. So I'm taking an idea I read from somebody else on the forum (i really cannot remember who so sorry about that) and creating an under-the-sand pvc piping for it to live in.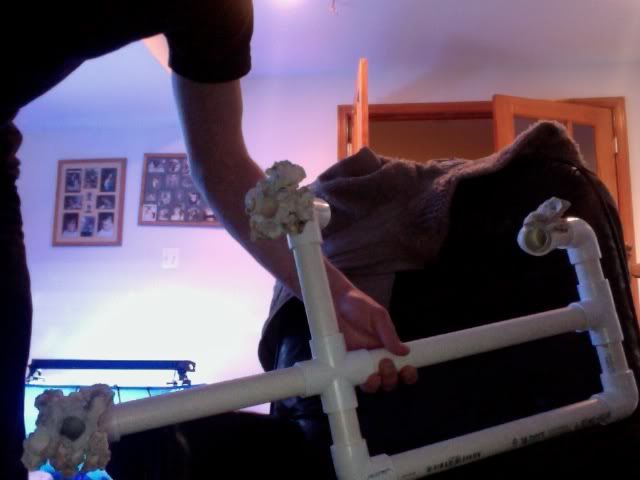 I'm going to need a bit more sand in my display so I bought a 20lb bag of the bagged live sand from a LFS. I plan on burying the pvc piping under my current sand bed and then adding the 20lbs of sand on top. Is it OK for me to add the bagged live sand on an already established tank? I imagine there isn't an incredible amount of dye off and i plan on letting the tank settle down and go a day or so before returning all of the rock to it. I'll probably add back some but not all.
How am I doing? Am I on the right track? I would hate to mess something up and lose all of my coral or any of my fish.
Edited by matt frizz, 16 April 2012 - 11:44 AM.