Hi everyone. This is my entry into the
My 3 and Under Pico Contest
. I'm building a macro reef in an Aqueon 2.5 gallon aquarium. This will be a bare bottom tank that will instead use a floor of GSP.
I've created a rock wall out of rubble chips attached to the rear glass with silicon, that serves two purposes - first, since I want a sparse floor on this tank, the wall provides plenty of surface area for nitrifying bacteria, and second, it gives me an excellent location to attach macro algae. I've also siliconed an island rock to the floor that the GSP will grow around and provide a foreground location for the better display algae. I'll be adding another rock island later on the right side after the tank cycles with a speciman rock of aquacultured Pacific algae.
Filtration and water flow will be via an AC70, which will be home to a 50W Finnex heater, temperature probe and AquaticLife 115 skimmer - the only mechanical filter I'll be using. All other filtration will be natural, via the algae. As this tank has a near zero bioload, I don't anticipate doing any water changes, just as I've not done water changes on my other macro tank in nearly a year.
Lighting is via an 8W Innovative Marine Skyye Light LED panel at 14000k. The panel is mounted to the back of the AC70, making the lamp well centered over the tank.
Cycling was started yesterday, and I'll be using Dr. Tim's One and Only to speed the cycle. I used this for my previous two tanks, and was exceptionally happy with the results.
This thread is going to be pretty picture intensive, so I hope you all like images. You can click on any of the images to view a full HD version. I look forward to your comments - both good and bad!
Full Tank Shot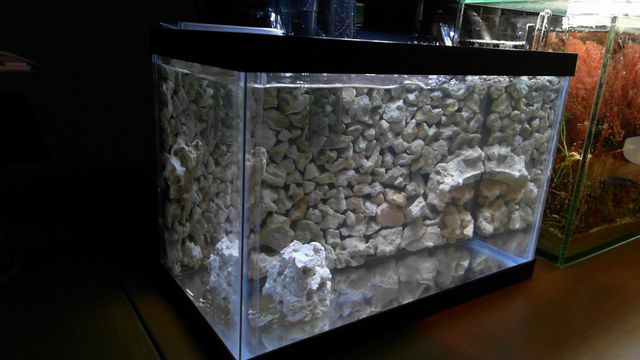 Full Lighting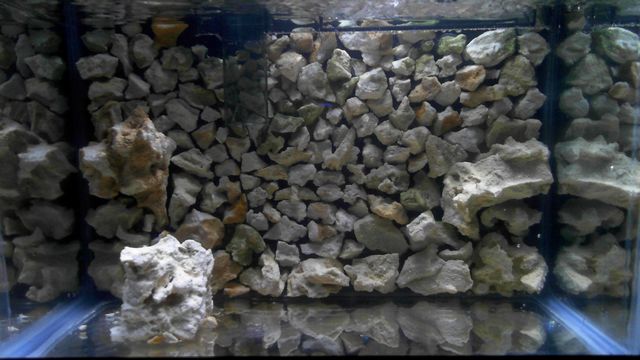 Actinic Only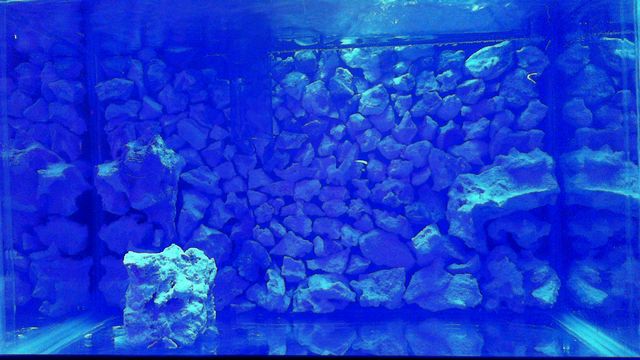 Equipment:
Aqueon 2.5g Aquarium w/ glass canopy
AquaClear 70 HOB Filter
AquaticLife 115 Skimmer (in the HOB)
Innovative Marine Skyye Light 8W 14000K LED (mounted to the HOB)
Finnex 50W Titanium Heater (in the HOB)
ATO (at some point)
Intended Livestock:
Small to Medium Nerites
Green Star Polyps
Common and Rare Macro Algae
Fire Fern (Bryothamnion Triquetrum)
Flamingo Feather Algae (Heterosiphonia gibbesii)
Red Grape Algae (Botryocladia leptopoda)
Spiny Seaweed (Acanthophora spicifera)
Laurencia papillosa (green variant)
Palm Tree Algae (Cymopolia barbata)
Ulva (Ulva rigida)
Red Fern (Haliptilon roseum)
Iridescent Fauchea
Blue Ball (Ochtodes sp.)
Dictyota linearis
Sargassum sp.
Dosing:
Kent Iron and Manganese - 2 drops/2 days
Kent Tech-M Magnesium - 2 drops/2 days to maintain 1320 mg/L
Brightwell Reef Code A/B - 2 drops/2 days to maintain 440 ppm/10dKH
Brightwell Lugol's Iodine - One drop once per week
Gulf Coast Ecosystems KNO3 - 1ml/2 days to maintain ~3 ppm Nitrates
Seachem Reef Plus Vitamins/Amino Acids - dosage TBD
Kent Strontium & Molybdenum - 2 drops/2 days
Brightwell Replenish Trace & Minor Elements - 3 drops/2 days
Measured Water Parameters:
Temperature: 77.2 F
Specific Gravity: 1.024
pH: 8.3 (API Test Kit)
Ammonia: 0 ppm (API Test Kit)
Nitrites: 0 ppm (API Test Kit)
Nitrates: ~3 ppm (API Test Kit)
Calcium: 440 ppm (API Test Kit)
Alkalinty: 10 dKH (API Test Kit)
Magnesium: 1320 mg/L (Salifert Test Kit)
Phosphates: 0 mg/L (API Test Kit)
Iron (free) 0 mg/L (chelated) .1 mg/L (Nutrafin Test Kit)
Edited by grmoore, 04 June 2013 - 08:56 AM.