Tank Started: 1/28/12
FTS as of 6/1/12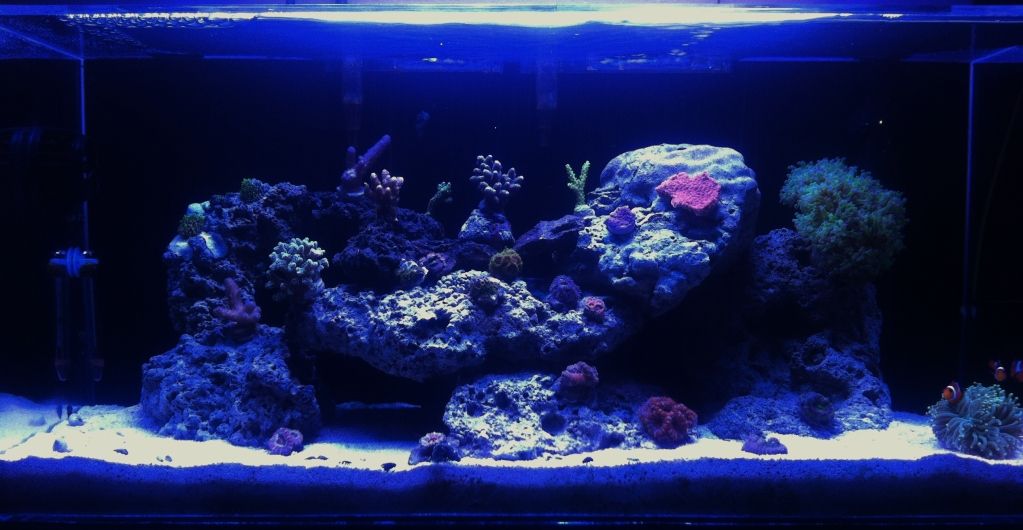 Picture directory:
(3/25/12) My first few soft corals and LPS
(4/9/12) Frogspawn!
(4/13/12) April FTS, acans, new scape
(4/20/12) SPS, acans, zoanthids/palys
(5/1/12) May FTS & a bunch of random pictures
(5/9/12) A clownfish and her host
(5/17/12) New lights!
(6/1/12) June FTS & tons of random tank photos
(6/5/12) 3rd Vivid Aquariums order
(6/24/12) New coral placement

Equipment:
Tank: 20 gallon long Clear For Life acrylic aquarium
Lighting: 24" Sunlight Supply Tek High-Output T5 fixture running x2 Blue+, x1 Purple+, and x1 Coral+; x1 12W Ecoxotic magenta/actinic stunner strip, all hung from DIY fixture.
Filtration: AquaClear 50 running Purigen and Chemipure; AquaClear 30 Refugium growing Chaetomorpha & lit by 6500k Innovative Marine Utility LED
Heater: 100W Aqueon
Flow: Vortech MP10
Journal to record test results, new acquisitions, interesting observations, etc

Maintenance:
Twice daily manual top-offs with distilled water
Twice daily 5.0ml dose of Brightwell Aquatics Liquid Buffer (calcium demands met with water changes).
Scrub algae off acrylic as needed
Use turkey baster to blow detritus off LR 2-3 times/week, stir sand bed 2-3 times/week
Twice weekly three gallon water changes (~15% each water change) using Reef Crystals salt
Once daily feeding for fish: pellets, flakes, sometimes mysis shrip (occasionally garlic soaked)
Once weekly feeding for corals: Marine Snow or Oyster feast. Mysis shrimp for LPS.
Check temp daily. SG every few days. Other tests weekly to bi-weekly.

Parameters:
SG: 1.025
Temp: 78F
NO3: 0ppm
PO4: 0ppm
Ca2+: 440ppm
Mg2+: 1400ppm
Alk: 8.0dKH

Fish:
Pair of Ocellaris Clownfish (Amphiprion ocellaris; 1 Misbar, 1 Wild-Type)

Invertebrates:
1 Red Legged Hermit Crab (Paguristes cadenati)
2 Electric Blue Hermit Crabs (Calcinus elegans)
5 Nassarius Snails (Nassarius sp.)
6 Nerite Snails (Nerita sp.)
2 Banded Trochus Snails (Trochus sp.)
5 Cerith Snails (Cerithium sp.)
~25 Dwarf Cerith Snails (Cerithium sp.)
Pair of Skunk Cleaner Shrimp (Lysmata amboinensis)

Corals:
Soft Corals

Tic-Tac Zoanthids (Zoanthus sp.)
Lord of the Rings Zoanthids (Zoanthus sp.)
Whammin Watermelon Zoanthids (Zoanthus sp.)
Radioactive Dragon Eye Zoanthids (Zoanthus sp.)
Limeberry Zoanthids (Zoanthus sp.)
Lunar Eclipse Palythoa (Palythoa sp.)

LPS Corals

Tri-Color Acans (Acanasthrea lordhowensis)
Blue and Red Striped Acans (Acanasthrea lordhowensis)
Blue and Neon Green Acans (Acanasthrea lordhowensis)
Orange Acans (Acanasthrea lordhowensis)
Blue with Red Centers Acans (Acanasthrea lordhowensis)
Electric Green Torch Coral (Euphyllia glabrescens)
Purple Tip Frogspawn Coral (Euphyllia paradivisa)
Hot Spot Chalice (Echinophyllia sp.)
Blue Blastomussa Wellsi (Blastomussa wellsi)
Purple, Green & Pink Maze Brain Coral (Platygyra sp.)

SPS Corals


Montipora capricornis (Orange)
Montipora capricornis (Purple)
Acropora millepora (Pink)
Acropora millepora (Blue)
Acropora yongei (Bali Green Slimer)
Acropora humilis (Purple)
Acropora tenuis (Green with blue tips)
Seriatopora guttatus (ORA Green Birdsnest)

Wish List:
Fish

Pink Streaked Wrasse (Pseudocheilinops ataenia)
Maybe 1 Neon Blue Goby (Elacatinus oceanops)

Corals

Either an Acropora tortuosa (Oregon Blue) or Acropora microclados (Strawberry Shortcake).
More acans if I have room!
Various space filler zoanthids
Candy Cane Coral (Caulastrea furcata)
Chalice coral

Rock/substrate:
~25lbs Fiji Premium Live Rock
~30lbs Fiji Pink Live Aragonite Sand
Edited by matt20, 04 January 2013 - 03:26 PM.