I decided to turn an old 5 gallon rimless tank into a pico by building in an AIO. I figure I will have about 3 gallons display space. The theme is "minimalistic" in the display, BB and a small dry rock island. LED lighting DIY ModularLED 18 watts. DIY bio-pellet reactor and skimmer. No fish, only inverts. See thread for details.
 
Just after the DIY AOI conversion
At 1 month:
At 5 months: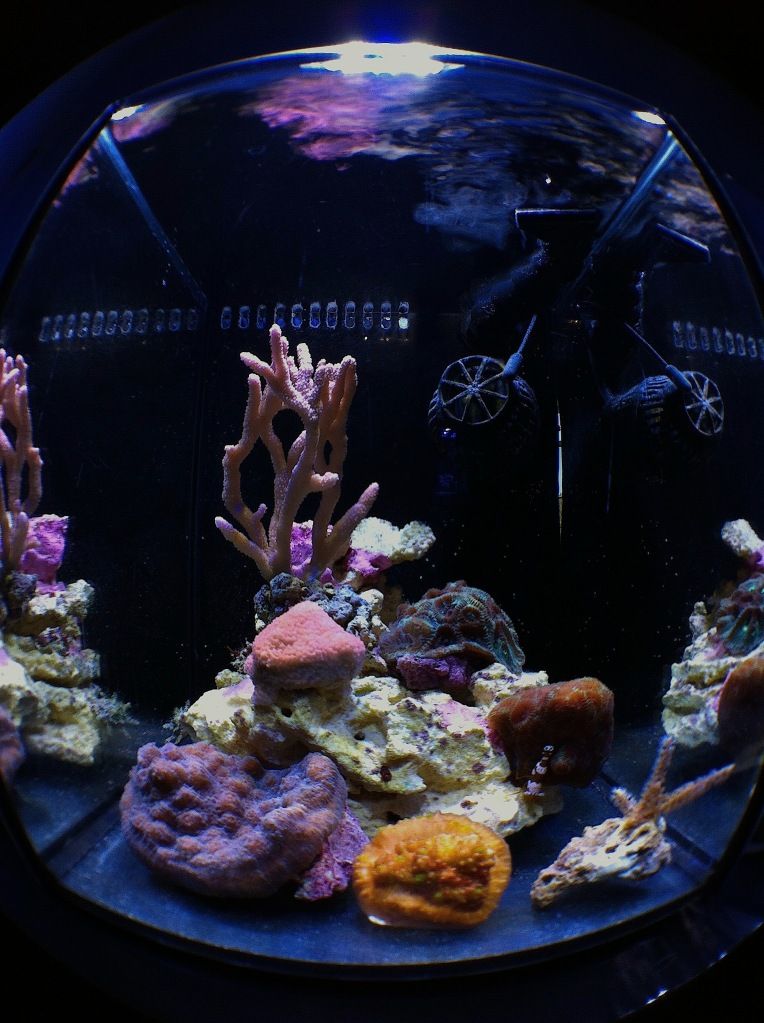 EQUIPMENT
5 Gallon Rimless tank converted into an AIO
Ehiem 300 return pump ~80GPH
DIY up-flow Reactor (bio-pellets)
DIY air stone skimmer
DIY Cree LED fixture (ModularLED components)
Hydor Nano 240 GPH circulation pump
Aqueon 50w Pro Heater
Pinpoint temperature monitor/probe
DOSING
Brightwell Aquatics (Ca, ALK, Mg, Iodine, MB7, GAC)
Zeovit (Coral Booster, K-Balance, Coral Snow, Pohl's Xtra, Sponge Power, AAHC, Amino Concentrate LPS)
Vertex (Bio-pellets)
RO water
DD H2O Ocean Pro Salt
FEEDING
Brightwell Aquatics Zooplanktos-S (Liquid suspension)
Reef Nutrition Oyster Feast (Liquid suspension)
Hikari Mysis Shrimp (Frozen)
Omega One Pellets (Dry)
PARAMETERS
SG/S: 1.025 ppt [Refractometer]
Temp: 78.5 F [Pinpoint Probe]
pH: 7.8 - 8.0 [Elos]
KH: 8.0 - 8.5 dKH [Elos]
Ca: 420-430 ppm [Elos]
Mg: 1400 ppm [Elos]
K: ~400 ppm [Elos]
I2: ~0.06 meq/L [Seachem]
NO3: ~0 ppm [Elos]
PO4: 0.00 - 0.02 ppm [Hanna Checker]
LIVESTOCK
Coral
Pinnigoroia flava "ORA Grubes Gorgonion"
Montipora tuberculosa
Monitipora digitata branching
Echinophyllia echinata X 2
Favia X 2
 
Inverts
Venus Anemone Shrimp (Anclyomenes venustus)
Sexy Anemone Shrimp (Thor amboinensis)
Bumble Bee Shrimp (Gnathophyllum americanum)
Long Nose Shrimp (Leander plumosus)
Feather Duster Worm
Spiny Astrea Snails
Edited by NanoTopia, 13 September 2013 - 02:59 PM.