I've been hanging out for another opportunity to build a pico. I've had one in the past which was a touch over one gal.
My contest build will be as close to 3 gal as I can get without going over of course). I'll also be sumping it with the same or similar size. The sump will hold all equipment, a fuge with shrimp.
The sump and display will be made from one small glass tank. Not sure of the exact dimensions yet, I'll have to check out the LFS. I'll cut the small tank into two and it will look something like this.
These are the dimensions of the tank, and sump. The display will hold 3 gal exactly and the sump about 2.8 gal. These volumes are before the addition of livestock or equipment.
The small wier will have a full syphon/overflow style silent system.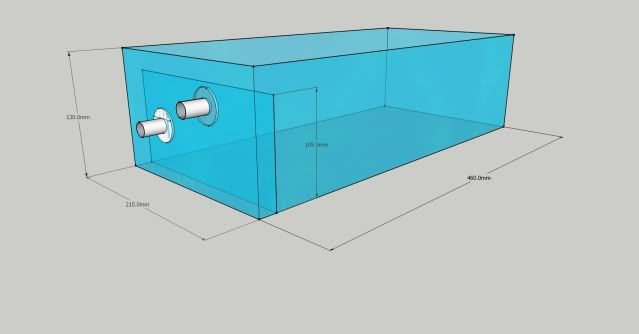 Introduction:
System Type:
LPS with
Acropora dallaswarreni.
Strike up Date:
1 April 2012
Display Tank:
460x 215x120mm glass with polished edges all round.
Display Lighting:
Sunlight plus 2x 6500k 12W compact flurescent.
Stand:
work bench
Sump:
460x215x100mm glass. Mostly fuge but small section for return/recirculation pump..
Refugium Lighting:
Sunlight
Support systems:
System Water:
Natural salt water
Display Water circulation:
Closed loop. Sump pump will provide disply tank circulation
Return Pump:
2000lph
Evaporation Top Up:
Gravity fed RO via float valve in sump
Chemical Support:
Calcium Addition:
Via water changes.
Alkilinity Addition:
Via water changes
Other Chemical Maintenance:
Via water changes
Current Water Chemistry:
Update upon strikeup
Nitrates:Phosphates:Alkalinity:Calcium:Salinity / Specific Gravity:Magnesuim:
Images:
Edited by funkngroovy, 06 August 2012 - 02:46 AM.