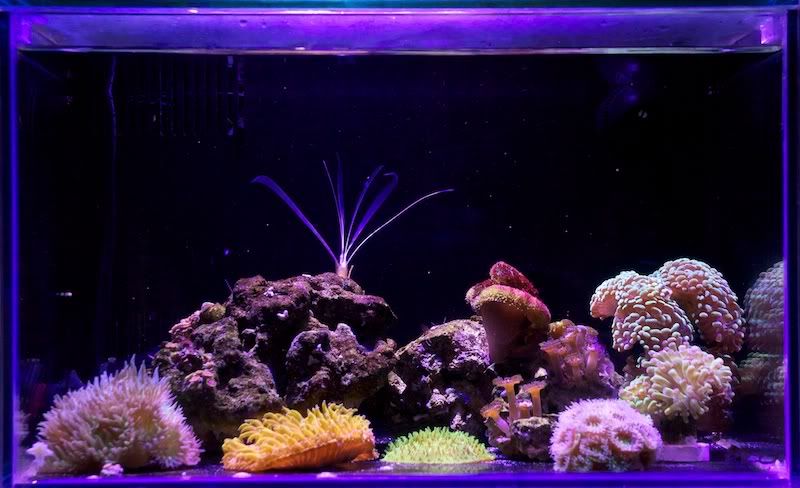 Full Tank Shot
April 1, 2012
After a year of lessons and mistakes with my
15g
, I discovered what I really wanted (I think) out of the hobby and I decided to start anew. I wanted a smaller tank, a better filtration system, and a cleaner display area. I wanted a tank with built-in rear chambers so I can hide equipment without a sump and grow chaeto to maintain pH.
PicO Aquariums
seems to have some of the best options around for what I wanted. It's a gorgeous tank and Chris was incredibly responsive to my questions.
I took inspiration from Jake Adams'
EcoReef One
, so I'll be experimenting with almost complete water changes on an infrequent schedule. Bioload will be light and so will feedings. It's also bare-bottom for easier cleaning, which I'm a little sad about because I love sand-borne invertebrates.
Corals & Relatives
Acan (Acanthastrea)
Brain coral (Favia or Favites)
Duncan coral (Duncanopsammia axifuga)
Grape coral (Euphyllia)
Hammer corals (Euphyllia parancora)
Plate coral (Fungia)
Wedge coral (Diaseris)
Zoanthids
Maxi-mini carpent anemone
Mini carpent anemones
Unknown tropical Corynactis
Other Spineless Critters
Pacific cleaner shrimp (Lysmata amboinensis)
Amphipods
Copepods
Isopods
Collonista snails
Vermetid snails
Mini Asterina (folium?) stars
Little bristle stars
Bristle worms
Little sabellid featherduster worms
Little serpulid featherduster worm
Spionid worms
Spirorbid worms
Flatworms
Fish
What's a fish?
Foods
New Life Spectrum Crustacean pellets
PE Mysis
Equipment
Tank: PicO Aquariums Manta Ray 15 w/ glass cover (15" x 15" x 9", about 6.5g display area, 8.75g total)
Lighting: BoostLED PAR30 Reef Lamp Kit (2 royal blue, 1 blue, 1 cool white, 1 neutral white, 60° optics), AquaTop LED Clip-On moonlight, PicO Aquariums Refugium LED
Filtration: Activated carbon, GFO, filter pad, Chaetomorpha, Marco Rocks
Circulation: Hydor Pico Evolution 300 w/ Hydor Flo
Heater: Eheim Jäger 50w (78-80°F)
Controller: Apex Jr.
ATO: AutoTopOff.com Nano double switch on a timer, AquaLifter
Saltwater: E.S.V. B-Ionic Seawater System Salt Mix, BRS custom RO/DI unit, D-D Refractometer, Pinpoint Salinity Calibration Fluid
Other Equipment: Surge protector, GFCI, grounding probe, Penn-Flax B11 emergency air pump, Nimble Nano cleaner, Fisher Scientific Digital Thermometer, AquaController Apex and aquaPlanner apps on my iPod Touch.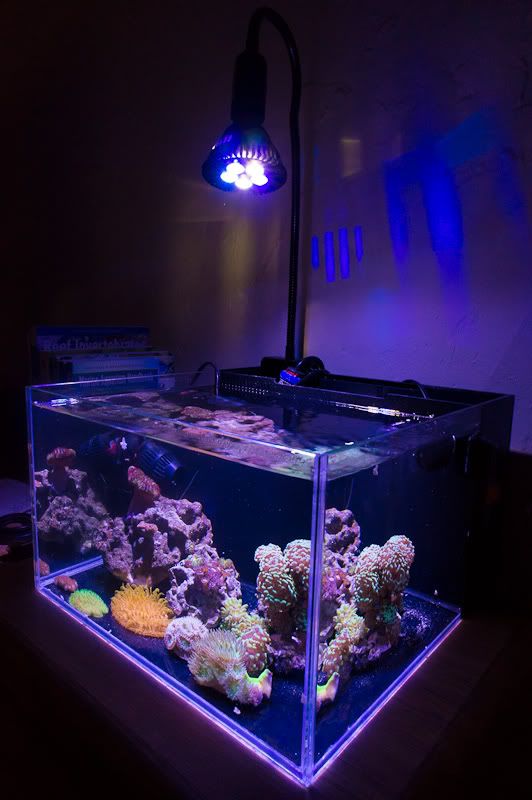 March 18, 2012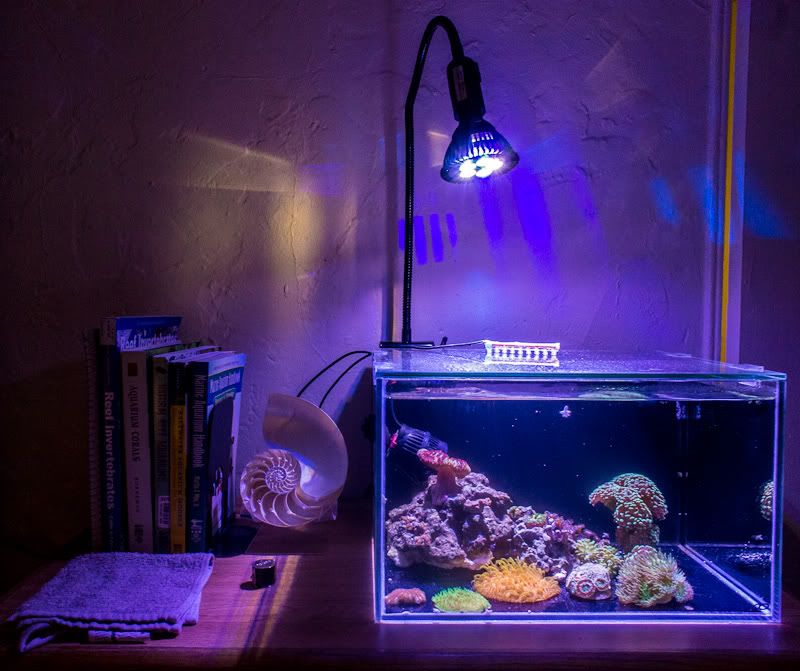 March 18, 2012
Edited by gerbilbox, 29 July 2012 - 05:38 PM.