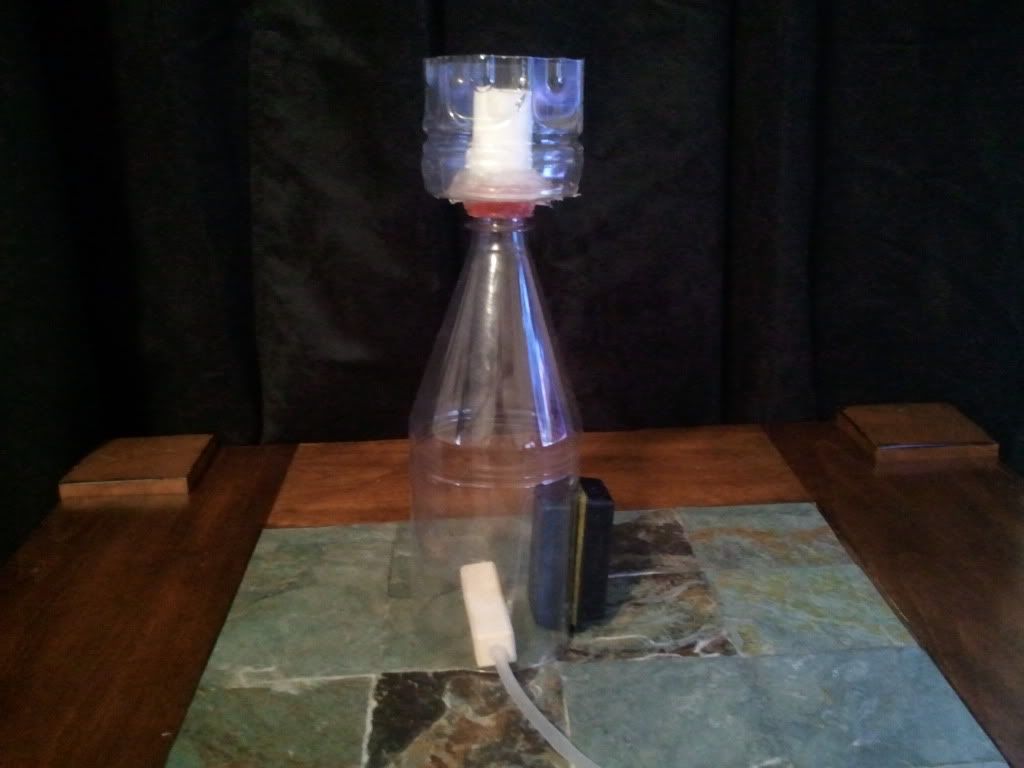 You will need magnetic algae cleaner, two plastic bottles, a short piece of 3/4 pvc, air line tubing, an air pump, silicone, a razor knife, and WOODEN AIR STONE << very important
First you cut the bottom off of the bottle that you want to be the skimmer body. I used a 1 liter dr pepper because of its cone shaped neck and perfect size.
Second you cut the other bottle in half and cut a hole in the bottom just big enough for the other bottles cap to fit in it.
Third you cut the top out of the first bottles cap leaving only the threads.
Fourth silicone the cap to the short pvc piece so that it can screw onto the first bottle.
Fifth silicone the bottle bottom with the hole in it to the pvc right wher the cap and pvc meet. (Leave enough room to get your fingers on the cap so u can thread it on and off of the skimmer body this will be your removeable collection cup)
Sixth cut a small hole as low as possible on the skimmer body (aka the first bottle). This hole should be just big enough to squeeze an airline through.
Seventh put the airline through the hole and attatch the WOODEN air stone to the hose on the inside of the skimmer body. Push the stone back towards the hole so that the nipple with the hose on it is in the hole. (This holds the WOODEN air stone horrizontal so that all the bubble will enter the skimmer body)
Last put one magnet inside the skimmer body and the othe on the outside of the tank or compartment that will be housing you skimmer. ( The purpose of the magnets is not only to hold the skimmer in place but to make it easy to move up and down to adjust the water level)
Plug up your air pump and take pride in your coke bottle skimmer
These have been made in the past with a drain hose but i have a lid on my fuge and wanted a removeable collection cup. I saw another one on NR that is alot like this. The only idea i take credit for is the magnets. As far as i know thats the only advancement i made on the design. Feedback is welcome.