April 15, 2012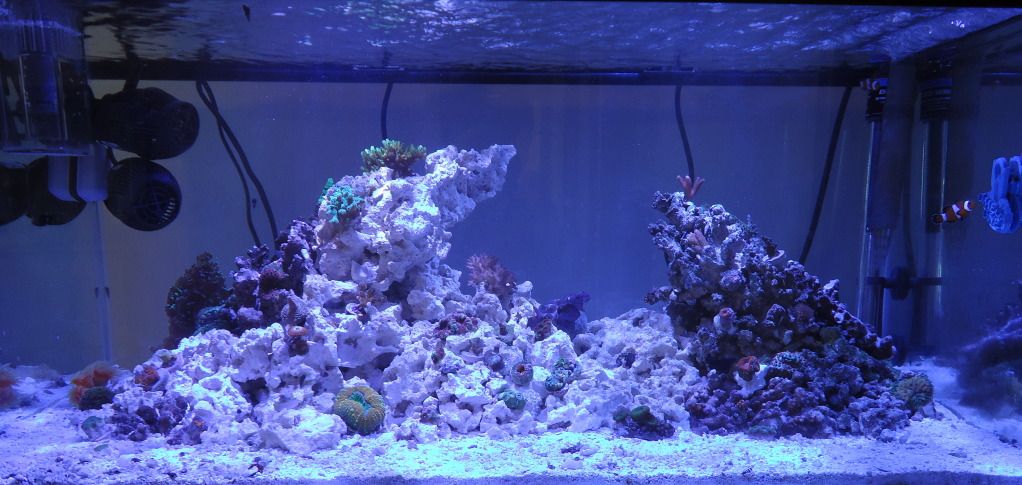 TANK
36x18x16 40 Breeder

EQUIPMENT
2 kessil ocean blue LEDs
AC110 fuge
Koralia evolution 750
Koralia 550240
Koralia 
Jager 100 watt heater

FISH
1 ocellaris clown
1 flame tail blenny
1 Green banded goby
3 Red saddle anthias

CORAL
A lot.

INVERTS
a whole lot of snails
Some hermits

===========================ORIGINAL POST==============================

I was going to start my first non-pico tank as a 25G, which already have, but I hate that it's only 12" from front to back. I wanted something with more depth, and I decided on a 40B. I just ordered the tank today!!! Aqueon 40B with a black pine stand. I'm SO EXCITED!! It seems like people loooove 40 breeders on here, and I can see why. The depth is wonderful!

I'm new to saltwater, so advice/comments/suggestions about the following plans are highly reccommended


Tank
40B 36x18x16

Equipment Plans -- don't necessarily have all of these yet
Spectrapure 90gpd RO/DI system (ordered)
AC 110
Jager 75 watt heater (from my old 25G)
Koralia evolution 750
Lighting -- currently the old fixture from my 25G: a catalina 3x24W 30" fixture. Plans for a TEK light.
Plans for a skimmer eventually, and maybe a sump with HOB overflow.

Livestock plans
2 ocellaris clowns
maybe six line wrasse
maybe flame angel
maybe some sort of blenny

Questions

1. Should I get another 75w heater, or just upgrade to one 100w?

2. Anyone have livestock suggestions?

3. With my future HOB overflow plan, is the disadvantage of flood during power outage solved by making sure that my sump isn't filled up all the way?

4. My current light (3x24W) is temporary, but will I still be able to keep zoas, softs and some LPS with it? I'm broke and can't spend $350 on a light and bulbs right now.
Edited by Aqualara, 13 February 2014 - 02:37 PM.