Hey everyone. The girlfriend and I have been wanting to upgrade our 29 gallon almost since we set it up, lol. Finally decided to go with a 40 breeder. We can't go too big and I really enjoy the added depth of the breeder set up.
As of right now we only have the tank and an Aquamaxx HOB skimmer that I had bought for the 29, but wouldn't fit with the light fixture. Should have plenty of room now though.
We will be relocating the 29 gallon to the spare bedroom to maintain as a frag tank. The 29 has two Koralia Nano powerheads; one 240gph and one 420gph. The 420 will be replaced with a 180 that I have collecting dust. I'll be putting the 420 along with the Koralia 550gph that I have on order into the new tank. I also will be removing the Whisper 40 power filter and placing it on the new tank. I figure that the Remora Nano will be efficient on the frag tank. I'm kind of confusing myself trying to explain all of this, so I'll just place a list, lol.
Current Equipment:
36'' AquaticLife T5HO 6x39W fixture
Koralia Evolution 550gph
Vortech MP10es
Aquamaxx HOB Protein Skimmer
Whisper 40 powerfilter
ViaAqua 300 watt heater
Coralife thermometer
Fish:
Black Occellaris Misbar Clown
Purple Firefish pair
Inverts:
Skunk Cleaner Shrimp
Mini Maxima Anenomes
Assorted Snails and Hermits
Corals:
Neon Green Trumpets
Assorted Acans
Assorted Zoas and Palys
Green and Purple Favia
Branching Frogspawn
Duncans
Neon Green Toadstool Leather
Superman Mushroom
Green and Purple Candy Canes
Still need to head to the LFS for new sand and additional live rock once the rest of the equipment arrives. All of my current live rock and livestock will be transferred into the 40 once I am set up.
I'm pretty excited about this set up and I look forward to all of the extra space we are going to have!
Here is a picture of tank and skimmer (nothing special, I know):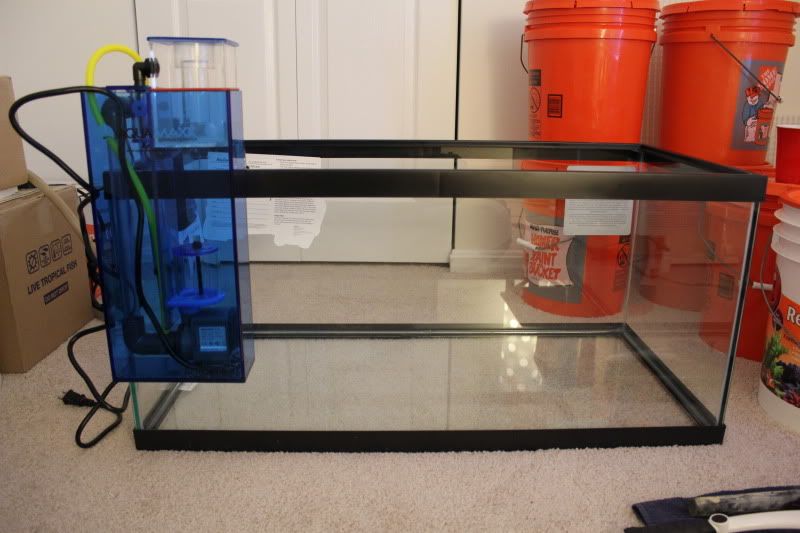 FTS 3/22/12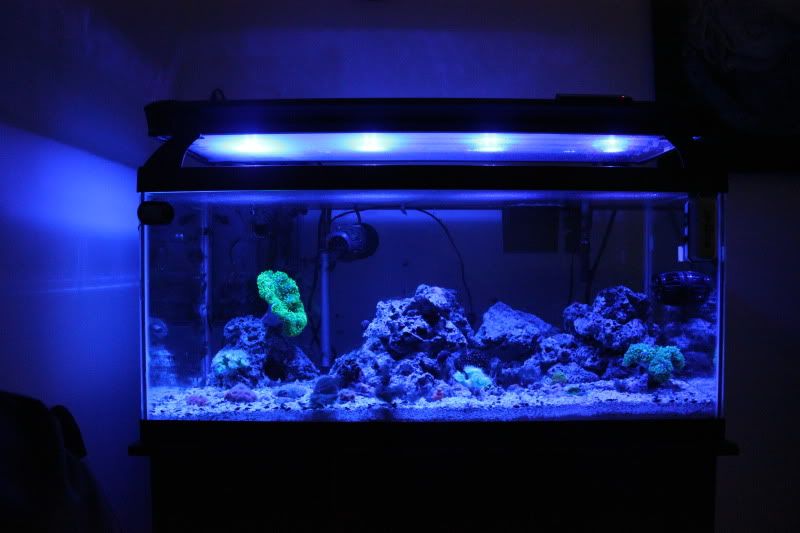 Edited by apgaug, 23 March 2012 - 12:45 PM.