THERE IS SO MUCH GREAT INFO OUT THERE FOR THE BC29,
Unfortunatly it is often tough to find solutions to some of the more petty problems. I am hoping to document my journey up the learning curve and post my problems and solutions.
TOTM March 2013 here I come! (not looking so promising lately)
TOTM March 2014 here i come
FTS 09/09/2013  Things are coloring up much better!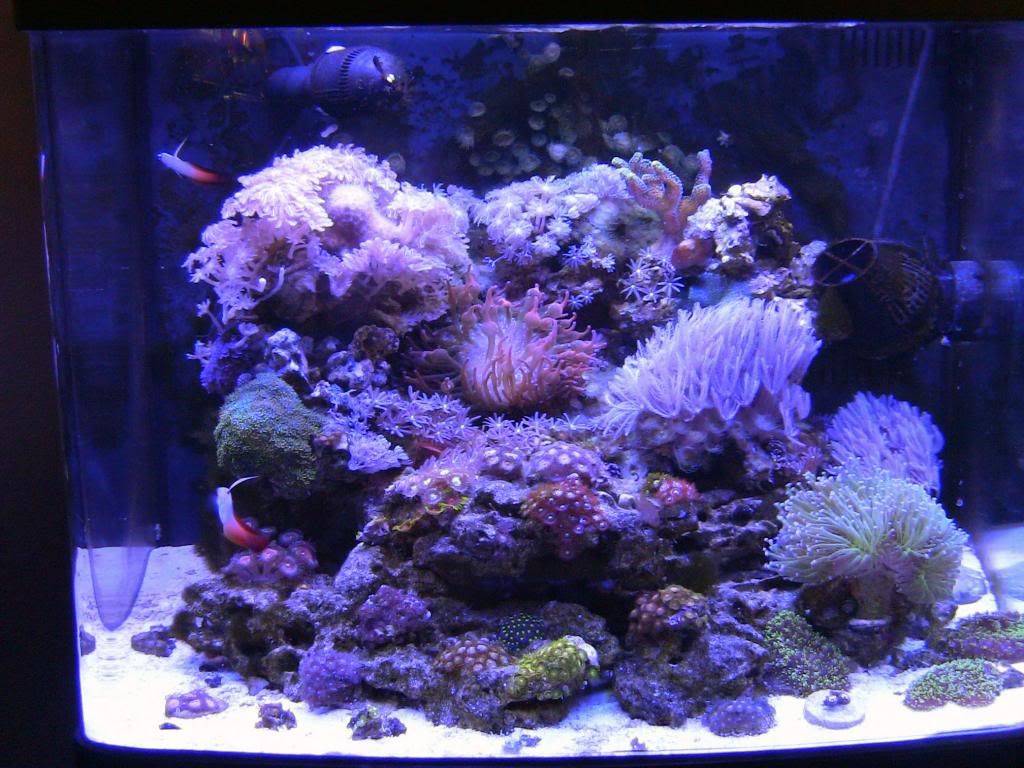 FTS 07/08/2013   Nothing but 5 gal H20 change a week
FTS 05/08/2013:  Nothing but 5 gal H20 change a week
FTS 01/20/13  ( since the addition of the algae scrubber, things are still a bit mad)


FTS 10/17/12 (new scape to please my BTA and allow for better coral placement and grown)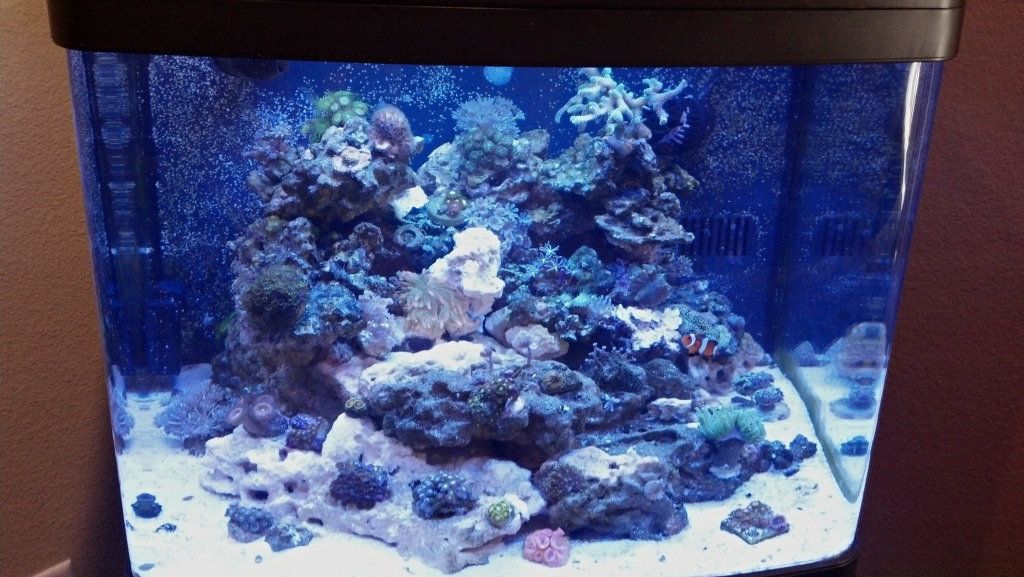 FTS 8/29/2012



FTS 2/21/2012



EQUIPMENT:

Used 3 month old Biocube 29 from craigslist (stock with water, some rock and sand)
DIY LED AquastyleOnline 36 dimmable kit
Truelumen 10" LED 453 Actinic Blue (moonlight and extra POP)
Pump solution thread: http://www.nano-reef...amp;pid=3751207
Koralia Nano 425 Powerhead (great addition!)
Hydor rotating head on return line with lockline to aim the flow.
MODS:

Removed Tab from chamber 1 to 2
Hand made media rack (with tank cutout to fit)
DIY Link: http://www.nano-reef...howtopic=295378
--Running hand cut filter pads on top
--Runing Chemipure Elite on second
--Chaeto on bottom and in rest of chamber 2
Fuge Light hung on back of tank (scraped paint off)
--6500K Daylight Compact Flo Bulb 75W equil. (from home section at W-mart)
--Hung with velcro adhesive tabs
--8 Hours on at night Removed bottom and top tray from chamber 2
Epoxied over top hole from chamber 2-3
Cut down (not removed) sponge from chamber 2-3 (needed to leave it to control chaeto pieces)

Lessons Learned

SLOW DOWN!
Watch tank temps in BC 29 (solutions in the thread)
Watch salinity (keep track of evaporation)
Dip your Corals
Know your water source! (and trust/dont trust it)
Be carefull when dipping corals (keep dip water same temp as tank)
Know what you are putting in the tank BEFORE you put it in the tank
Be Patient
Ask questions
Slow Down




First of all thank you all for your shared information, sucesses, and failures. You have made starting my first salt aquarium alot less painless!

I am in Central Florida and an avid scubadiver/sperfisherman. Spending so much time in the water I thought it would be fun to have a piece of the ocean in my home. The wife and I went to a coral trade event in Orlando and were instantly hooked by the colors and variety of the offerings. So the shopping began! I am working on a budget so I started on craigslist. A few months later SCORE! 29biocube already cycled, 10 lbs of liverock and cleanup crew. I brought it home, started reading the forums and here she is brand new (to me):




That was the tank set up and circulation on january 3 2012. After searching for baserock to add to the tank I found reefcleaners.org located in florida and got a great deal on 30lbs of rock delivered. Just FYI this is what 30 lbs of base rock looks like:




i palyed with lots of designs on the kitchen table only to come up with a master design and find it did not work in the tank with my existing liverock. More tinkering and this is the result:


Edited by like-fish, 13 September 2013 - 05:20 PM.