Viewpoints – A Photographic Journal of my Reef Tank
Most Recent FTS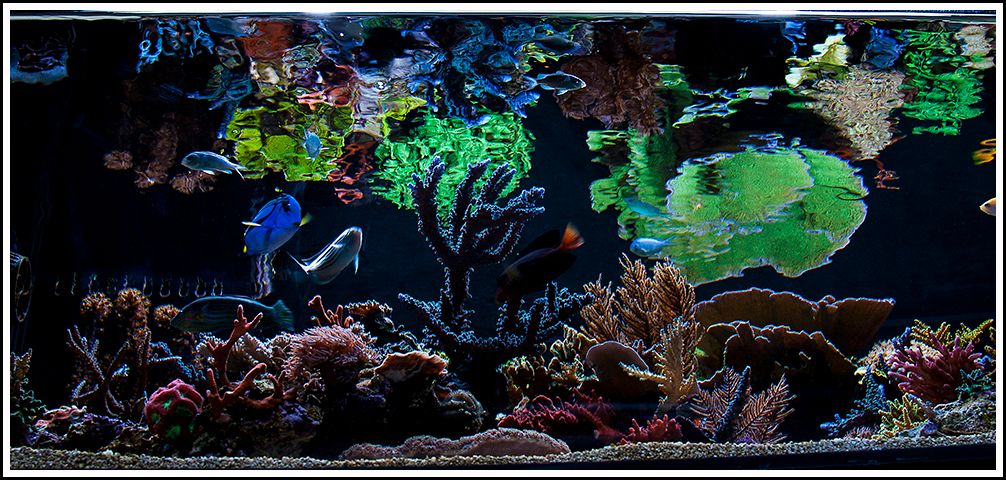 My Personal Experience
For as long as I can remember I've loved aquariums. My first aquarium was a 10 gallon freshwater tank that I setup in Junior High. I followed the hobby into high school where I also found myself working at a local fish store. It was during this time that I decided to make the jump from fresh to salt water. I would eventually grow my passion for the hobby into an aquarium maintenance business that helped to supplement my income through college. After graduating, I left the business and hobby while I worked to establish a family and career. I remained inactive from the hobby for the next 14 years but would never pass up the chance to visit a local fish store or sit and stare at a tank at the doctor's office.

Three years ago my brother called, raving about a tiny reef tank that he had seen at a customer's home. I spent the next 2 months researching nano reefs and the new techniques that had evolved in the 14 years I had been away from the hobby. I decided to reenter the hobby and try my hand at reefing with a 28 gallon Nano Cube. The tank provided me an inexpensive option to determine if my family and work schedule would support the demands of a reef tank. Long story made short, one year later my reef was featured as the Tank of the Month at Nano-Reef.com. In that 16 months that I had been back in the hobby, I realized how much I enjoy the hobby and the creative outlet that reefing provides.
My Nano Cube at 16 Months - December 2010 TOTM at Nano-Reef.com

The Next Chapter
While my nano reef was a great start, my desire for a larger tank, better equipment and my obsession with SPS, has led me to a new adventure. Enter "Viewpoints", my new reef tank in the making. The new tank will be dominated by SPS with some very select LPS and clams. An additional goal for this aquarium is to have a setup that is free from clutter. This means tight wire management, cleanly installed plumbing and a place for everything under the stand. While I'm just now getting this journal posted here on Nano Reef, the tank has been running for just over 8 months now. What follows will be a photographic journal of the aquarium from day 1 to the current state. I will do my best to keep the journal updated as my tank progresses.
December 2013
December 2012

Why Viewpoints?
First and foremost, I want to create and photograph a reef that is beautiful from all viewpoints. Through my journal, I hope to pull many different viewpoints on reef keeping from the members, moderators and guests within this community. The journal to follow will be a written and photographic document of my experiences with the new aquarium. I am hopeful that many will join me in the journey, so subscribe, contribute and enjoy!

Equipment
- Display Tank - 48x30x18, Rimless, Starfire Aquarium - Manufactured by Cad Lights
- Lighting – 48" Geisemann Infinity – 2x250Watt Metal Halides and 4x54Watt T5s
- Stand – 48x30x30 Artisan Stand – Manufactured by Cad Lights
- Sump – 30x18x16 Acrylic Sump with a built in ATO Reservoir
- Skimmer – Bubble King Mini-180
- Heater – Finnex Digital 300 Watts
- Return Pump – Sicce Syncra 3.0 – Rated at 714 GPH
- Circulation Pumps – (2) Vortechs - MP40W ES with Battery Backup
- Controller – Neptune Systems Apex Controller
- Media Reactor - Two Little Fishes 150

Table of Contents
Equipment Review
Bubble King Skimmer Arrival
Dosing Equipment Install and Setup
Light Installation with In Wall Cable Management
Extending Sump Shelf
Cabinet Lighting
Cabinet Hardware
Maintenance Organization Board
Equipment Panel
Installed Equipment Panel
Plumbing Installation
Plumbing Improvments
Overflow Cover
My Thoughts on Filtration
My Thoughts on Dosing and Setting Up Your Doser
My Thoughts on Nutrient Control and Filtration - Feb 2014
Initial Aquascape and Tank Startup
First Livestock Update
Maintenance Schedule
September 2011 Tank Update
November 2011 Tank Update
January 2012 Tank Update
More January 2012 Photos
Even More January 2012 Photos
One Last January Photo Shoot
The Fish of Viewpoints
Water Change Routine
Duncan Coral Growth
Coral Additions
Edited by urbaneks, 01 February 2014 - 05:16 PM.