FTS: 5/20/2012
Tank: GLA, roughly 36"X9"X9".
Right now, it's been set up since Oct 1st (2011). No skimmer. No HOB. No carbon. Just two powerheads for water flow (see below). My theory is that as long as I feed gently, the soft corals will uptake the necessary nutrients. I have almost no algae issues in this tank, there may be 4-5 bubbles of bubble algae, and that's it. No hair algae, no bryopsis, no cyano that can be seen. Only the occasional diatom dusting that lasts for a day or two.
Lights: 6 warm white, 6 neutral white, and 12 royal blue (all Cree XPE, XPG, or Luxeon Rebel... a mix)
Driver-- 700mA Buckpuck, and one Meanwell ELN60-48, set at about 500mA.
Canopy--- plywood, stained dark walnut, suspended from wall using A-frame cleats.
Stand--- a custom book shelf which I keep next to my recliner. Just praying the tank never blows a seam.
Water flow--- MJ1200 with a large wide-fan spray attachment, and one MJ600 with oem-style flow deflector.
-------Controlled by Red Sea Wavemaster Pro (controls powerheads in my 45g planted cube as well).
Main issue..... hiding the ugly wires..... will probably put up a plywood false back for the wires to tuck behind.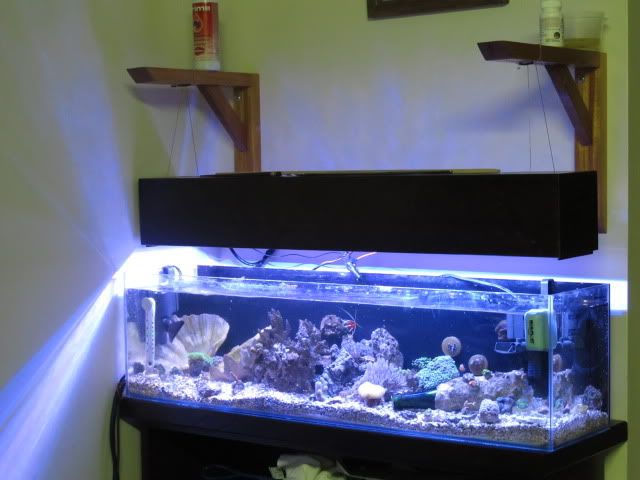 And yes, this is the beer bottle that I had in my Rock-Box Nano (see sig... tank from a few years ago). This is from a reef around Vanuatu, I believe-- a diver found it and shipped it to his buddy here in Raleigh, NC, who then immediately scrapped it at the local LFS, where I paid a whole $4 for it (and that was full of water weight lol).
Edited by redfishsc, 20 May 2012 - 11:44 AM.