First off,
Greetings and Salutations, NanoReefers!
My name is Meta, I'm 28, a resident of Los Angeles, and I've recently decided to undertake the wonderful responsibility of keeping a pico reef! This is my very first post here, but I feel at ease already...lol...
I want everyone to know right off that I'm completely new to keeping fish/tanks, saltwater or fresh(have a 36 gal. bowfront freshwater I've recently started as well). So lets begin!
Specs:
3 gallon JBJ Picotope x 2
36" Odyssea 4 x 39w T5, running 2 bulbs, one 10,000k, one actinic (This fixture is over 2 pico's, side by side)
4.5 and 3.5 pounds "cured" live rock
5lbs and 6lbs live sand, fairly fine
50w submersible heater and 100w heater
Sump
Hydor 180gph adjustable powerhead
Digital thermometer
Additional Equipment:
API Master Test kit
API Carbonate Hardness test kit
API Calciuim test kit
Refractometer (great deal, like 27 bucks!) calibrated with distilled water
Distilled water
Gloves
Turkey baster
Magnetic Cleaner
5 gallon buckets
Salt
Need to Purchase: (tell me what else I could use)
???
additional scrub brush (for cleaning sand line)
So I just set the tank up yesterday...The guy at my LFS gave me a good deal on the cured rock, and gave me about 4 gallons of saltwater out of his tank, and with the live sand and cured rock he said I should be instantly cycled.
Now this kinda goes against everything I've been reading about, but I'm going to take my first water readings soon and record them. What do you guys think...? I heard him talk a customer out of buying a Mandarin Goby(dragonet) because of the copepod situation, so he seems to have the tank's best interest at heart (I hope)
Anyway, he wants me to get some livestock in there(of course! sales...), at least a CUC, "to keep the cycle going"...what would you all recommend? Anyway, my intentions for this Pico are to have a nice reef with lots of corals, maybe one fish, so livestock isn't my biggest concern...I will upgrade my lighting however necessary as long as I can grow some nice corals.....
So, without further adieu...
EDIT

Updated FTS 3-10-2012
Left Tank
RightTank
Updated video, hooked up sump 1/29/12
Pico Sump Day 1
Quarantine Frag Tank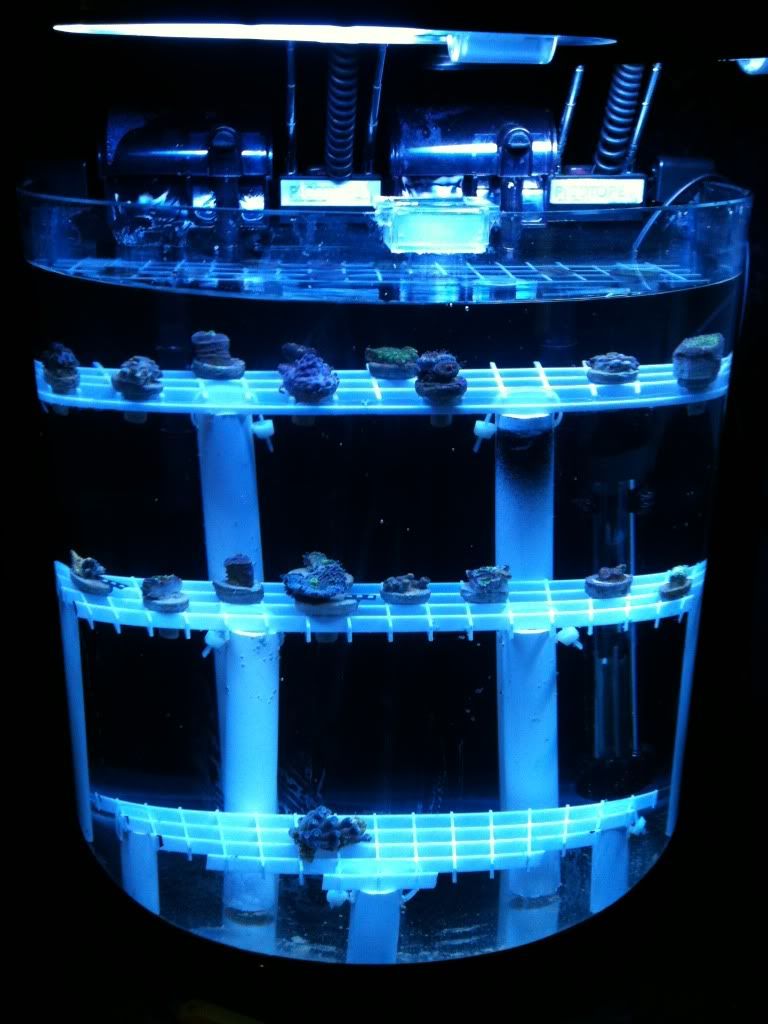 Video of my Picotope, Day 1
It's covered with caves that go all the way through and hiding spots, I'm digging my rock!...Slightly worried it's a little close to the water's surface, but I have since filled the tank more, and slightly re-adjusted it...All in all I'm happy with the 'scape so far!
P.S.-Anyone mind telling me how to post videos? I love pictures, but videos rock!
Edited by MetaTank, 16 April 2012 - 07:12 PM.