CURRENT PHOTO / DWARF SEAHORSES ADDED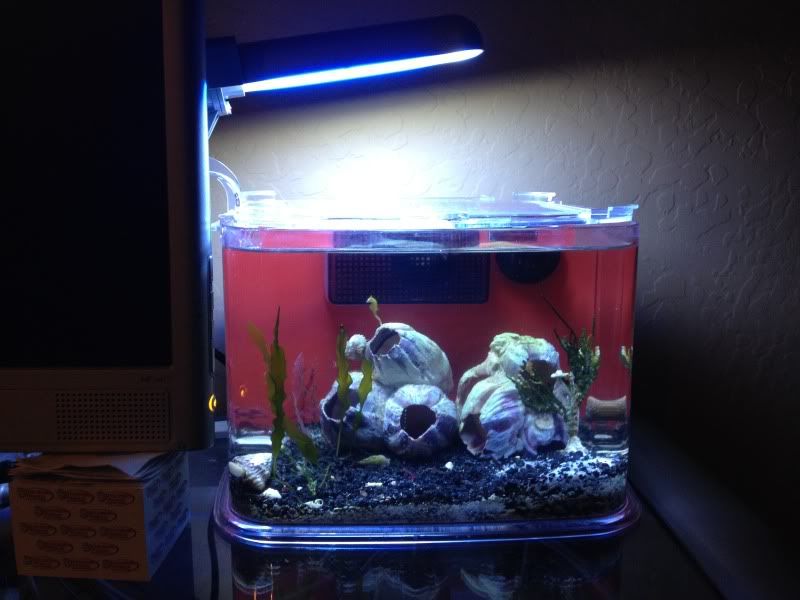 At the beginning of the year my wife opened a daycare (Wee Luv Daycare) in our home in Arizona. We have had many saltwater tanks over the years from fish only, species tanks, and the last one being a 150 gallon reef tank that was sold to a retail store when we moved to another home. We currently just started a 12 gallon clear for life nano in her daycare and the kids love it. My son is 2 and named his blue head jaw fish irsh, he gets a kick from him swimming from his underground cave when its time to eat. We recently saw this contest and I thought it would be something fun for the kids to enjoy. We just received the tank in the nick of time today so please enter us in the contest. We look forward to giving you guys some decent competition.
Ok so the last couple of weeks I had a chance to get some work done to the tank, we are excited on how it came out. Here is our build.
Taped off and painted back using Krylon Fusion, chose color that will make things stand out a bit. Painted around the curved edges so whole backside was covered.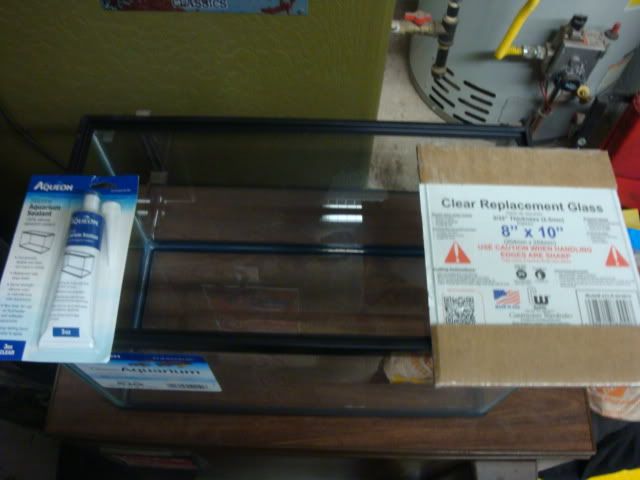 Picked up a 10 gallon glass tank for sump from pet store, then bought 2 glass plates from Home Depot to silicone into tank.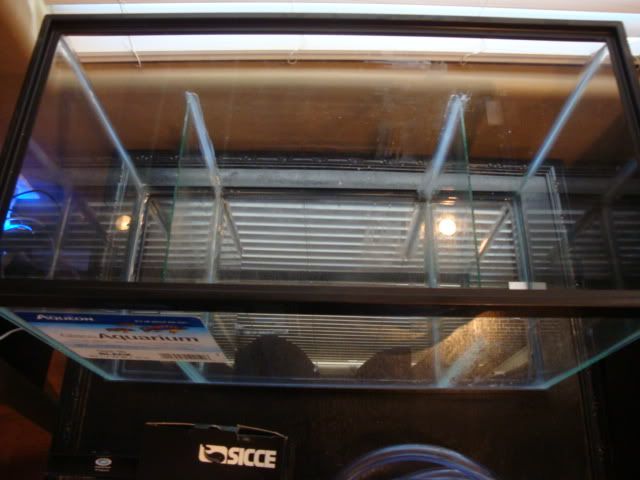 Had to do a bit of cutting to the glass plates then siliconed them into place, this will be a low flow sump so baffles will not be needed.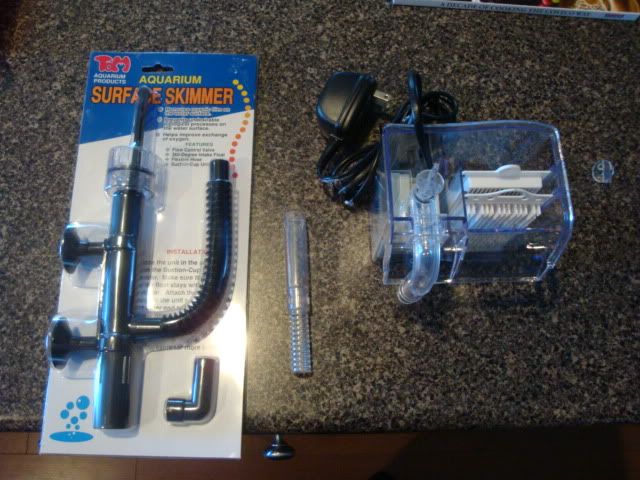 I think I may be first to find this little goodie, found add on from Toms to convert filter into a skimmer. I don't like a lot of equipment showing so this piece works out well for having a skimmer in the sump.
Simple sump set up that will have sand bed in middle where I can grow macro to help with nitrates. Purchased sicce pump to do the flow work which I will control with a ball valve. You can also see where the skimmer location will be. The filter box itself will sit on glass divider attached to skimmer.
The Pico tank is so small I thought it would be best on top of a desk. This cabinet is next to our computer desk and we use it to put our printer and misc stuff on top of it. This is where I will be hiding the sump and will use a hole saw to cut holes into the back side so the lines can reach the Pico tank. You can also see the hardware that I will be using in the photo.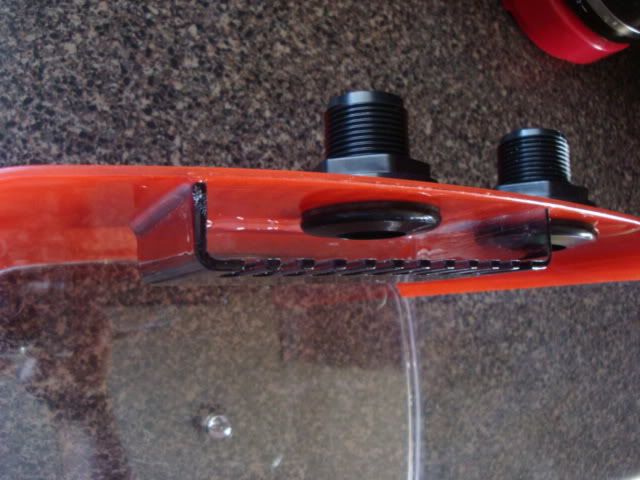 Drilled and ready to plumb the lines. I also used the JBJ overflow box as it is the smallest on the market, everything else I found was just way to big and would over take the look of the tank. JBJ's instructions for install were to just use the suction from the drain to attach the box. This would not work well with the Pico because the walls are curved so water will just seep through the opening at the bottom so the overflow would lose its purpose. So I decided to silicone this piece in as well.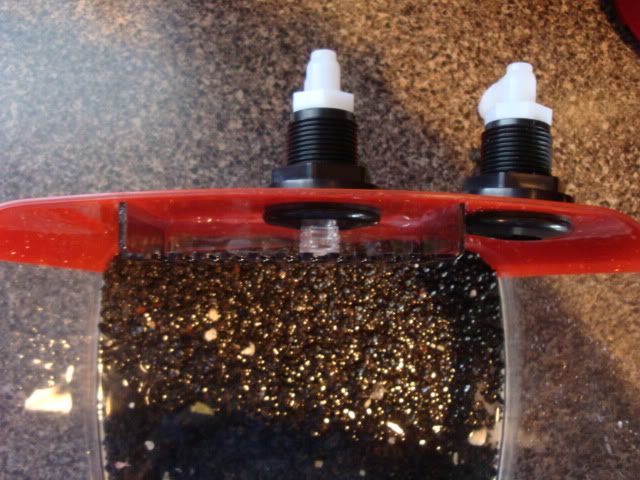 Now since I did not use the strainer for the filter box due to the skimmer attachment, I found use for it at the drain instead. This will safeguard any snails going where they are not supposed to.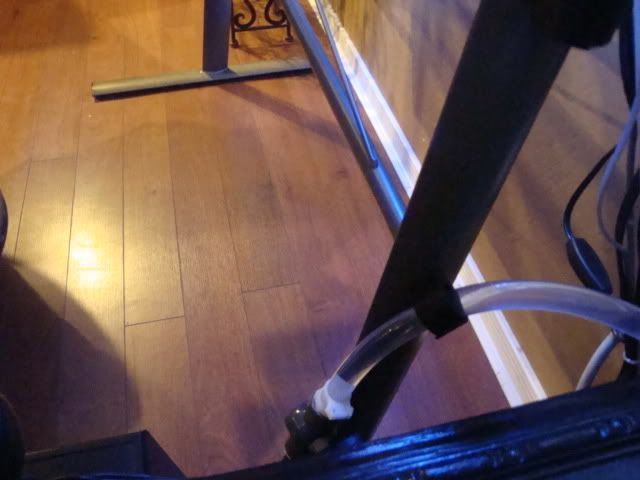 The clamps for wires on the side of my computer table really helped make the plumbing unnoticeable. We have a Mac Mini so not many wires and they are tucked away from the tank.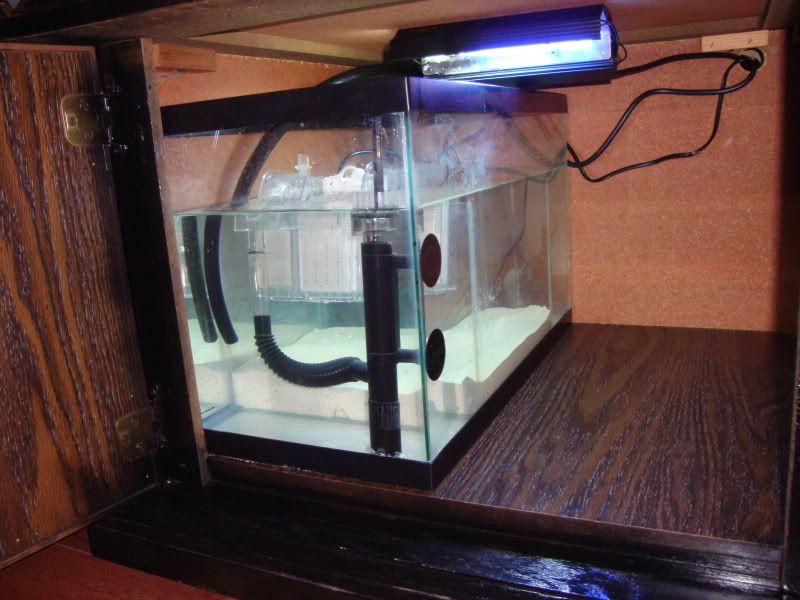 Sump all set up with mini corallife PC that I had laying around from previous tank. Sand bed in middle, skimmer in front with filter, and pump in back. Can grab whole tank and turn side ways in cabinet.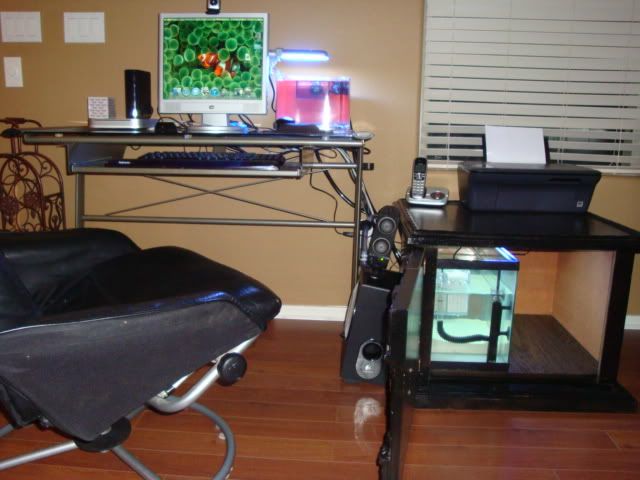 Full equipment shot
Full tank shot 12/13/11, used some sand and water from water change on my other tank to aid in cycling.
Edited by wee luv daycare, 31 March 2012 - 09:37 PM.