I am sure some of you have had similar moments, where you see a tank or design and it inspires you to go off an plan (obsessively) your own.
Well my trigger was
Adru24's Double Peninsular
. The idea of a display tank and display fuge all in one was amazing, and I spent the next month working designs and trying to come up with my own take on it. An AIO was an option, but after a a few months with my
picos
I wanted something larger, with separate sump ... but not too large given our current house and the fact that renting, I can never be sure what the next place will be like.
So the first step was tank. Top choice was an ADA, but you wouldn't believe how expensive they are down here in Australia ... a 60H runs for $1,100 (yes, one thousand one hundred). Insane. Then I came across a thread where someone had bought a Yi Ding Chinese made tank that looked a lot like an ADA, but at a more reasonable price. So I started obsessing about finding one, with no luck for weeks. Then a random trip to a local LFS, and what did I see on the shelf but the very tank I was looking for! Apparently it comes with a glass lid, which was broken/missing ... though of course I didn't care, I just used the fact to haggle the price down (annoyingly the stubborn employees only budged $10 in the end ... but I still had a small victory!).
Note that this is not a picture of my tank (I don't have a decent one yet), but it shows the quality ... which from what I have read is quite close to ADA - dimensions are 24"x12"x15":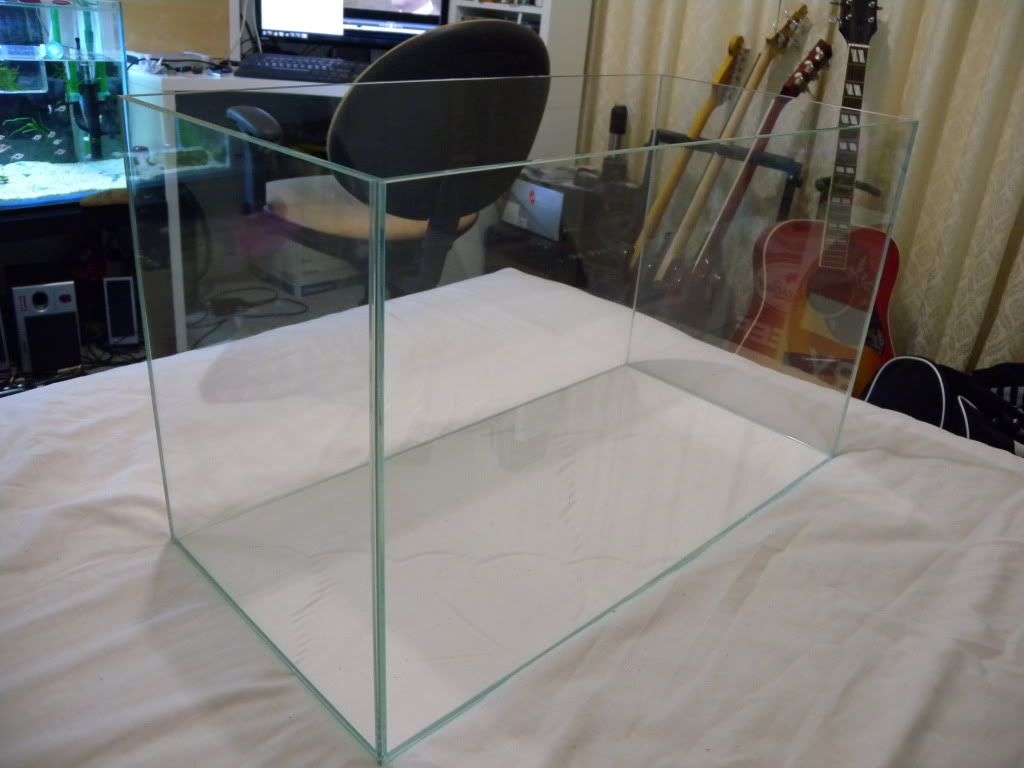 I also have a sump/fuge tank of standard glass (plus pretty crappy silicon job!), but it was dirt cheap. Has the same footprint 24"x12" but is not quite as high at 12" - so I think equals about 14G.
Next came the stand, and I decided to try and make my own. So I downloaded Sketchup and started trying out designs.
First attempt:
Second attempt (and pretty close to how it will actually be)
So then the reason for this thread, is that I actually made a little progress on the build today!
Here is the moment it came together (the top piece is not attached yet) - note it isn't finished, I need some more brackets and screws to add further braces (another 'surround' like at the top will go half way down):
With the sump tank balanced on top (it's lighter than the 17G starphire glass!)
The area at the back is intentionally long for two reasons. 1) The top has to be longer than the tank anyway to accommodate the sump/fuge below, so double the width of the legs, 2) I decided I like the idea of a cool plant at the back of the tank (remember this is peninsula), plus it allows room for the overflow and light fixture.
Here's an idea of how the sump will go. On the same width top, but not as long so it fits between the legs. Raised off the ground somewhat, either on legs or I am thinking even wheels. The idea is that it can slide out if required.
And then finally, I am planning a 60W CREE light (probably from eShine), so needed some way of hanging it as I can't drill the ceiling in my rented house. Saw this fixture and thought it would be perfect.
The idea is that the stand top is drilled (also drilled for the pipes to and from sump) so the fixture can go through it, and then it attaches to each of the braces.
And finally, here is my plan for the sump/fuge design. Again I want it to be peninsula and a display fuge, so thinking this is the best way. I will need to go to the LFS at some point to get some glass cut to size. Haven't decided yet for sure whether to go with the T-return, or if the extended divider will suffice in pushing flow around the tank.
Stocking plans
Display tank:
- RBTA
- 2x Clownfish (yet to decide on variety)
- Lawnmower Blenny
- Bengaii Cardinal (because the wife loves them and you have to keep them happy somehow, right?)
- Cleaner Shrimp
Fuge:
- Some colourful macros (if I can find them)
- Maybe also a few mushrooms and ricordeas
Equipment
Nothing certain right now, but I am thinking:
- mp10 ... or maybe 2x cheaper powerheads such as Koralia or Sicce Voyager. Haven't decided yet whether I can justify the mp10 price ($300 down here!).
- HOB overflow box - something like the eshopps nano overflow (can't be arsed to drill)
- Bubble Magus NAC3.5 skimmer
- Sicce return pump - though I have no idea what gph I will need. Guess it will depend on the height difference between the tanks?
- 60W CREE LED for display tank
- tbc LED strip(s) for the fuge, stuck to the underside of the display tank
So that's about it so far. As it says in the title, this will take a while ... don't expect any water for at least a month, if not longer!
Edited by castiel, 23 October 2011 - 01:20 PM.