sept.11.2012
may.08.2012
new full and side tank shot Feb.21/2012
AI Sol superblue installed Feb.13/2012
new updated fts Jan.15.02
EDIT: updated side tank shot Dec.12.2011
FTS Dec.12.2011
hello!
just thought i'd post up the progress so far on my first salt water tank. learning alot and just got everything started today. shoutout to member JoelRhale for helping me out with alot of questions and helping me get some equipment, thanks a ton Joel!
i started this tank up because i always wanted a saltwater tank, now i have a good reason to start, it's for my 1.5yr old daughter who loves finding nemo. i always had an interest in starting one up but have been busy with other hobbies (cars/photography) but now seemed like a good time to start.
anyways, setup is:
-10 gallon tank
-jager 75w heater
-hydro 240power head
-Aquaclear 110 (modded) i just have filter floss in there right now, later on i'll use chaeto.
-Odyessa T5-HO 10k lights (2 blue/2white)
-surface skimmer (not installed yet)
i live in a condo so space was tight, and i wanted to start small. here's a pic of where it sits in my living room.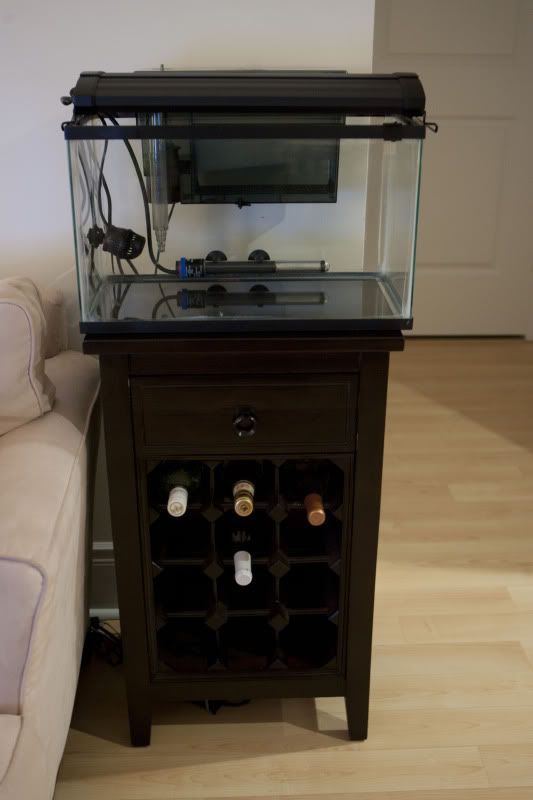 plans for livestock are :
-2 ocellaris clownfish
-1 emrald crab
-hermits/snails
coral:
-zoa's
-GSP
-later on some torch coral and some finger leather.
i'm going to take my time and do things right but i can't wait to start to get some fish and coral so i can start to take some pictures. for anyone interested in photography i'm shooting with my canon 1dmkii w/ 24-70L F2.8 or the 70-200L F4.
so i got it going today, added 14.2lbs of live rock, 10lbs live sand.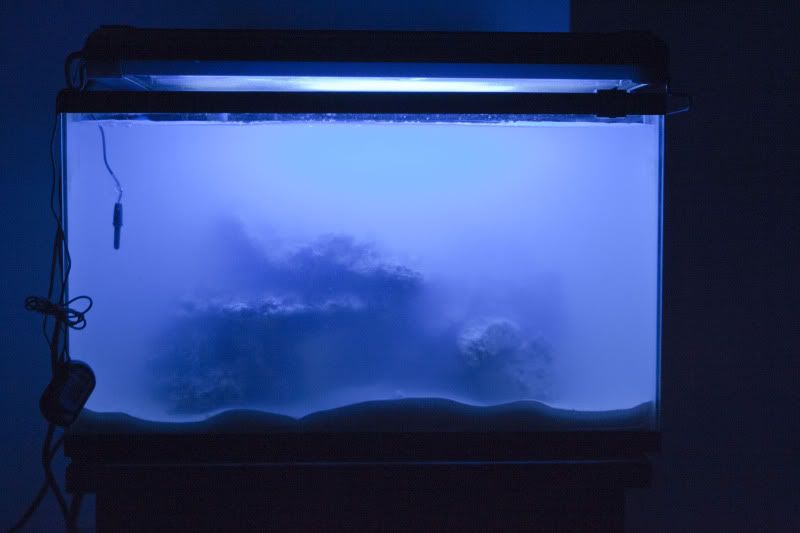 now i play the waiting game. after a couple of hours, my readings were:
-PH 8.2
-ammonia 0.25ppm
-temp
80.04
-nitrite 0
-nitrate 5.0ppm
some beginer questions if anyone could help me out.
so in my search for RO/DI water, the local grocery store had none, and my LFS ran out. i was only able to grab about 4 gallons from them. i also did not have any jugs to bring the water home in. so instead i bought 2 5gal jugs of seaporta pre-mixed saltwater (mixed w/instant ocean) now they say that its mixed to a specific gravity of 1.023-1.025 but that was not the case at all. my sg was reading at 1.021-1.022. the day before i bought a bag of instant ocean reef salt so i had to add some salt toget it to 1.025, can anyone verify that i'm reading this right? (i look at the middle of the needle?)
also, i think i'm having a problem with the temp. is it possible that the lights are heating up the water too much? the heater is set on 78 yet i'm getting temp readings of 79.9 even 80. i had left the house for about 5hrs for dinner and came back to a temp of 81. i hope i diden't kill my live rock? is my temp probe too high up on the tank? lights too close to the water? the house is at 73 and the tank isn't in the sunlight. would i need a chiller?
and what kind of light schedual should i be doing for the cycling process? 12hrs on 12 off?
Thanks for reading my long ass post, i'll be updating as things progress!
Edited by Flexin5, 11 September 2012 - 01:19 PM.