Current Full Tank Shot
May 15, 2013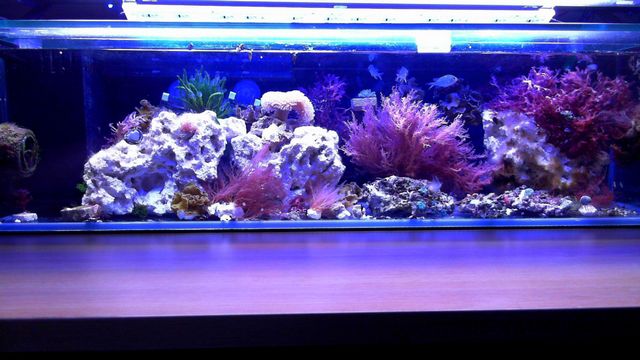 November 11, 2011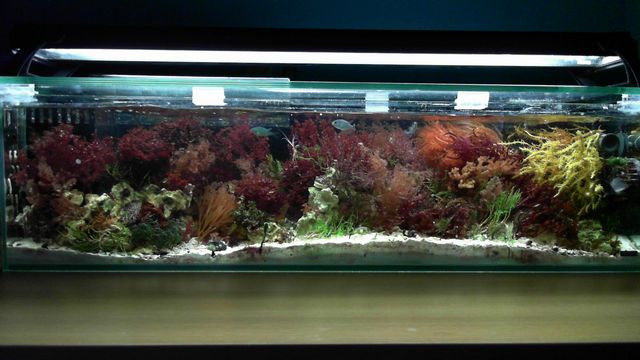 October 12, 2011
September 1, 2011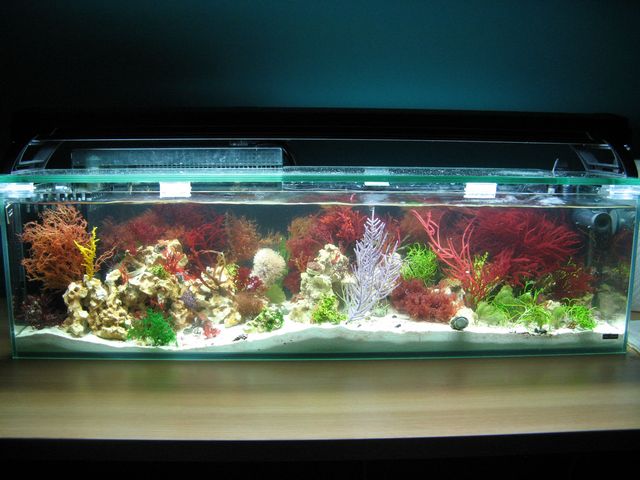 August 16, 2011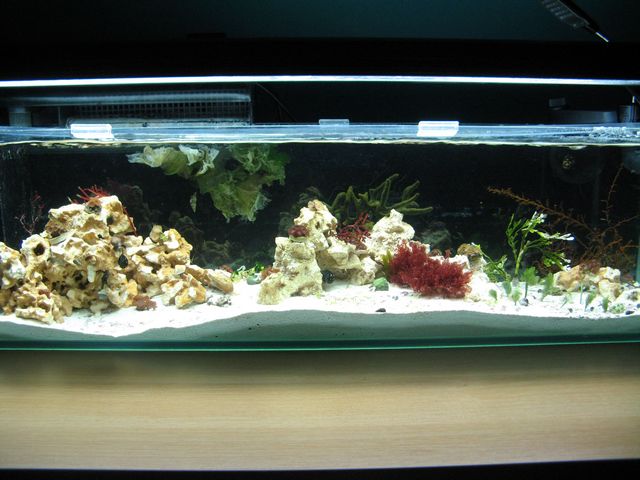 August 4, 2011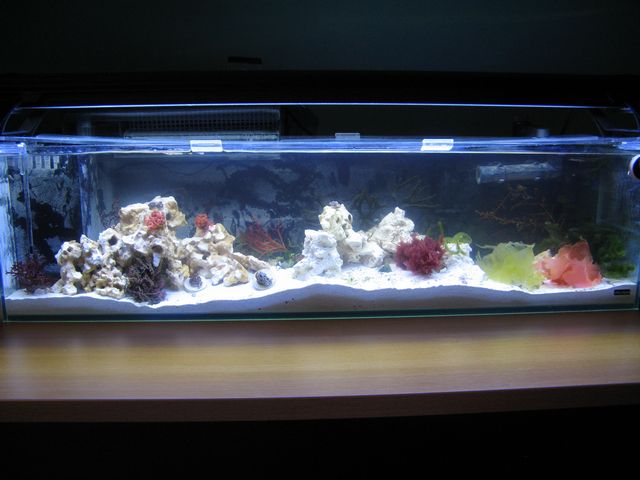 Hi everyone. This is my first time posting here. I'm building a macro reef in a Mr Aqua 12 gallon long tank and would like to bring you all along for the ride! This thread is going to be pretty picture intensive, so I hope you all like images. The first batch of posts are a time lapse of the first 6 - 8 weeks of the tank.
I look forward to your comments - both good and bad!
Equipment:
Mr Aqua 12g Long with custom glass top
Aqua Euro 1/13 HP Chiller (not in use)
MJ404 Pump driving the Chiller (closed loop)
Finnex 100W Titanium Heater
Dual Ecotech MP10es in various modes throughout the day controlled by Apex WXM
Tunze Osmolator ATO
Neptune Apex Controller
PinPoint Salinity Meter
Lighting:
36" Coralife Aqualight Dual T5 HO 'Frankenlight' Fixture with following additions:
Two 24" Current TrueLumen 453nm Actinic LED Fixtures
24" Current TrueLumen 12K LED Fixture (one hour each day at noon)
Apex LSM with 5 Moonlight LEDs
Filtration:
Aquaclear 110 HOB
Tunze 9002 Skimmer with DIY Intake Muffler
Innovative Marine MiniMax Reactor running Warner Marine ekoBAK BioPellets
Innovative Marine MiniMax Reactor running Seachem SeaGel
Clean Up Crew:
The bulk of the clean up crew comes from Reef Cleaners. A few came as hitchhikers via live rock and algae.
Dwarf Ceriths
Florida Ceriths
Large Nerites
Small to Medium Nerites
Stomatellas
Several cool but unidentified snail hitchhikers
Copepods (bajillions of them)
Livestock:
All livestock comes from Drs. Foster & Smith.
3 - Blue/Green Reef Chromis (Chromis viridis)
1 - Pom Pom Crab (Lybia edmondsoni)
1 - Peppermint Shrimp (Lysmata wurdemanni)
Corals:
The bulk of my corals come from Drs. Foster & Smith. A few come as hitchhikers via live rock.
Green Toadstool (Fiji)
White Pom Pom Xenia
Florida Ricordea
Kenya Tree (hitchhiker)
Various Actinodiscus Mushrooms (hitchhikers)
Green Rhodactis (hitchhikers)
Macro Algaes:
The bulk of my Algae comes from LAReefs and Gulf Coast Ecosystems. A few come from friends here at Nano Reef.
Gelidium sesquipedale (Red Kelp)
Bornetella oligospora (Sear Fern)
Chlorodesmis sp. (Maiden's Hair)
Ulva sp.
Botryocladia botryoides (Red Grape)
Fauchea sp. (Fiji - irridescent)
Portieria hornemanni
Halimeda opuntia
Acanthophora spicifera
Codium lucasii
Galaxaura sp. (small clipping)
Gibessi sp. (Flamingo Feather)
Lobophora variegata (probably)
Gracilaria hayi
Padina sp.
Rhodopeltis sp. (Red Branching)
Halymenia sp. (Dragon's Breath)
Flame Algae or Spotted Rose (unidentified)
Several Sargassum sp.
Several Gracilaria sp.
A ton of other unidentified Macro Algaes encrusting an MP10
Dosing:
I have been dosing every other day to avoid any wide variance in levels. I have a couple of dosing pumps from BRS that I got for Calc/Alk dosing but have not seen a need to hook them up yet.
Brightwell Lugol's Iodine - One drop every other day
Kent Garlic XTreme - 1 drop when I feel adventurous (this stuff really STINKS!)
Kent Strontium & Molybdenum - 2 drops every other day
Brightwell Replenish Trace & Minor Elements - 5 drops every other day
Kent Zoe - 5 drops every other day
Kent Iron and Manganese - 10 drops every other day
Kent Tech-M Magnesium - 20 drops every other day to maintain 1340 mg/L
Brightwell Reef Code B - 30 drops every other day to maintain 9 dKH
Brightwell Reef Code A - 30 drops every week to maintain 500 ppm
Gulf Coast Ecosystems KNO3 or CaNO3 - as needed to try to maintain 2 - 5 ppm Nitrates
Measured Water Parameters:
I measure all of my parameters once a week (Temperature, Specific Gravity and pH are monitored constantly) using Salifert, API and Nutrafin test kits.
Temperature: 76.5 F (Apex)
Specific Gravity: 1.026 (PinPoint)
pH: (night) 8.05 - (day) 8.55 (Apex) (calibrated at 76.5 degrees)
Ammonia: 0 ppm (API)
Nitrites: 0 ppm (API
Nitrates: 0 ppm (API)
Calcium: 500 ppm (Salifert)
Alkalinty: 9 dKH (Salifert)
Magnesium: 1340 mg/L (Salifert)
Phosphates: 0 mg/L (API)
Iron (free) 0 mg/L (chelated) .1 mg/L (Nutrafin)
Edited by grmoore, 03 June 2013 - 01:48 PM.