Hi everyone, A friend of mine has an amazing nano journal on this forum (I followed it somewhere else) and one of the first links was to this website. Reading & rereading that journal inspired me to start my own SW system. Seeing as this is my first SW system, I thought I'd maintain a journal here as well. I've been keeping FW fish for about 22 years, the last five of which have been focused exclusively on Planted tanks. I do think, however, that the time is right to begin a saltwater journey. After all, I do live in Miami, FL and it is actually easier to setup a reef system here than a planted tank! Try and figure that one out, but it's true. You can find a LFS around the corner that sells lovely frags, but ask for a pot of HC and you'll get a funny look!
My parents are Cuban and for the name of this system I drew on an old reference to Cuba as the "Pearl of the Antilles". For this system, I'm restricting myself to species that are found in the Caribbean and we'll throw in Florida too, as it's the place where my family currently lives. You have to throw in a challenge in a system and I think resisting the urge to make it a blend of species from different parts of the world will be my challenge. Would like even LR from the region, which I think is possible. I know Tampa grows LR for commercial purposes. LOL, this will, however, allow for a lionfish, since they now do breed locally. Just kidding!
Florida is a paradise for that sort of thing.
There may also be the possiblity of local collecting, should I obtain a valid Fl fishing license. I have to check the rules again. Last time I had a license, over 10 years ago, you could do this, but I really need to confirm. That may put an exciting twist into the system, though quaranteen becomes essential. I do have a spare 8g, 10g, or a 20g that could serve that purpose well. Run it with SW, heater, some LR, and a Powerhead? Also can serve as a hospital tank so I wouldn't have to treat the whole system.
So this is what I have so far...
Tank
: 36g corner bowfront, 21" deep, 21" radius
Lighting
: Going with 2 x 65 CF fixture and 2 x 14W NOT5, so 158W. These are from old planted systems and I've already changed the bulbs for SW bulbs (10k & Actinic) I think it's plenty for what I want. Will buy a moonlight or a red LED to watch nightime critters. Any recommendations on lights to watch the night time critters? Now, I no longer have space on the hood, so I'll need a clip on.
Skimmer
: EDIT: Think I'll go with the Hydor slim nano. My friends rave about it and I think it'll fit nicely.
Circulation
: EDIT:
Two Hydor Koralia nano 425s, I'll supplement with some Rio 50s that can be used for target circulation and surface agitation. I don't plan on having an extra filter, though I do have two spare Aquaclear 70s should the need arise.
One Koralia 750 and Koralia nano 425
Substrate
: Think I'll go with a sandbed, but I have to think about what I want to keep more before I make my final decision on its depth.
Live rock
:
I've made the decision to go with aqua-cultured LR from FL.
So far 40lbs of cured Haitian rock
Water
: I'll be using RO/DI water, mixed with a Salt mix. I've got the following unit from an auction at a convention, very cheap.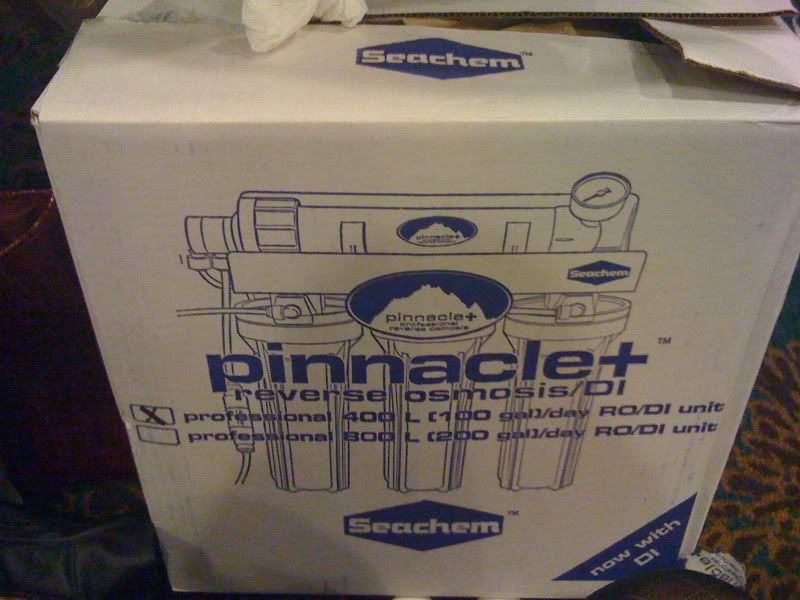 Refugium
: Not having this as I will be featuring macro algae prominently in the scape. I like them.
Sump
: Don't think I'll need this either.
Heating
: Now, I do have a question on heating. I live in FL and have central air. I know I'll need heaters in the Winter months, as we don't have heat and the house temp goes down to the 60s. On the other hand, when summer comes, ac kicks in and the house is at 76 degrees. But... See, we have a bit of a lemon AC, it crashes on occasion (like once or twice a year) and the house can spike to the high 80s. Or, I can opt to use smaller heaters all year round and keep the temperature a bit higher, like 78-80, to save myself incase the AC breaks and then the spike won't be as hard on the livestock. Last time the AC crashed, the house temp was like 87, but the tanks stayed at around 82, so I may be ok without a chiller. Sorry, I'm rambling, but it's good to bounce this off you guys now rather than deal with the consequences later. I know that what the reef needs is stability, whether you choose 75 as the temp or 80.
Books
: I've purchased the following...
The New Marine Aquarium by Michael S. Paletta - read this already, good.
The Simple Guide to Mini-Reef Aquariums by Jeffrey Kurtz - read this already too, very good.
The 101 Best Saltwater Fishes by Scott W. Michael - use this to look up species at the LFS
Marine Invertebrates by Ronald L. Shimek - use this for invert ID
Aquarium Corals; Selection, Husbandry, and Natural History by Eric Borneman - reading this now, wow...
website
http://reefguide.org/carib/index.html
- For me, this will help identify Caribbean species. There is also a field guide that I want to purchase from Amazon.com
Based on what I've read, I've made a preliminary livestock list.
Not
going to put
all
of these in the system, it is only a nano, but these are species I'll be looking more heavily into. If others have any suggestions or comments, please let me know.
Thanks for looking. I'm excited about my first SW system. Right now, it's in the planning stages and I'm basically pricing the big items and doing the reading. The tank was an old FW planted tank that was treated for ich about 2 years ago, but I did a copper test and everything came out fine, no copper.
********** End of Original Post **************
Basic stats & current livestock
-3 Koralia nano 425s (laste Koralia added 2/20/12
-40lbs of cured Haitian rock
-60lbs of Oolite sand, 4" sand bed
-Red sea coral pro with RO/DI water
-25-30% weekly water changes
Fish
-
Royal Gramma - Gramma loreto
- died due to stress caused by chalk bass competing for space
-Chalk bass - Serranus tortugarum (4) - a school, very interesting
-Yellowhead Jawfish - Opistognathus aurifrons, mated pair, but female is now missing...
Sessile inverts
-Ricordea florida
-Rock flower anemone (I think it's Epicystis crucifer)
Motile inverts
-Mated pair of Stenopus hispidus (banded coral shrimp)
-Blue-legged hermits
-dwarf ceriths
-florida ceriths
-Nerites
-two fat and sassy Babylon snails
-Nassarius vibex
-Green porcelain crab
-Caribbean porcelain crab (hitch hiker)
-
asterea snails
- killed by hermits
Macro algae & grasses
-Halimeda opuntia
-Dictyota (hitch hiker)
-Ochtodes (hitch hiker)
-Caulerpa prolifera (hitch hiker)
-
Halimeda discoidea
- went sexual ewwww!
-Halodule wrightii - shoal grass
FTS: (2/24/11)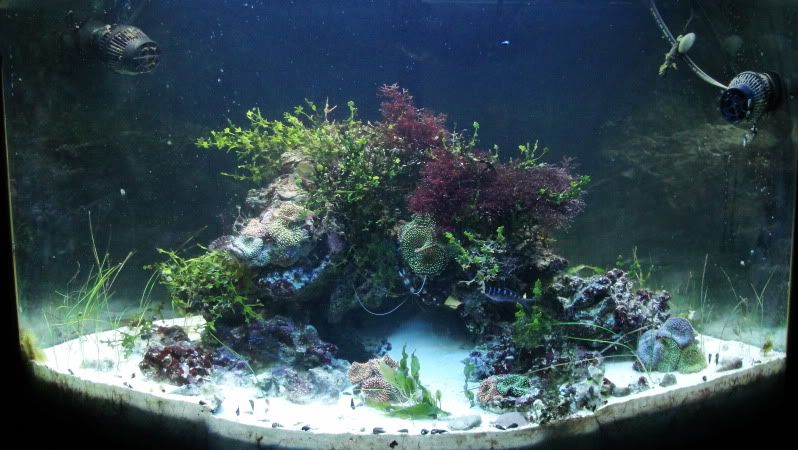 llj
Edited by lljdma06, 25 February 2012 - 04:58 AM.