So this build will be coming together over the next few months. I will not be setting it up until September-October when I get back from doing research over the summer. The plan is to do a SPS cube with a few fish that I have been wanting to keep for some time. The 60 cube (2'x2'x2') was ordered via my LFS and has a custom overflow and comes predrilled with a 1.5'' drain and .5'' return hole.
The List:
60g Visio (24"x24"x24") cube with black stand
10g Visio glass aquarium as sump
Ecotech Radion XR30w
x2 Vortech Ecosmart mp10w
200w heater
mag 7 return
x2 BRS Doser (1.1 mL/min) for use with b-ionic 2-part
JNS biopellet reactor with NP Biopellets
Super Reef Octopus 1000int skimmer
TLF 150 reactor powered by MJ600 with GFO/Carbon
JBJ ATO
50lbs LR (30lbs marcorocks with 20lb of choice LR from my previous 20h)
40lbs marcorocks coarse sand
Livestock:
x1 perc clown
x1 possum wrasse
x1 pink bar goby
x1 flame angel
x1 mccosker's flasher wrasse
x1 ornate leopard wrasse
x1 leopard wrasse (meleagris)
x1 yellow coris wrasse
x1 crocea clam
x1 cleaner shrimp
x1 acropora crab
x1 porcelain crab
x1 orange starfish (Echinaster sp)
and a ton of snails, some hermits
Coral:
SPS and zoas
Tank Progression:
4/18/12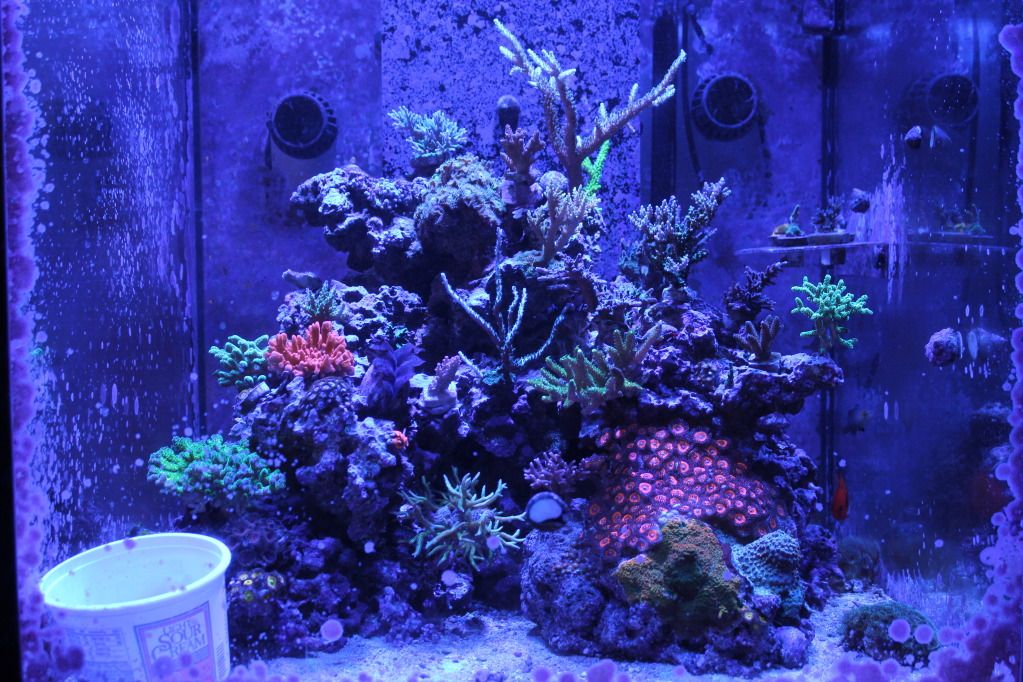 3/29/2012
2/23/2012
11/16/2011
10/21/11:
Edited by SoCalDude, 18 July 2012 - 07:41 PM.