Our Products
-
Where to buy
The
PR-25
(dimmable!)
The PR-25 is a PAR38 formfactor bulb (screws into a normal light socket) and is a 70-150w halide pendant replacement. The PR-25 LED pendant produces a similar amount of PUR (photosynthetically usable radiation) as does a 150w metal halide bulb, with excellent spread from 60 degree 'frosted'/honeycomb optics (each bulb covers ~16x16x16" @ 12" suspension height). Containing 12 diodes running at 2 watts each and available in various color combinations, the PR-25 is an excellent, cost effective and efficient choice for nano and mid-sized aquariums. The PUR ratio is so high than ~50-60 PAR under the PR-25 is equal to ~150 PAR under a 14k halide bulb. Even better, the PR-25 is dimmable with a common household dimmer!
WARNING: the PUR output of the PR-25 is the highest PUR available from an emitter that we're aware of, and you WILL bleach your coral with this light if you are not careful. It will not appear to your eye to emit such a high amount of energy, but when switching to this bulb double the distance from the MH bulb that it is replacing and slowly lower it over 2-3 weeks!
Available in two color options in 110v or 220v (see spectrographs):
- 6 blue / 4 white / 2 UV (~"20k" with UV for enhanced color)
- 6 blue / 6 white (~"14k")
Full output independent spectrograph of the PR-25 6 blue / 4 white / 2 UV-Violet
Full output independent spectrograph of the PR-25 6 blue / 6 white
The
PR-ML7
and
PR-N7
Fluorescent effect on M. digitata
Fluorescent effect on R. florida
The PR-ML7 is a PAR30 formfactor bulb that screws into a normal light socket. Containing 7 diodes running at 2 watts each (four 450-460nm blue diodes, and three 380-440nm UV/violet diodes) the PR-ML7 is the ultimate color enhancing spotlight and/or moonlight. Perfect for adding UV light for coral fluorescence to existing displays and for nanos, or for spotlighting certain species, nothing adds color like UV, and we're the only company offering such an option! Available in 110v or 220v, and it's dimmable!
The PR-N7 is identical to the ML7 except it's designed as a light for nano & pico aquariums, and contains 3 of our 15k white Power LED™ emitters, 3 royal blue, and one of our UV-violet diodes.
PR-3
A 3w MR-16 formfactor bulb, the PR-3 contains two white and one royal blue emitters running at 1w each. Perfect for nano and pico aquariums, these versatile bulbs are accepted by many fixtures.
T-8/T-5 LED Tubes
Our LED tubes come in T-5 and T-8 formfactors. Completely powered by the fixure with no additional power source needed, our LED tubes are available in 24, 36, and 48" and emit 500 lumens per foot (compared to 400/foot for normal fluorescent bulbs) via our second generation Power LED™ diodes. As always, the drivers are constant current, with a power factor of 97. Even better, they also include our new UV/True Violet diode and very high PUR, CRI spectral curve (see below). Available late July!
The
PR-156 line
(available in black or white)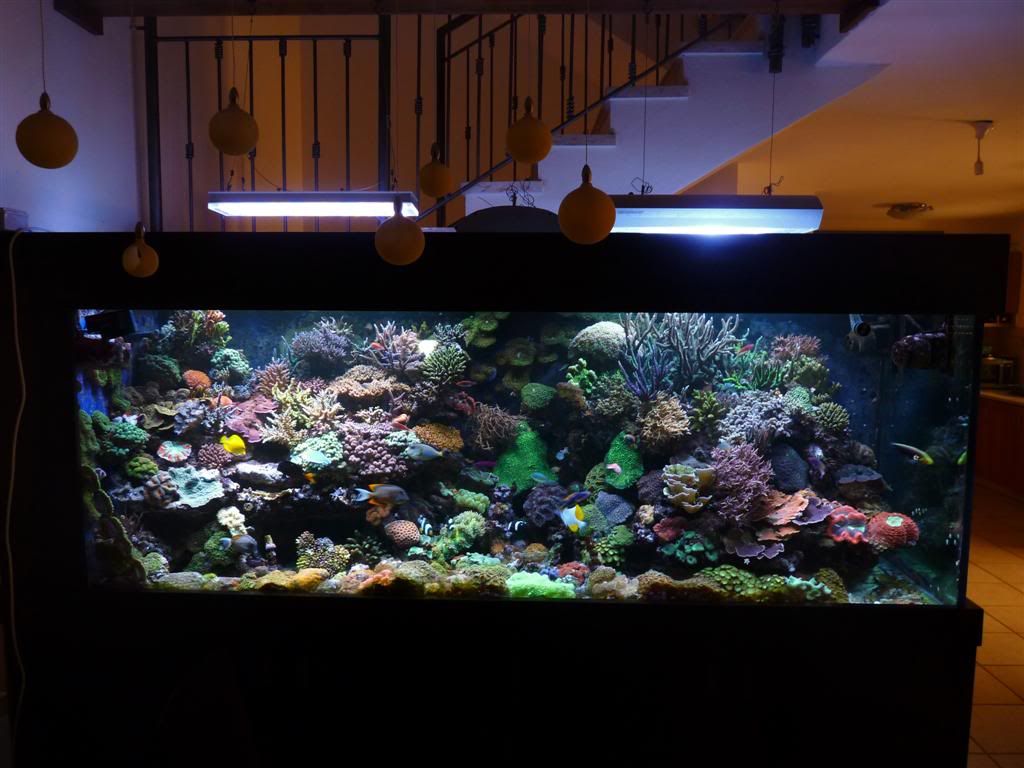 PR-156 compared to a 400w Geismann MH fixture
PR-156 line in action on a high end reef:
Coral Tank from Canada (1350gal Display Tank) - Page 266 - Reef Central Online Community
Video of the PR-156's:
YouTube - IMG 0067
The PR-156 line are the only LED lights designed to replace a 400w halide bulb. Using specially designed custom optics that reduce surface refraction and scatter, our PR-156 models put more light into the water than any other LED light. The models come standard with 42 of our Power LED white diodes and 18 blue diodes. We can customize the number and layout of each diode, as well as include our new UV/Violet diode for an additional charge. The 156 models come with an easy-to-adjust hanging kit, allowing for easy customization of spread as well as mounting angle. A separate ballast box contains two timers, one to operate the main 56 lights, and another that operates 4 blue lights that also serve as moonlights. The PR-156 units use high quality constant-current electronics, so they are not dimmable or controllable.
The PR-156 can illuminate aquariums up to 40" deep due to the 90 degree optics. This model offers limited spread but incredible depth penetration: SPS can be kept in 24"+ of water with this model!
The PR-156W is the recommended model for most aquariums, especially those shallower than 30", the PR-156W has a wide angle, 120 degree reflector for increased coverage while still emitting more light than any other LED fixture. In most cases, this is the recommended choice. These units can be built to order with a custom layout and number of white, blue, and UV/Violet diodes!
Edited by OrphekUSA, 11 June 2011 - 02:02 AM.