Updated FTS 11-8-11... Everything is now in the 5.5 gallon tank.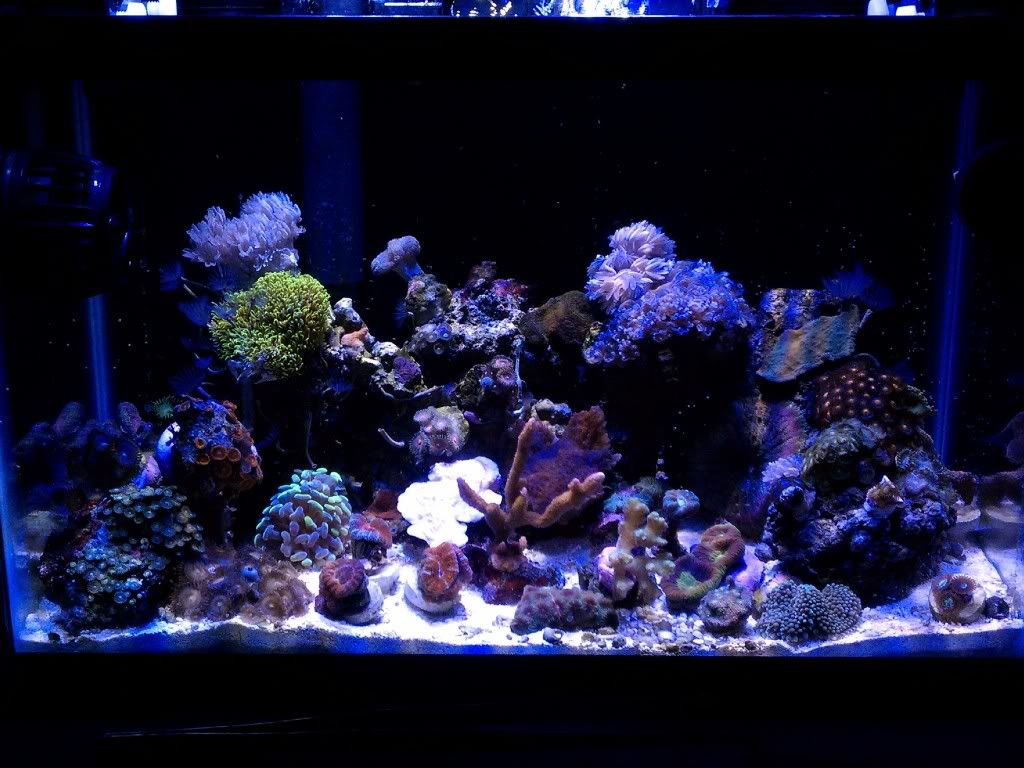 Hey everyone. Well after what seems like an eternity of researching and wanting a saltwater tank, i have finally took the plunge. About a year ago I bought a 40 gallon tank and had it drilled with a corner overflow. Then money became an issue so it sits empty. So I decided to go smaller and I ordered a jbj picotope from Dr. Foster and Smith in the beginning of February. I set it up this past Saturday, 2/19/11. Here is a list of what I have:
Equipment:
JBJ Picotope 5.5 Gal. Tank
BoostLED PAR30 bulb
Architect desk lamp
Modded AC70 (thanks to el fab's tutorial)
Mainland 50w heater
Vortech mp10wES
Hydor Pico Evolution 180 powerhead
Hydor Pico Evolution 300 (with wavemaker attachment)
Oceanic Salt
Floating Hydrometer (will get a refractometer eventually)
~3lbs of sand ~7lbs of sand
~4lbs of live rock ~7lbs of live rock
Lots of distilled water
Coral:
Softies and Polyps:
Florida Ricordeas (Various Colors)
Armor of God palys
Devils Armor Palys
Blue Steel Zoas
King Midas Zoas
Orange Bam Bam zoas
Reverse Gorilla Nipple Zoas
Green Bay Packer Zoas
Tubbs Blue Zoas
Cat Eye palys
Polds and Ginks palys
Magician palys
Green Palys
Red Mushroom
Pom Pom Xenia
Green Star Polyps
Blue Anthelia
Kenya Tree
LPS:
Green and Red Favia
Dragon Soul Prism Favia
Green Hammer
Red Acan
Orange Acan
Peppermint Acan
Hollywood Stunner Chalice
SPS:
Orange Digitata
Idaho Grape Monti Cap
Green Milli
Rose Milli
Tyree Flower Petal Cap
Blue Cap
Rainbow Monti
Green Porcillopora
Inverts:
Tons of Feather Dusters
3 Nerite Snails
2 Florida Cerith Snails
2 Dwarf Cerith Snails
2 Nassarius Snails
2 Red-Claw Hermit Crabs
2 Sexy Shrimp
1 Anemone Shrimp
Lots of Stomatella Snails
1 Porcelain Crab
1 Pom Pom Crab
2 Green and Pink Maxi Mini Nems
Edited by gritchie4, 11 January 2012 - 02:05 PM.