Hi Nano-reefers
I've been lurking/reading/absorbing for awhile and it's finally time to make my own post. I bought this 20long earlier in the fall, during one of Petco's $1/gallon sale, and it's been sitting empty for a few months until I decided what to do with it. I've been into freshwater for years, and currently have 4 FW tanks of various sizes, from 3G up to 56G. I almost made this 20G another FW tank, for tanganyikan cichlids, but I'd rather have a bigger tank for that endeavor. I'd been reading up on SW on and off for the past year, year and a half or so, and decided now was as good a time as any to take the plunge.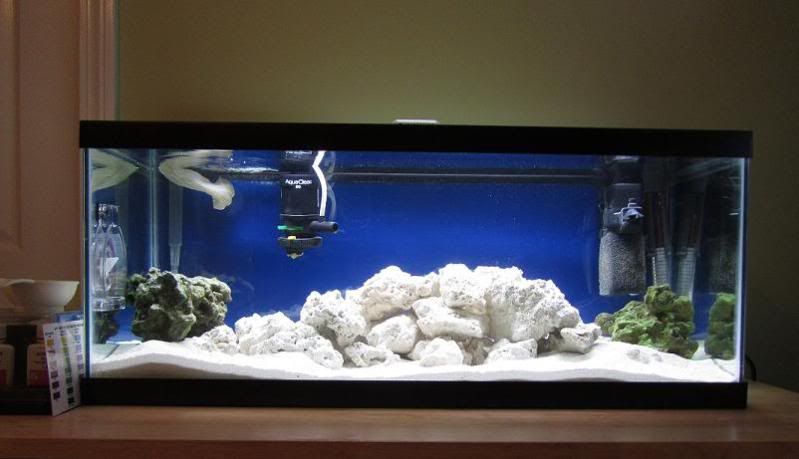 Equipment etc.
-AquaClear 50 filter
-AquaClear 50 powerhead
-ZooMed Powersweep 212
-Marineland Visi-therm 100w heater
-Lighting: Temporarily borrowing a light from a 29G freshwater, a coralife 30" 2xT5HO. Permanent lighting coming in the mail,
hopefully
arriving on Monday. Coralife Aqualight 30" 2x65w CF (actinic/10k) - How does this sound? I should be able to grow a decent selection of corals, yes? I wanted the lunar aqualight with the lunar LEDs, but I guess that's been discontinued.
-Red Sea Hydrometer and Red Sea Salt
-About 25# of bagged (non-live) aragonite sand
-20# of base rock
-two pieces of live rock, maybe 5-10ish lbs?
Oh, one thing that's been bugging me is the hydrometer. It seems like the reading changes if I move the powerheads in the tank (which I've only done twice so far, trying to decide the final placement for them still), or the hydrometer itself. I was going along great with a good SG reading, then I moved the hydrometer to the other side of the tank and suddenly it's off the charts high. :/ I changed out some water to get it back down to an acceptable SG reading. Then a few days later I moved the powersweep slightly and the hydrometer's reading drops way down. Still on the charts this time, but still. What? One thing I thought about was that when it would have these weird swings, I had the hydrometer pushed down to the sand bed and maybe water wasn't flowing through it properly, since there's an opening at the bottom? So finally today, I messed with it a little more and it's (as you can see in the picture) no longer against the sand bed, allowing for better flow, and it's giving me a normal reading. Hopefully it's an accurate as well as stable reading.
I set the tank up on the evening of December 28th, so the 29th is its first full day of running. That makes today day 12. The cycle is going slow... basically getting the same readings every day so far. I added the live rock maybe on the 4th day? Today I went out and bought a raw shrimp to try out that trick. So in the picture, you can see it in some pantyhose, floating by the filter output on the left side. It grossed me out when I was putting it in
I don't eat seafood. I hope the shrimp helps the cycle along.
PH: 8
Ammonia: Ranges from .25 to 1. Today it looked to be at .25.
Nitrite: 0
Nitrate: 0
Temperature: 77
SG: 1.023
Some hitchhikers that came in on the LR include what I believe to be: 2 small nerite snails, 1 small cerith snail, 2 stomatellas, a nice looking nassarius snail that I saw the first couple days, then saw once more recently but doesn't show up often, and finally, what looked like a small white brittle sea star - about the size of a dime. That one wasn't moving much and I haven't seen it since the first night. There's also some little white clam looking thing, but it's wedged down in a nook and I haven't gotten a super good look at it.
I've had lgreen's nano fish stocking guide open in a tab kind of permanently for awhile now, haha. I've been mulling over what I'd like to stock the tank with, but nothing is set in stone yet. Definitely a clown or two. I saw some perculas and ocellaris side by side just at Petco recently (the perculas were actually cheaper than the ocellaris! $17 vs $19. Isn't it normally the other way around? The oc were tank bred though). I liked the look of the percs a bit more. I also really like the look of maroon clowns, but are they more aggressive? Probably some sort of goby as well, maybe a YWG? I'd like something with interesting behavior. They had a scooter dragonet at Petco (not getting one of those, too difficult for me for now) and I fell in love with its behavior. I'd love something that scoots around like that. The pearly yellowhead jawfish has stuck out for awhile for me now. How appropriate would one of those guys be? Difficulty level? Plus the royal gramma is often listed as a good beginner fish, and I wouldn't mind having one of those if they're a good easy fish. What do people think of them? Damsels are cute but I worry about their aggression. The dominos are my favorite but how bad can their aggression be?
My potential reef stocking list is even more vague than my fish list. Some general things that I like the look of: zoanthids, monti caps, mushrooms. I love the look of birdsnest but how well would that do with my lighting? And I think I've seen some people recommend frogspawn for people wanting an anemone look. How difficult are those and how much room would they need to themselves?
My fish and coral lists are definitely just some thoughts, I don't plan on taking one of everything I listed and dumping it in the tank, haha.
Any thoughts, input, suggestions are more than welcome!
Here are a couple extra pictures I took after I got the live rock. Some hitchhikers!
I really like this snail.
One more picture. I just took this one a little while ago. He made an appearance! I think he's grown since I got the live rock.
Edited by JulieR, 20 September 2011 - 07:30 PM.