Full Tank Shot:
May 17, 2011, now six months old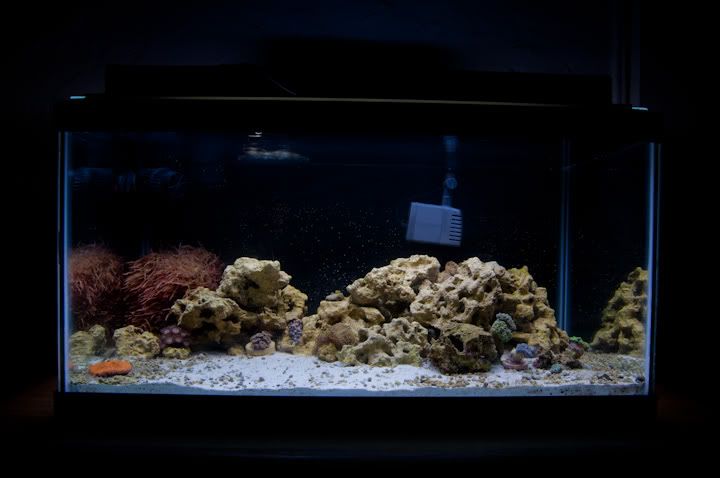 I've never owned an aquarium before, although 10 years ago a friend's goldfish died under my care. My educational background is in evolution, ecology, and biodiversity, and I volunteer as a docent at a local science museum & aquarium. I either know or am capable of understanding a lot about marine biology, especially marine invertebrates, but I have ZERO husbandry experience. I enter this hobby knowing that things can go wrong and everything can die because of me, but whatever happens I will do my best to learn and still have fun with it
Thumbnail below links to my first YouTube video of my new ocellaris clownfish and my huge new hammer coral:
Corals
Grape coral (
Euphyllia cristata
)
Hammer coral (
Euphyllia ancora
or
parancora
)
"Fat hammer," might just be a "regular" hammer but seems a little unusual
Frogspawn (
Euphyllia divisa
or
paradivisa
)
Bright green trumpet coral (
Caulastrea
spp.)
Orange plate coral (
Fungia
spp.)
Acan (
Acanthastrea
spp.)
Hair mushroom (
Rhodactis
spp.)
Zoas, both
Zoanthus
and
Palythoa
spp.
Other Invertebrates
3
Trochus
snails
7 Sandbed clams (
Tapes
), buried
Dwarf zebra hermit crabs (
Calcinus laevimanus
)
Amphipods (
Grammarus
)
Isopods
Bristle worms
Medusa worms (Family Cirratulidae)
Various little feather duster worms
Little bristle stars
One or two tiny
Asterina
starfish
Fish
Ocellaris clownfish, captive-bred from Sustainable Aquatics
One unknown red algae. I'm in contact with someone who may be able to ID it.
Tank SpecsTank:
15g AGA, glass cover, 15 lbs.
Marco Rock
seeded with a few small pieces live rock, 15 lbs. Caribsea Fiji Pink sand.
Lighting:
AquaticLife 2x24w T5HO, ATI Aquablue Special and Blue Plus
Filtration:
CPR Aquatics AquaFuge2 (small) refugium for
Chaetomorpha
under reverse lighting (18w PC). The Aquafuge also houses heaters, temperature probe, and grounding probe.
Circulation:
Vortech MP10ES, plus the outflow from the AquaFuge's Maxi-Jet 400.
Controller:
Apex Jr with Energy Bar 8 module
Heaters:
Ebo Jager 50w, backup Finnex Titanium 50w, controller keeps it at 78°F
Emergency Equipment:
Surge protector, GFCI, grounding probe, Penn-Flax B11 emergency battery-powered air pump that automatically turns on during a power outage.
Other Equipment:
Dual-switch top off system from
AutoTopOff.com
with Aqua Lifter pump, cheap blue LED moonlight from eBay.
Test Kits:
API Saltwater Master and Reef Master kits. I'm still deciding on a Mg test kit.
Other:
Seachem ReefSalt
Goals & Themes
1. Indo-Pacific reef
2. Back / lagoon reef, as described in John Tullock's books.
3. Captive-bred and fragged animals, otherwise lowest environmental impact to the extent possible.
4. Emphasis on corals and other invertebrates, and low bioload on the tank. Fish do not interest me much, but I do plan on one or two.
5. Vacation, neglect and failure safe, hence the dual heaters, controller, B11 pump, and top off system. I'm investing far too much time and money into this hobby to not have reasonable precautions.
These goals have made planning extremely challenging, but the following resources have been invaluable:
1. Nano-Reef, duh
2.
ReefCentral
3.
WetWebMedia
4.
Reefkeeping.com
5.
Advanced Aquarist
6.
Coral Magazine
7.
Reef Hobbyist
8.
Reef Addicts
9. John Tullock's "Saltwater Aquarium Models" and "Natural Reef Aquariums"
10. Eric Borneman's "Aquarium Corals"
11. Anthony Calfo & Robert Fenner's "Reef Invertebrates"
The challenge has also made it extremely enriching to learn about the hobby, although some my goals can be flexible.
January 23, 2011:
Edited by gerbilbox, 07 July 2011 - 08:04 PM.