So in my quest to get this contest tank up & running I figure I should start on the sump pretty quick so I can finish the stand while the silicone dries.
If you're not familiar with my build there's a simple illustration at the top of my contest thread (link in my sig).
Here's my design for a sump. Sorry it's small, but photobucket seems to have resized it and won't let me enlarge it. So you might have to Ctrl+mouse wheel up a few times to enlarge it.
Quick stats: 30br tank 36x18x12
Planned water volume ~23 gallons
Baffle material 1/8" glass spaced 1/4" apart
Drain pipe 1"
Return pipe 1/2"
Return pump Quiet one 1200 (350gph)
Pump head 39"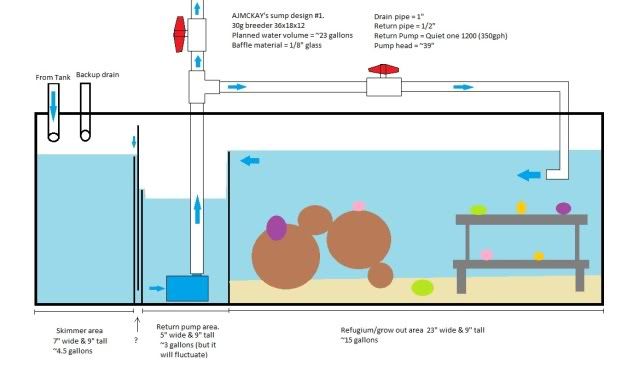 I have a few questions for you sump builders out there as this is my first:
My Bubble magus NAC6 is 7" wide, thus the skimmer section width. I also wanted to keep the refugium/grow out area around 24" so that I could put a standard 24" T5 light on it. I made it 23 to accommodate the baffle spacing. This leaves a 5" wide return area which I calculate should hold around 3 gallons. I plan to have this hooked up to an ATO pretty quick, but still 3 gallons isn't much wiggle room. Do you think that's an okay volume for the return area?
Finally, I'm having difficulty planning my baffles. First off, from my research it seems that 1/4" glass or acrylic is standard, as is 1" spacing between the baffles. What I couldn't find was a reason why. Technically my tank will only have 300-400gph going through it, so I was thinking that using 1/8" window glass with 1/4" spacing should save me a bit of room. I think that such a small piece of 1/8" glass should be plenty strong (it's not like it has to deal with much force!) and I think that with an 18" wide tank even a 1/4" slot would provide for plenty of flow. I am planning on using a dowel or something to clean between the panes.
So does anyone have any experience with using baffles spaced so closely together? Does anyone know why I definitely should NOT go ahead with this plan?
Thanks for your vote!
Edited by ajmckay, 29 September 2010 - 08:46 PM.