Tank started September 2010
Current FTS, 2-9-15: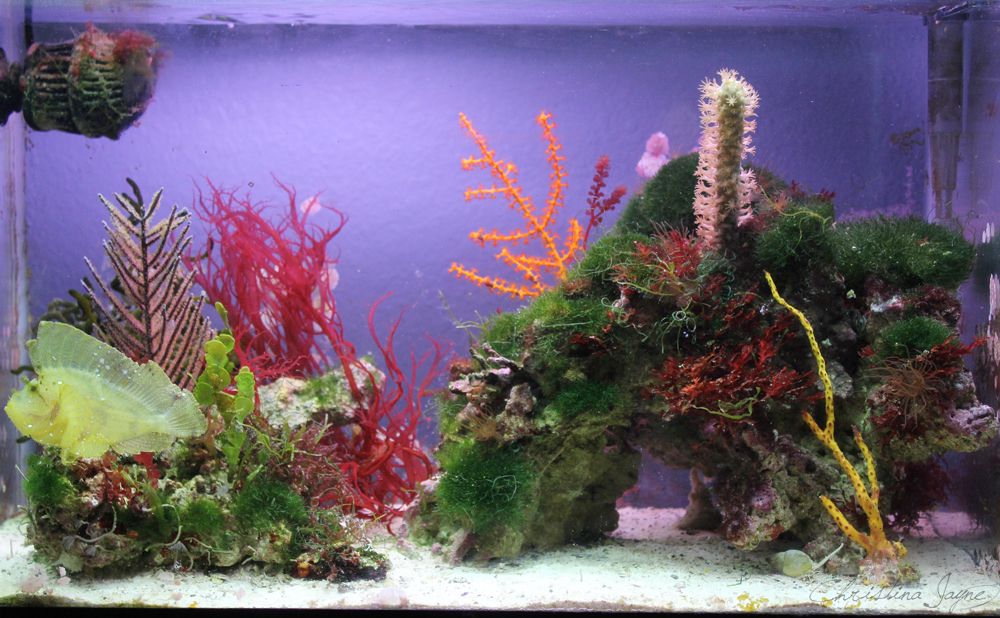 ---
Quick note - actual pics of anything start on page 7
Equipment
• Odyssea 65w 50/50 PC Fixture
• Koralia Nano Powerhead
• A heater I forgot the name of
• AquaClear Filter
Livestock
Fish
• Yellow Leaf Fish (Taenianotus triacanthus)

CUC
• Red Leg Hermits
• Blue Leg Hermits
• Nassarius Snails

Macros
MARIA GAVE ME MACROS

Thank you Maria for those macros you gave me in 2010 when I was just starting up this tank, I'll always remember the excitment of opening your package! It really gave me the extra enthusiam and passion that fuels this tank, Thank You Always! 
• Caulerpa Prolifera
• Titan Algae (Titanophora sp.)
• Chaeto (Chaetomorpha crassa?)
• Red Grape "Caulerpa" (Botryocladia occidentalis)
• Blue Ball (Octhodes secundirema)
• Unk Red Macro #1
• Red Gracilaria
• HH Rhodymenia holmesii
• HH Green Algae (Cladophora fascicularis)
• Possibly (Chaetomorpha antennina) or (Cladophoropsis sp.)?
• Possibly (Cladophora rupestris)?
• Green Sear Fern Batophora sp. or Dasycladus vermicularis?
• Money Plant (Halimeda discoidea)
• Money Plant (Halimeda sp.)
• Serrated Caulerpa (Caulerpa serrulata)
• Palm Caulerpa
• Sargassum
• Fauchea
• Maybe (Avrainvillea nigricans)?
• Unk bulbous red macro (some kind of bubble algae I have yet to ID)
+ some Caulerpa variety I forgot the name of
 
Edited by yoshii, 3 weeks ago.