First, some current specs and ideas/theories/explanations behind this tank.
Specs:
25g AGA cube 18x18x18
14g custom sump 17x17x12
HOB 300 gph overflow
Vortech MP40w ES @ ~80% on Long Pulse Mode to create a rocking effect of an extended wave
Tunze NanoStream 6025
250w mogul Hamilton Cayman Sun w/ XM 10000K on 8.5 hr photoperiod; approx. 8" from surface
300 gph return via Tunze Silence pump
100w heater
Manually dosed homemade 2 part additive added every 2 days

Average Parameters
Temperature: 81-85 Fahrenheit
Salinity: 35-36 ppt
Alkalinity: ~8 dKH
Calcium: ~400 ppm
Nitrate: Undetectable
Phosphate: ~0.02-0.04 ppm

Maintenance:
Very occasional water change, usually after harvesting grasses, which stirs up substantial detritus and releases nutrient-rich porewater. This amounts to about 30% every few months or so.
Activated lignite carbon employed continuously and replaced roughly every 3 weeks to reduce yellowing from decaying grass leaves.
Granular FeO(OH) used when substrate is disturbed, along with or in place of above water change.
Monthly to bi-monthly harvest of grasses, rhizome and all.
Grass leaves plucked every 3 weeks or so to thin vegetation, improve vigor, and allow for better water motion through the plants.
Occasionally add KNO3 or Ca(NO3)2 when phosphate levels rise

Livestock:
Fish:

2 Amphiprion ocellaris (female approx. 12 years in captivity)
1 "tribal" blenny

Plants:

Halophila decipiens (oar grass)
Halodule beaudettei (shoal grass)
Thalassia testudinum (turtle grass)
Syringodium filiforme (manatee grass)
After a long string of some bad luck and equipment failures, as well as after having very good luck with algal-based filtration methods, I decided on a lower-tech relatively minimal tank. I wanted something with only the absolute necessary equipment and those pieces of equipment needed to be very sturdy and low maintenance. Tired of constant topoff, I also wanted a smaller tank with lower surface area that would require less.
Having had reefs for many years and keeping "sps" type corals for a good portion of those years, I also wanted to try something different--something you don't necessarily see every day. Thus, from this and the above, the idea to start a planted-type tank with a few corals came to be. With strong enough light, I could encourage enough primary productive growth to soak up all the nutrients I could add to the system as well as produce what I would hope to be an attractive display. The anemone idea came a bit later after I decided on a replacement for my old H. crispa--and out of feeling somewhat sorry for my clowns after losing her.
Anyway, enough rambling on my part and down to pics from the start of this project:
Day 1
: Animals still alive in old tank started looking bad, so I was rushed to set up the tank immediately, despite the fact that I had intended to let it stabilize for several weeks prior to adding livestock. No lighting available yet, except for the 2-40w fluorescent lamps and the sump has not been constructed yet. Not a good start and things started looking bleak from the beginning.
Seagrass looking sad and yellow in the 3000K lamps: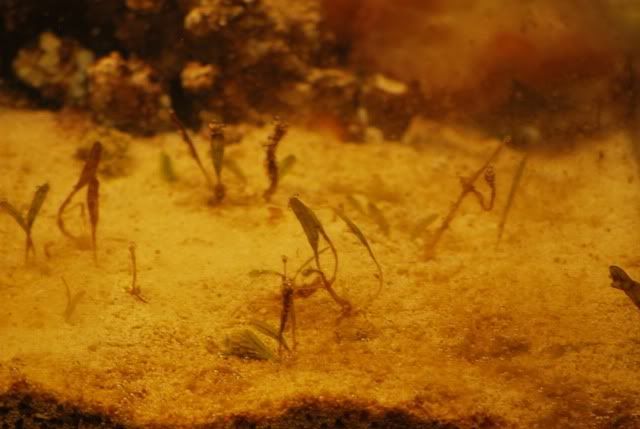 FTS:
Week 2
, now upgraded with Aquamedic 250w DE fixture. Things looking a bit better--maybe a turn of good luck?: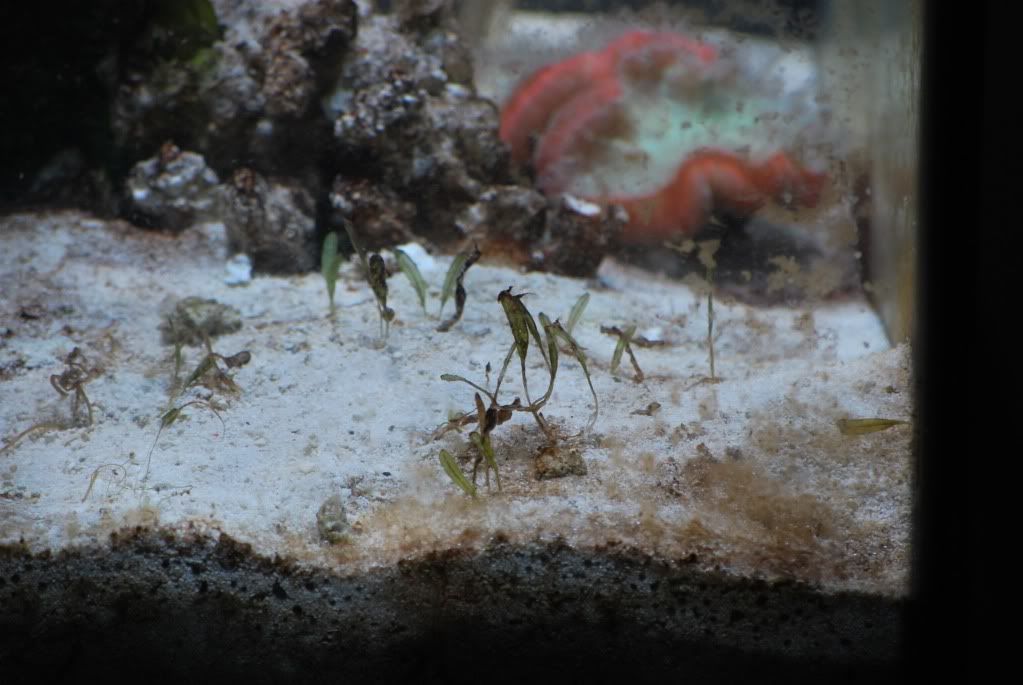 FTS: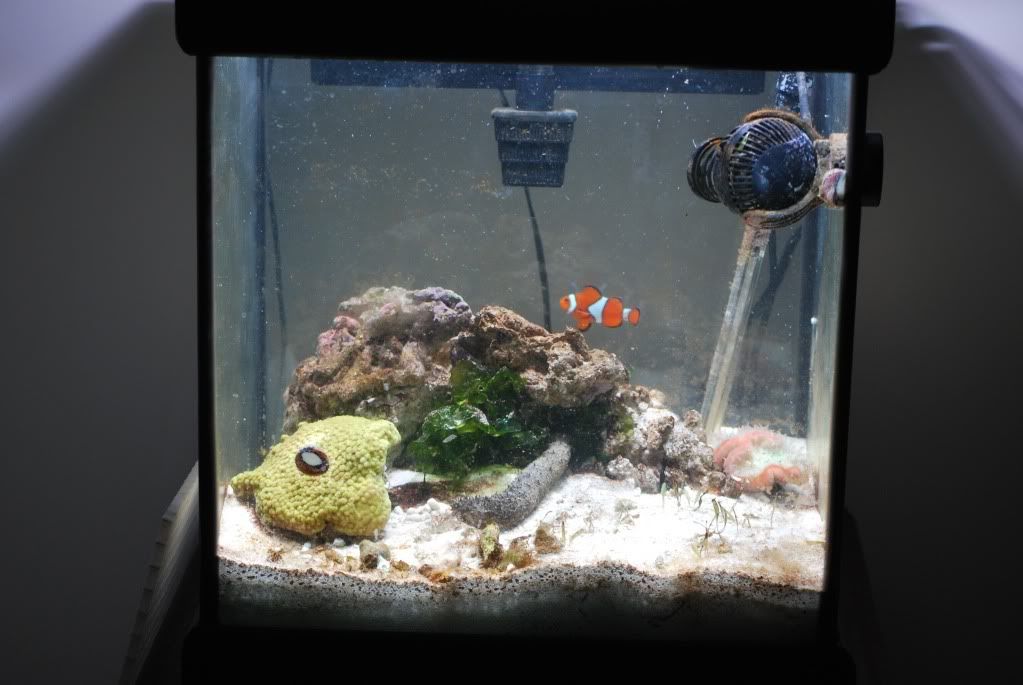 Completed sump (finally--about 3 days after getting the new fixture):
Week 3:
No light at all. My 40w lamps were now stuck in the sump and the Aquamedic fixture stopped working properly (and bulbs couldn't be removed). Things start looking really rough again: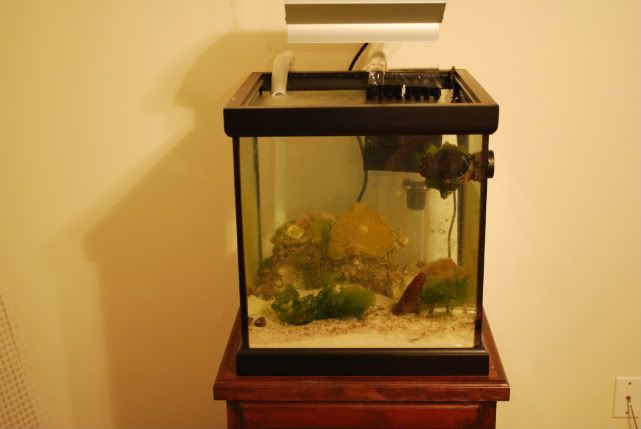 Weeks 4-5
: New and current fixture finally in. The glass grew a thick beard of filamentous algae that managed to keep the rest of the tank pristine: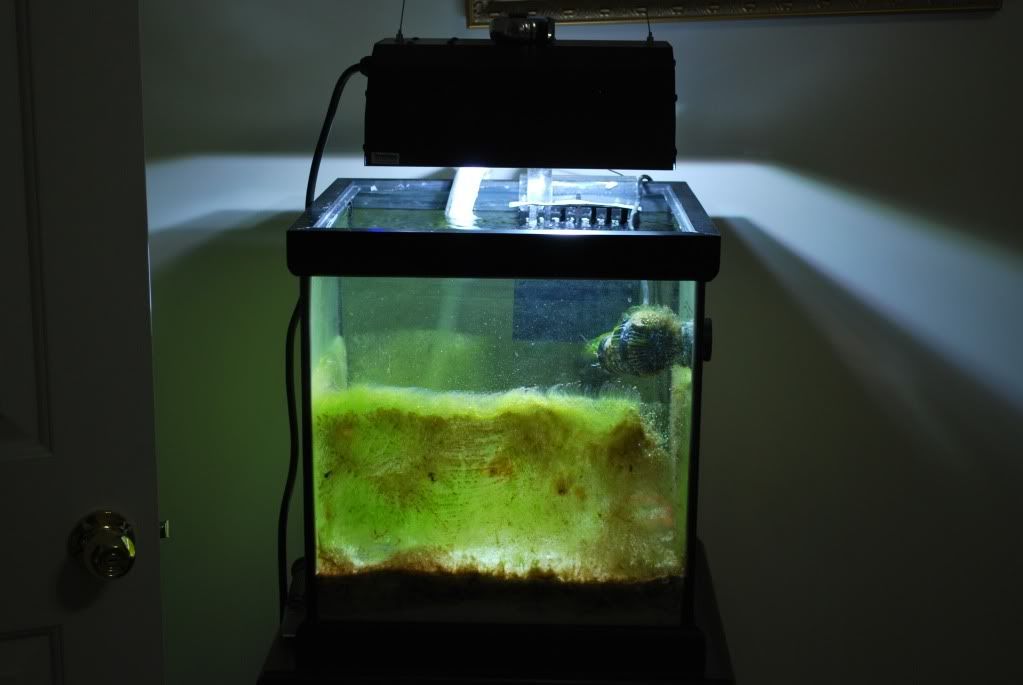 Clowns in a thin area I scraped: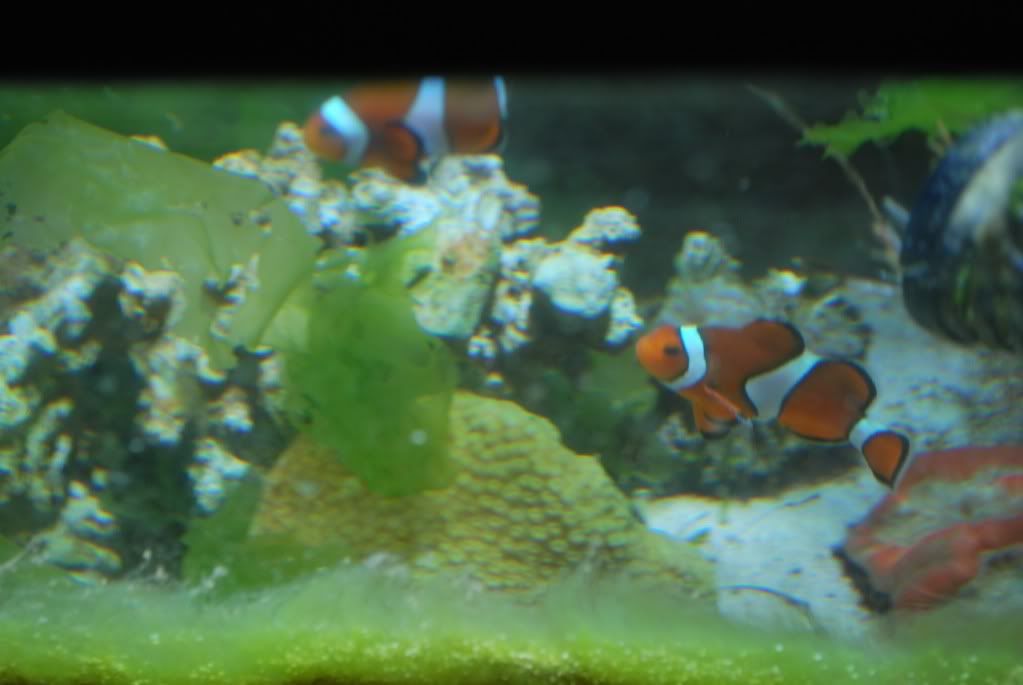 Seagrass already spreading quickly: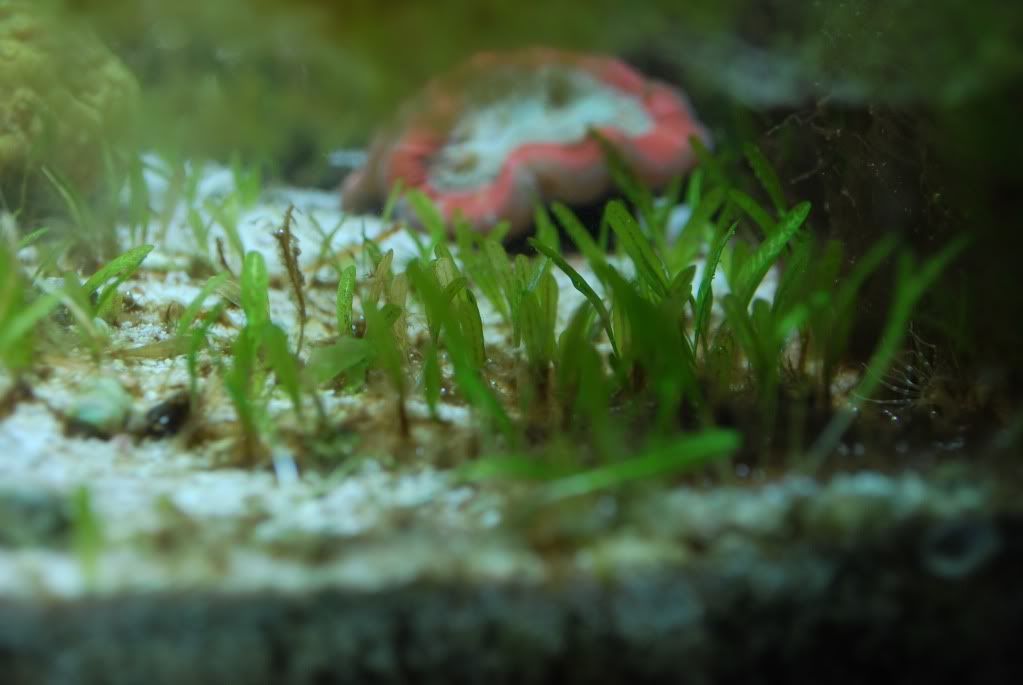 And... with clean glass and slightly clouded water from the maintenance (7/28/2010):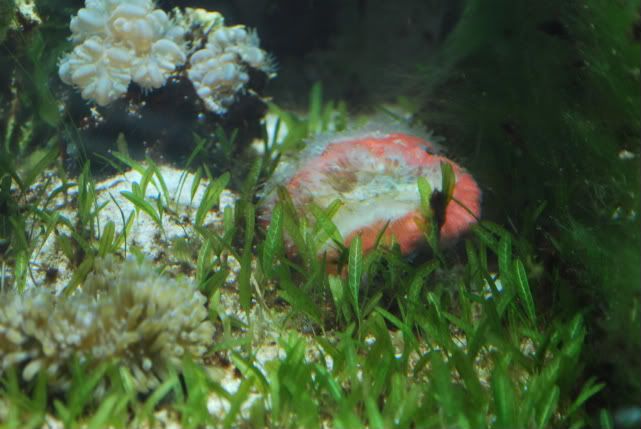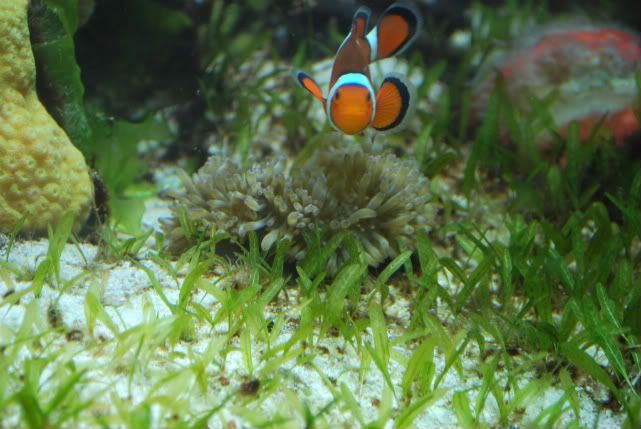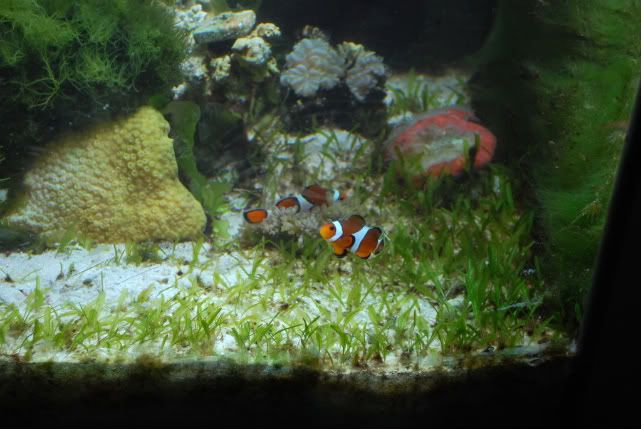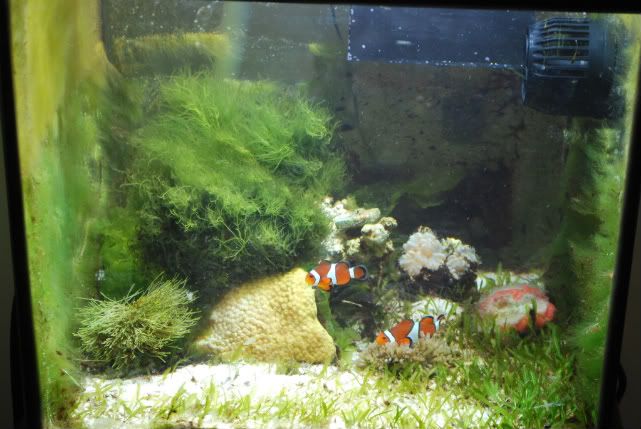 Tear-down to rid tank of Aiptasia (4/22/2011):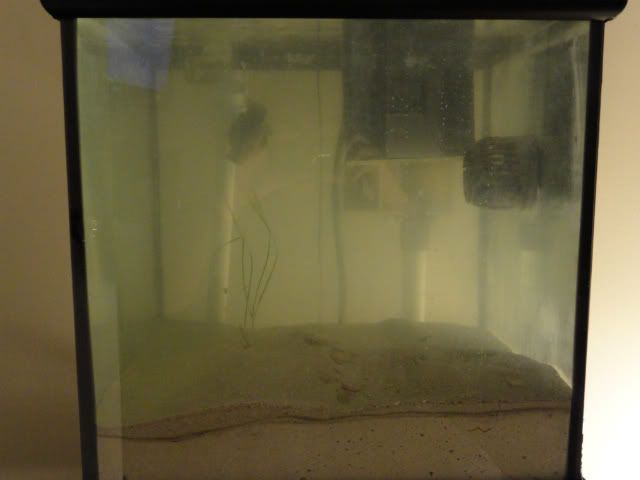 Tank as of 4/22/2011: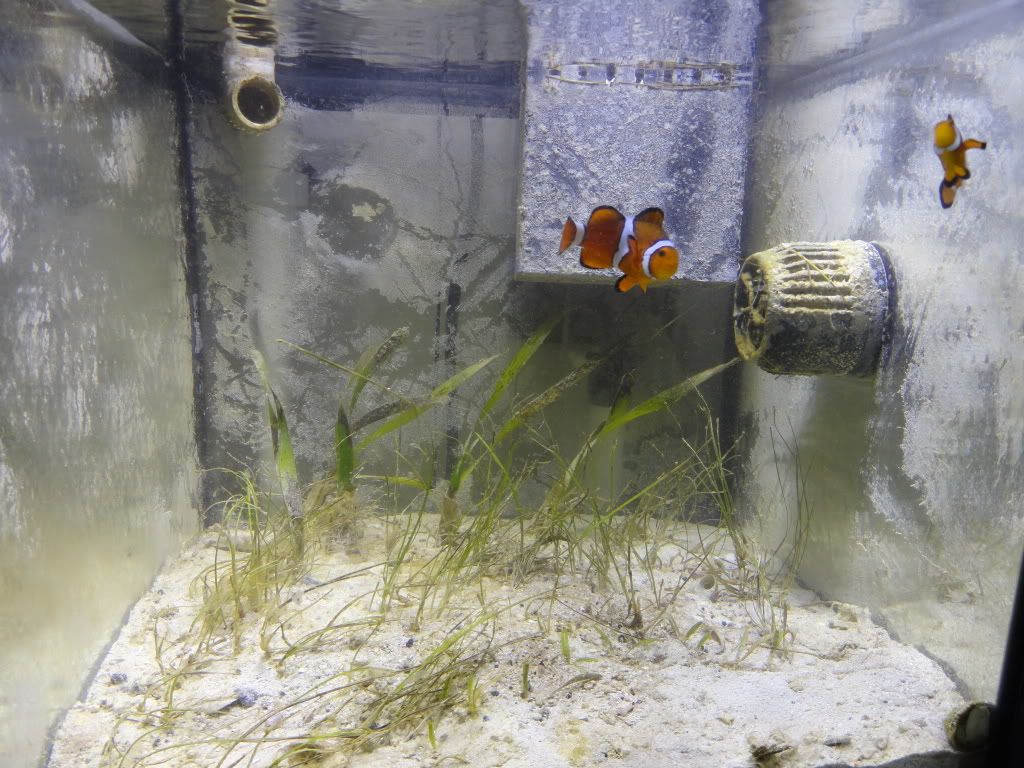 5/6/2011: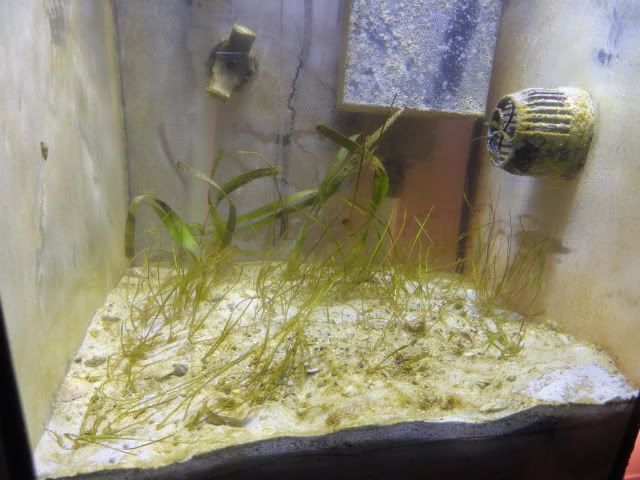 Tanks as of 11/6/2011: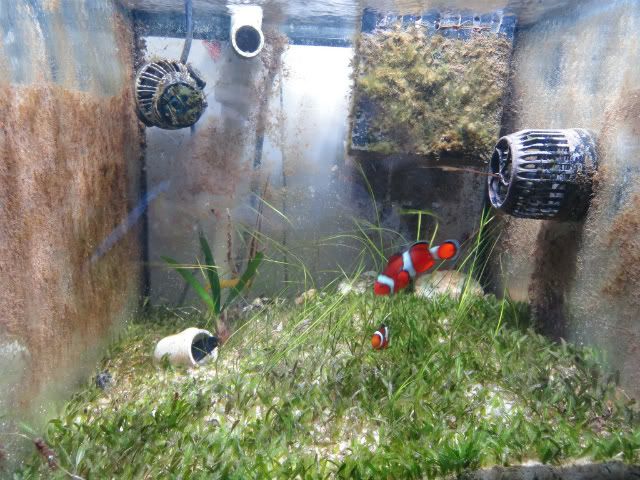 Tank as of 3/9/2012: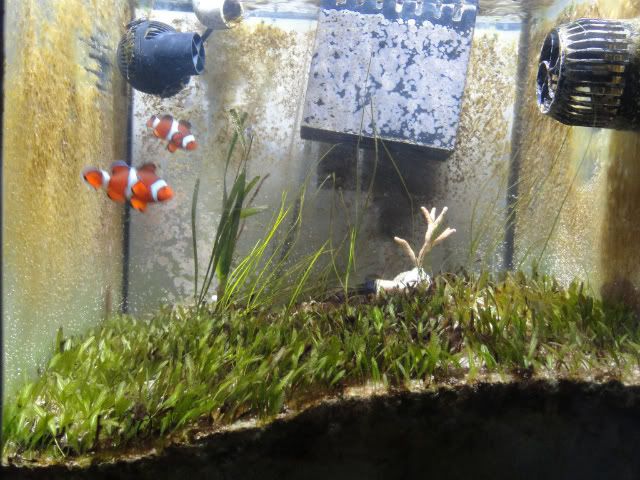 Plus a short video on 3/9/2012:
Tank as of 4/30/2012:
Edited by Amphiprion1, 30 April 2012 - 11:32 AM.