Hey everyone!
At long last, I finally have reached the point where I can start to log my adventure into the saltwater world. When I was younger I kept live bearing freshwater fish, and always dreamed of having a saltwater setup. Now life affords the possibility so I aim to take things slow and enjoy the entire process.
I have been lurking and reading threads here since last November 09, deciding to go with an all in one for the sleek style and
DIY modability
. Having to deal with all the retailers and research into all the products has been a long process in itself, trying to balance a low price with ensuring the right operation.
Current equipment:
Oceanic BioCube 29G with BC stand
Nanotuners Heatsink, 10NW/17RB/3CB CREE 3W running with 2x 750ma dimmable Thomas Research Drivers
Vortech MP10ES wave-maker
Hydor Pico Evolution 1200 fuge pump
Hydor Theo 150w heater
inTank media / fuge basket
Lifeguard BIG digital thermometer/alarm
GFI outlet
Coralife Deep Six hydrometer
API reef master / saltwater master test kits (pH, Ammonia, Nitrate, Nitrite, Calcium, Carbonate Hardness, Phosphate)
Aquatic Life 115 mini internal nano protein skimmer
Tank Media:
30lbs Caribsea Seaflor Special Grade [1-2mm]
20lbs BRS Fiji Dry Aquarium Eco Rock (Locktite putty secured)
Instant Ocean Reef Crystals salt mix
2.5lbs live rock picked from the LFS. It turns out this rock was covered in aiptasia, bubble and many bad hair algae. After seeding, I eventually destroyed this rock.
AIO modifications:
On the back of the aquarium, I relocated and enlarged the Chamber 2 cutout in the paint for the refugium light mod. The dimensions are approx. 6" wide x 8" tall and allow the chateo media rack to be fully illuminated.
Refugium light is made from a 72 cubic inch current install 4 junction gang box, 3w NW Cree LED @ 350mA. It is secured with velcro, lined with mylar on the interior, and spray painted black to match. Passive ventilation only.


Cut plastic tab between chamber 1 and 2 to fit the U channel sent with the media racks.
Removed the false bottom, carbon filter and plastic filter holder in Chamber 1.
Removed the bio-balls and false floor in Chamber 2. Inserted media rack(s). Filter floss in top rack, 100mL Purigen in the middle, and Chemipure Elite in the bottom rack.
Removed the blue sponge between chambers 2 and 3 as well as the green tube and 90 degree fitting in Chamber 3.
Plumbed a 5/8" ID tube straight to the exit hole from the Pico Evolution 1200. Removed nozzle from display side of exit.
Increased airflow through light by removing the metal light reflector grating covering both fans.
Upgraded lighting by adding 1 x 36w PC bulb. I modified the reflector to house the moon lights (glued to reflector) and lined to back with mylar.


Replaced stock fans with 2 60mmx25mm Vantec duel bearing fans. Removed stock transformer controlling the fans inside of the hood and instead ran in parallel to a 12V .35A wallwart.


.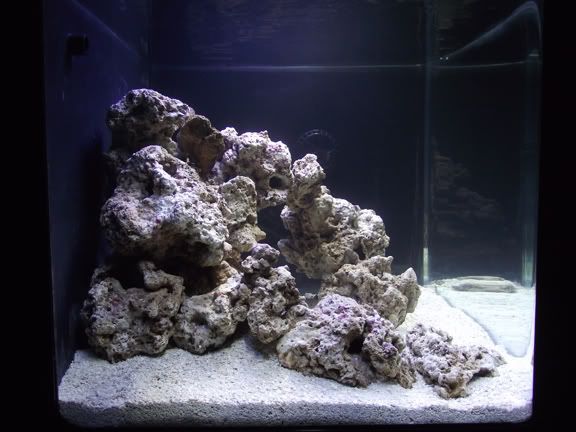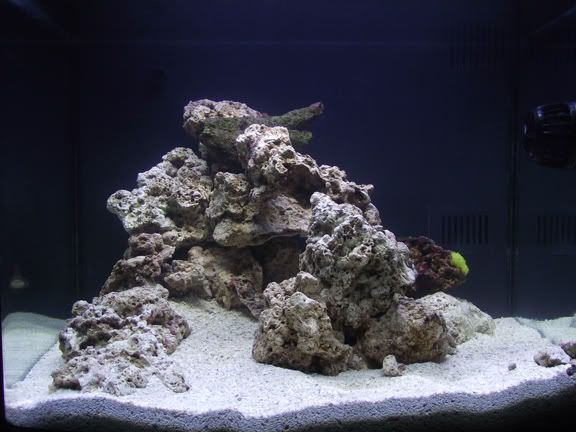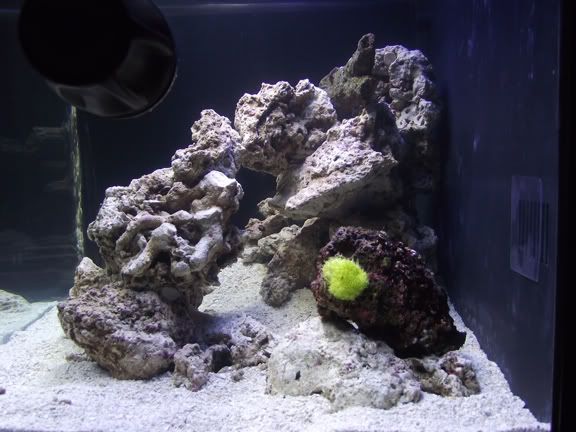 The substrate received a good rinse and the base rock was scrubbed and rinsed as much as possible. Despite the effort, foreign matter and debris still remained in those rocks, they are far from clean. The RO/DI finished filling after spending the 4th of July weekend looking at a pile of rocks at odd and difficult angles. I added cured seed rock two days later, and today I take my first set of readings:
7/09/2010
Temp: High 83
o
Low 80
o
Salinity: 1.025
pH: 8.0
Ammonia: 1.0ppm
Nitrite: 0.25ppm
Nitrate: 10ppm
Thank you for all your help NR, hopefully I can give some back by logging my run. Bring on the cycle!
Edited by rO.oster, 06 January 2013 - 02:55 AM.