Here's my 16 gallon bowfront. First, a little story behind it. I originally had a 7 gallon minibow, which took a turn for the worst after moving the tank. Soo, I decided to drill the 7 and add a sump. I moved all the contents of the 7 into a spare 10 gallon and got the 7 drilled, plumbed and added tap water for a test run. I figure I would leave the tank overnight to make sure everything was good. I woke up the next morning to water on the floor and a huge crack along the backside of the tank..ughhh. I really liked that tank too!
Soo, I ended up getting a 16 gallon bowfront (I've became fond of the bowfronts ) I drilled the tank and re-plumbed it. I felt a lot better about this tank considering the glass is a lot thicker than the 7.
Anywho, I decided to stick with LEDs and do LEDs on the 16. The tank is 20" long with a width of about 13" with the bow. I've got 24 LEDs total on the tank (12 cree xr-e and 12 cree royal blues). My dad has been putting together an arduino controller for the LEDs.
*Note - the picture of the tank is NOT with the LEDs, the LED fixture is on my 10 gallon as I wait for the 16 to cycle. I just have a crappy 28watt pc on the 16 for now.
The tank with live rock from premium aquatics. I highly recommended premium aquatics, they gave me some awesome looking fiji rock with some pieces with lots of coralline.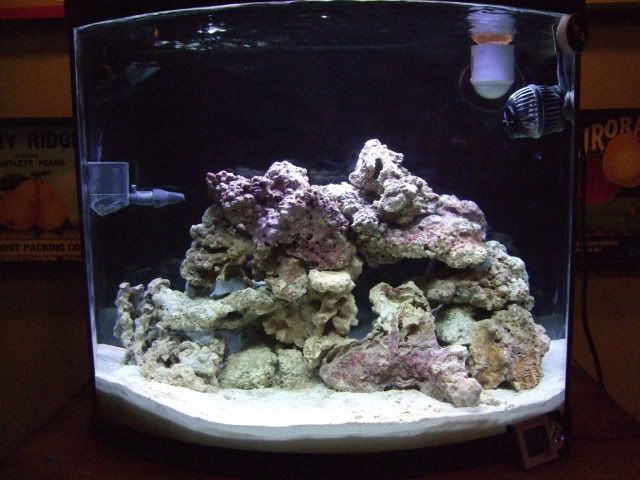 Here's the sump with an Aquaticlife 115 mini skimmer: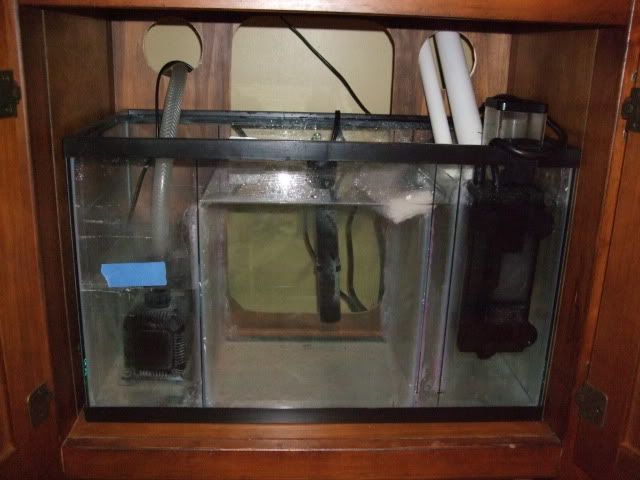 The LEDs: