Current FTS—April 20, 2012: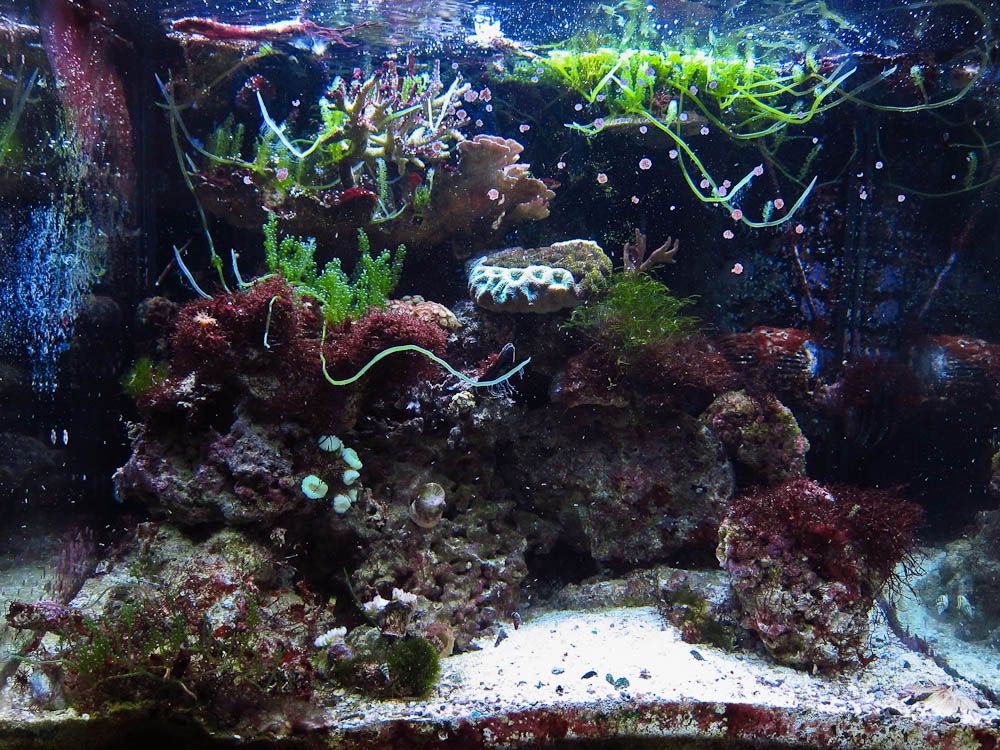 --------------------------------------------------------------------------------------
The Short Story
The story behind my 34g is pretty long and winded and I had it all written out and posted a while back only to be wiped away during the server crash so let's try this one more time.
The Red Sea Max came about after a friend and I attended the Marine Aquarium Expo (MAX) in Costa Mesa in April of 2009. My friend who had a 9g nano at the time (
see The M9 Project
), was looking to upgrade and got a pretty good deal at Red Sea's exhibit by buying their 34g display for $500 after the convention. So we loaded it up on her truck and drove it back to Vegas.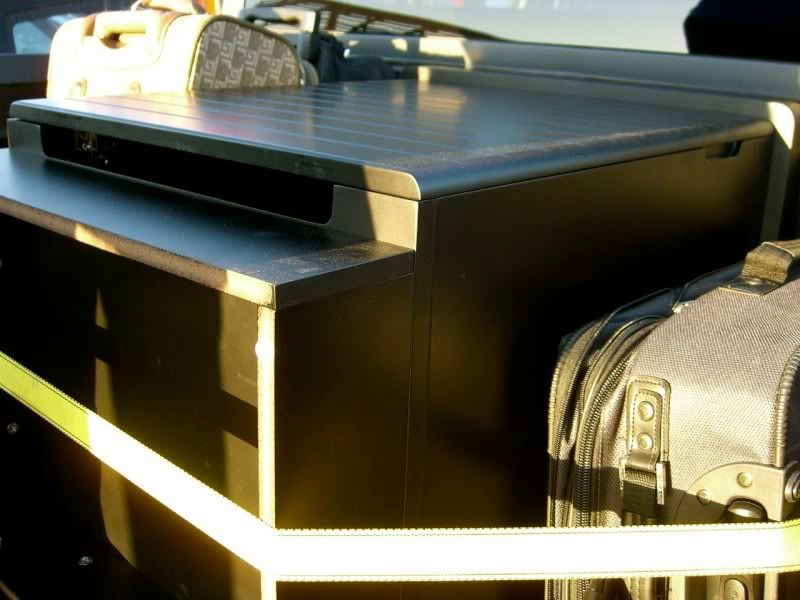 And here it is fully set up at her condo loaded with Red Sea's useless crap and accessories: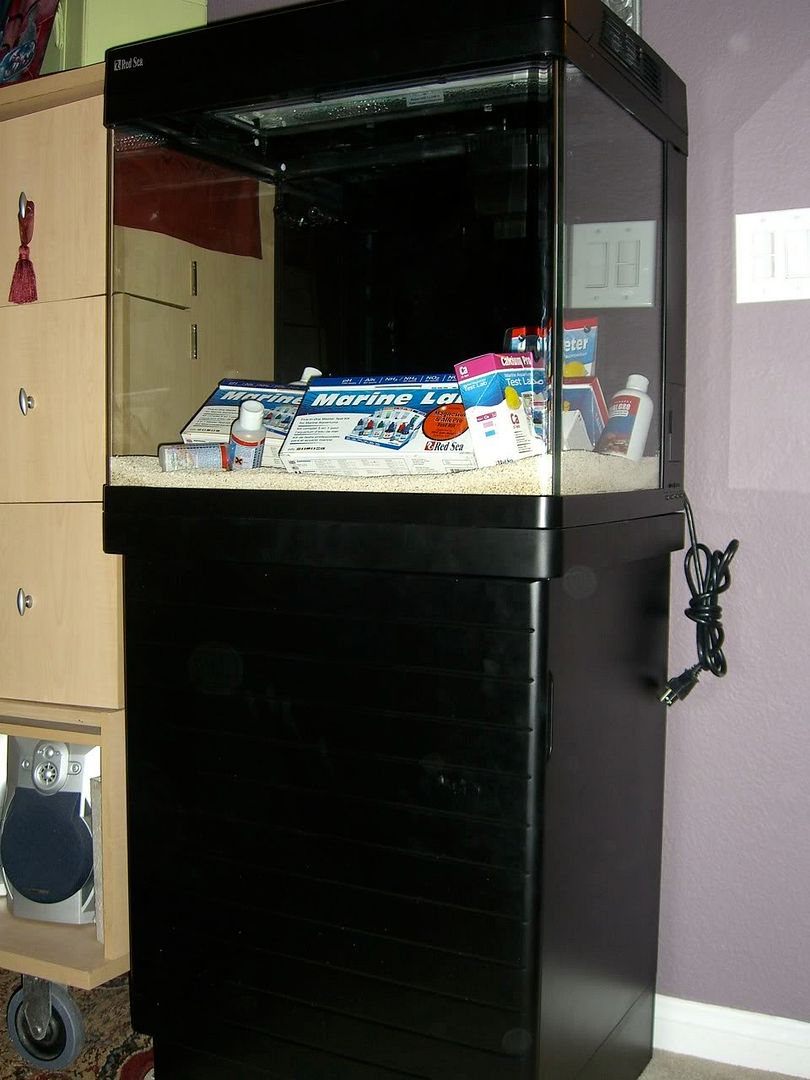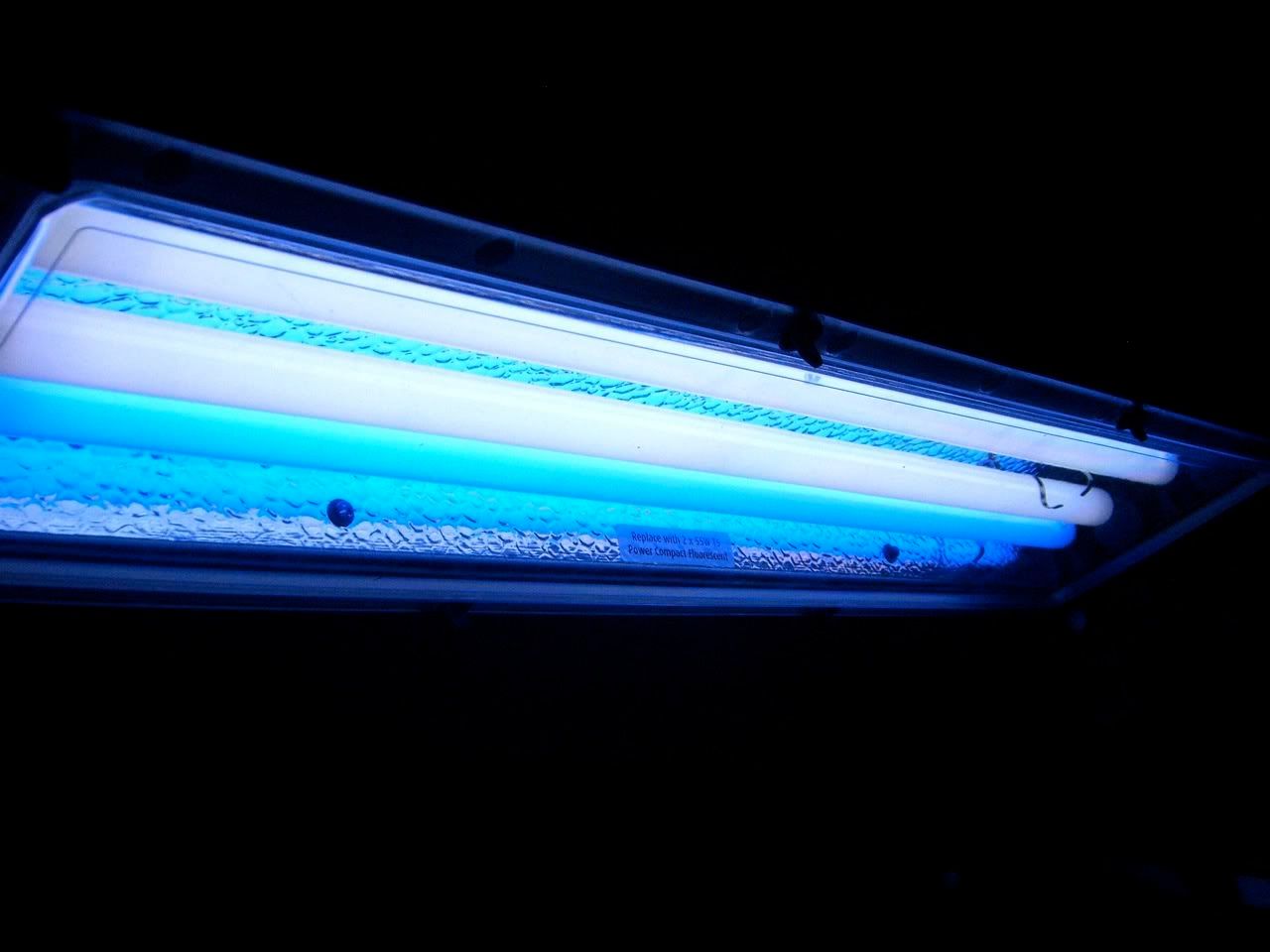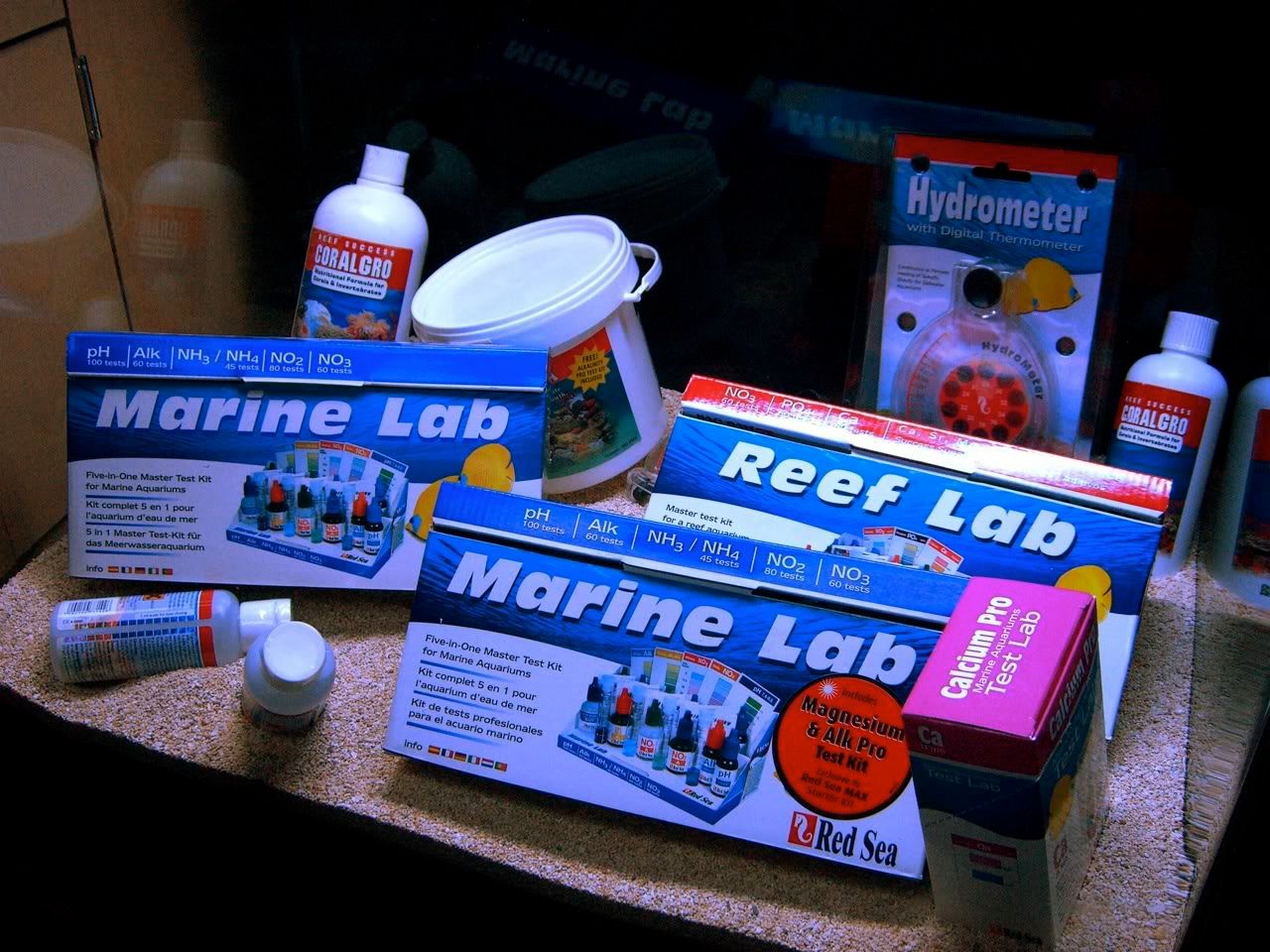 We started cycling shortly after which ended up being a very short cycle.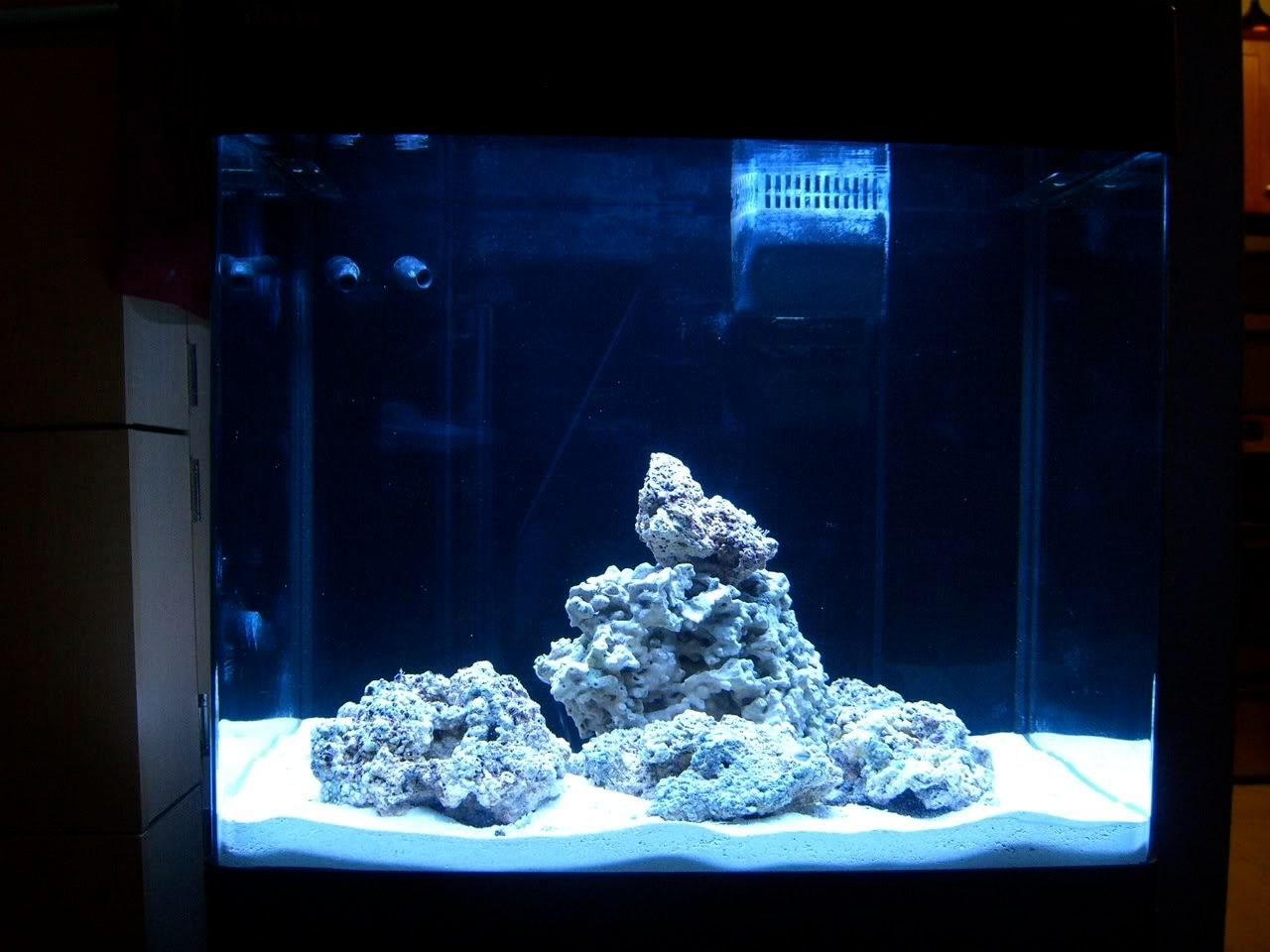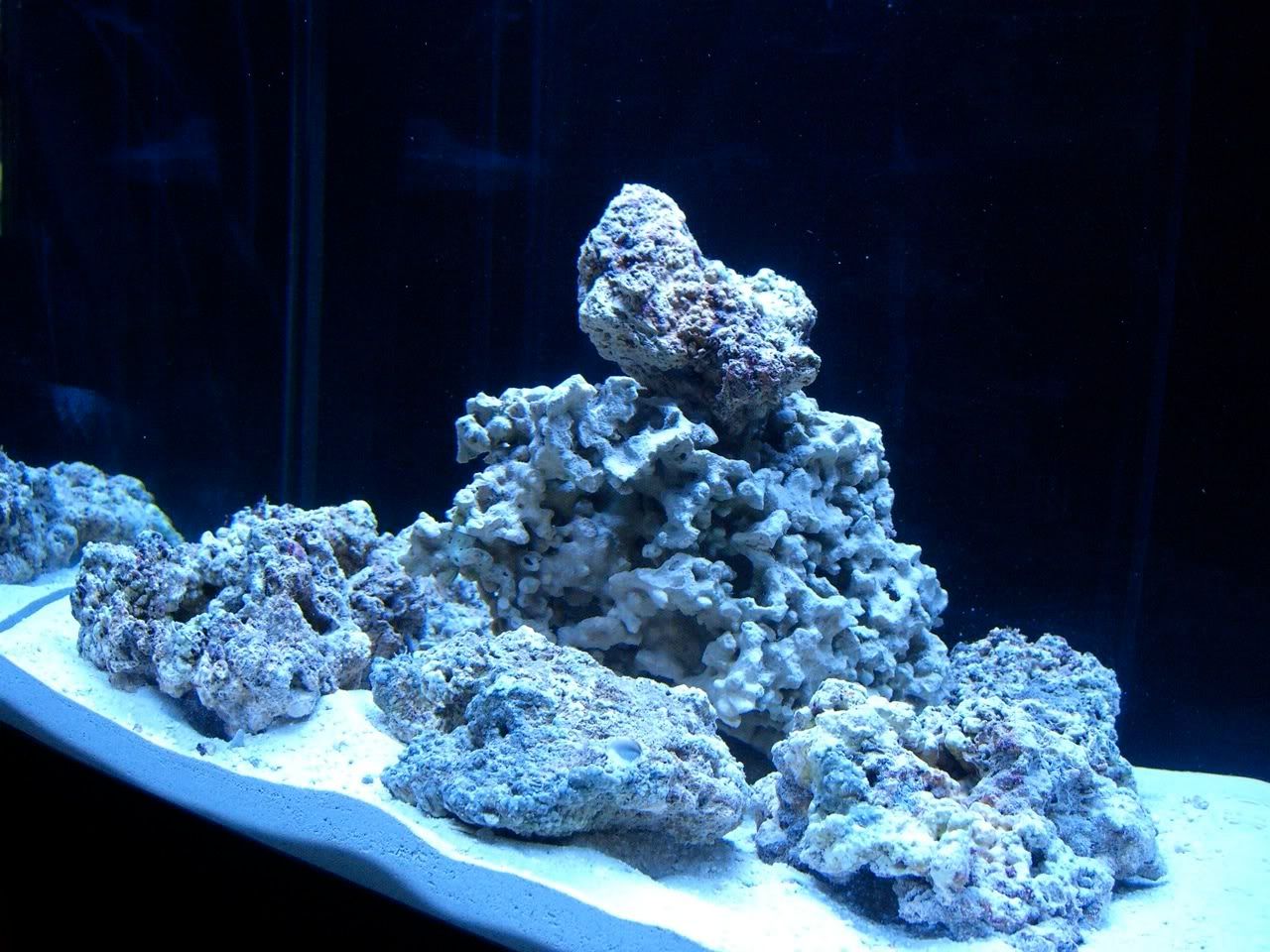 The M9 tank was on the verge of a crash and needed a place right away so we had no choice but to move everything over into the MAX after only two weeks of cycling. Either way, the corals would've died and we decided to take our chances with the MAX even though my gut feeling told me it wasn't ready yet. This was around May of 2009.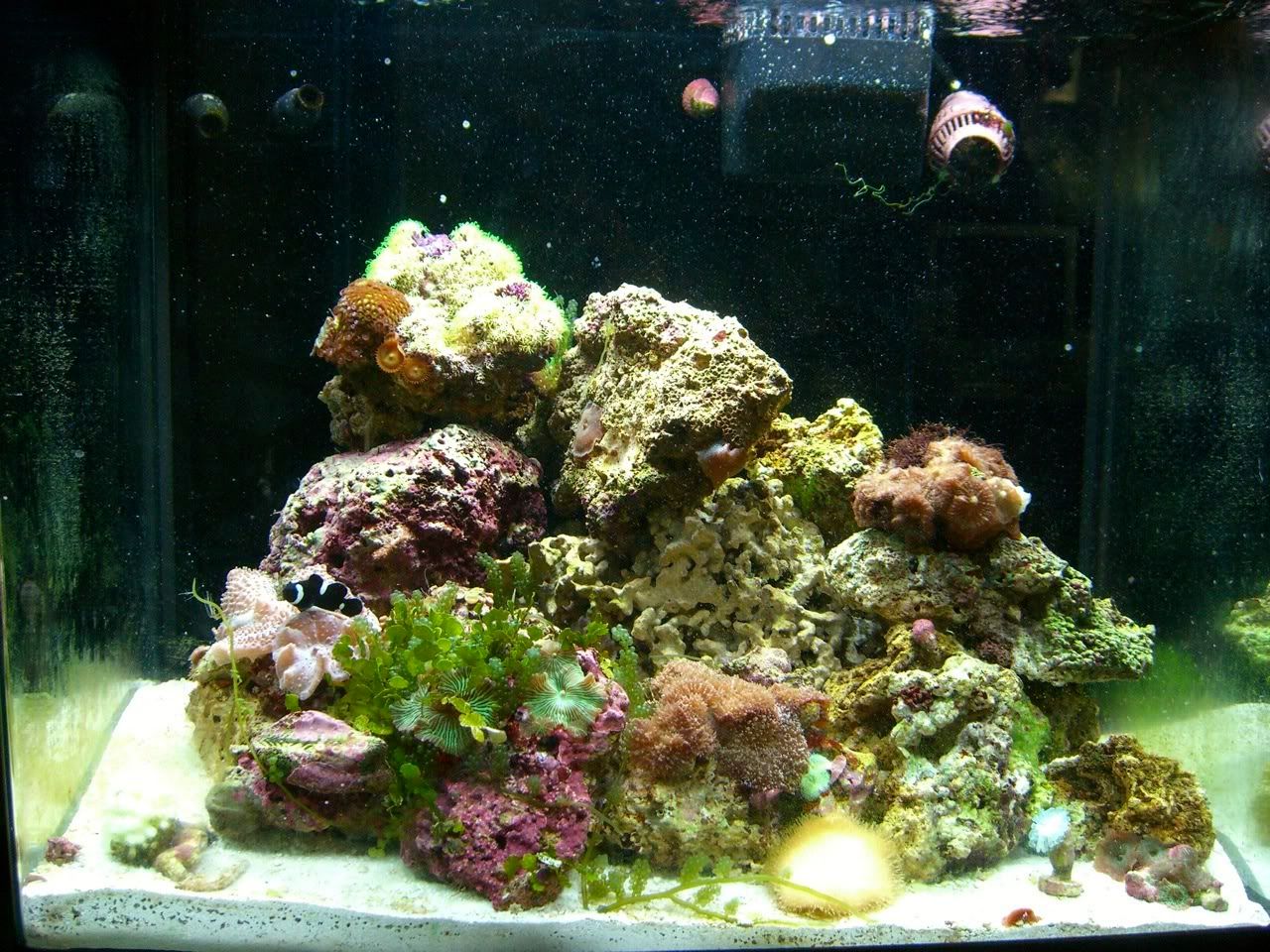 About mid-May my friend decided to move to Seattle and named me the inheritor of the MAX. As exciting as this was, I wasn't prepared to take on another tank especially one this big but I took it anyway. Once again, the MAX was drained and uprooted, driven across town, carried up to the second floor of my house and thrown back together again. The corals, which at this point had not had the chance to settle into the MAX from the M9, were stressed out even more. Not to mention I had to neglect it for a week while I helped my friend drive to Seattle.
When I got back into town I finally had the chance to sit down and put the tank together and things were looking up.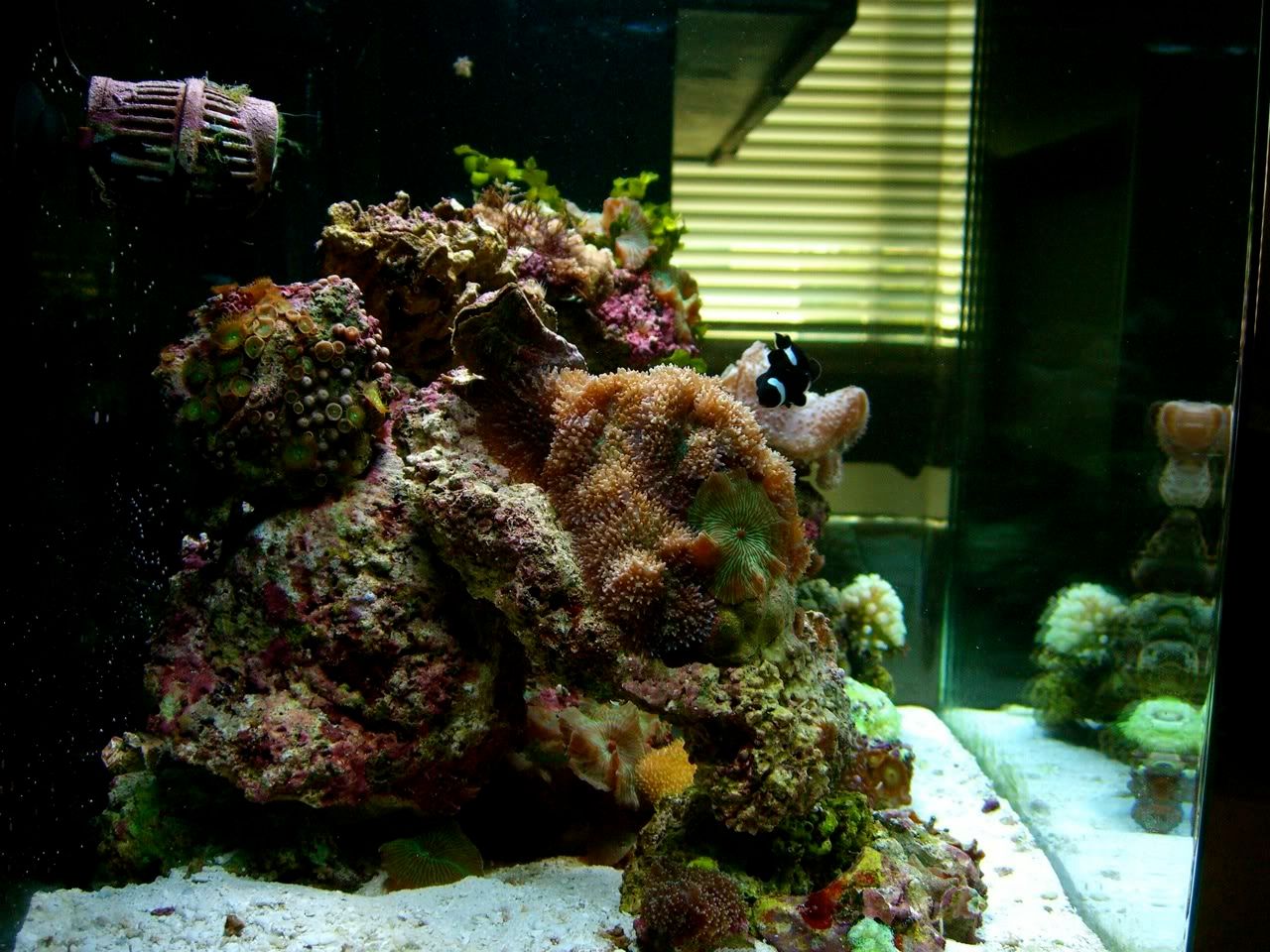 That is until around July when the high Vegas temperature kicked in and things got a little too hot. Unfortunately a chiller wasn't in my budget and I watched all the corals bleach out with half of them dying.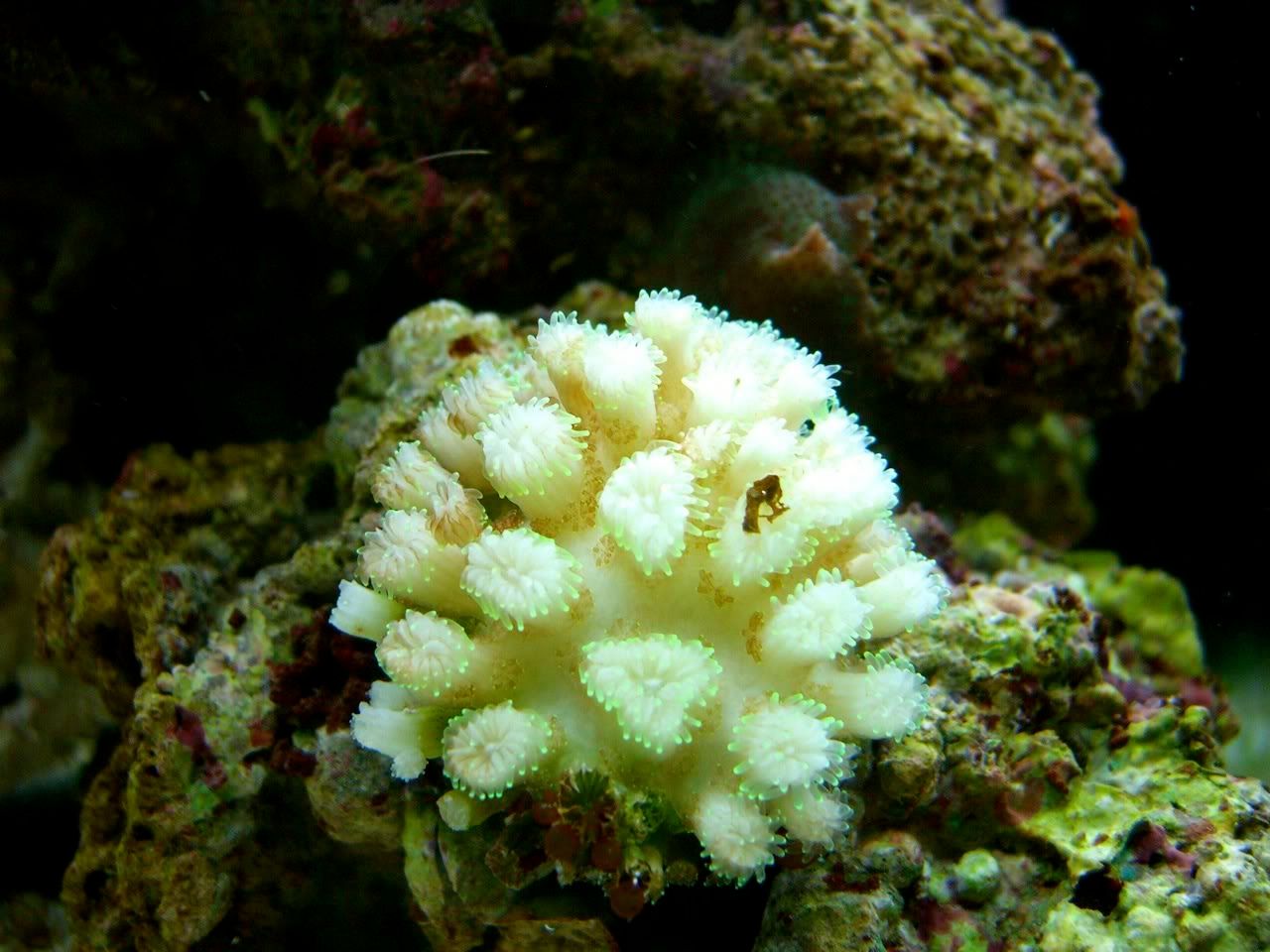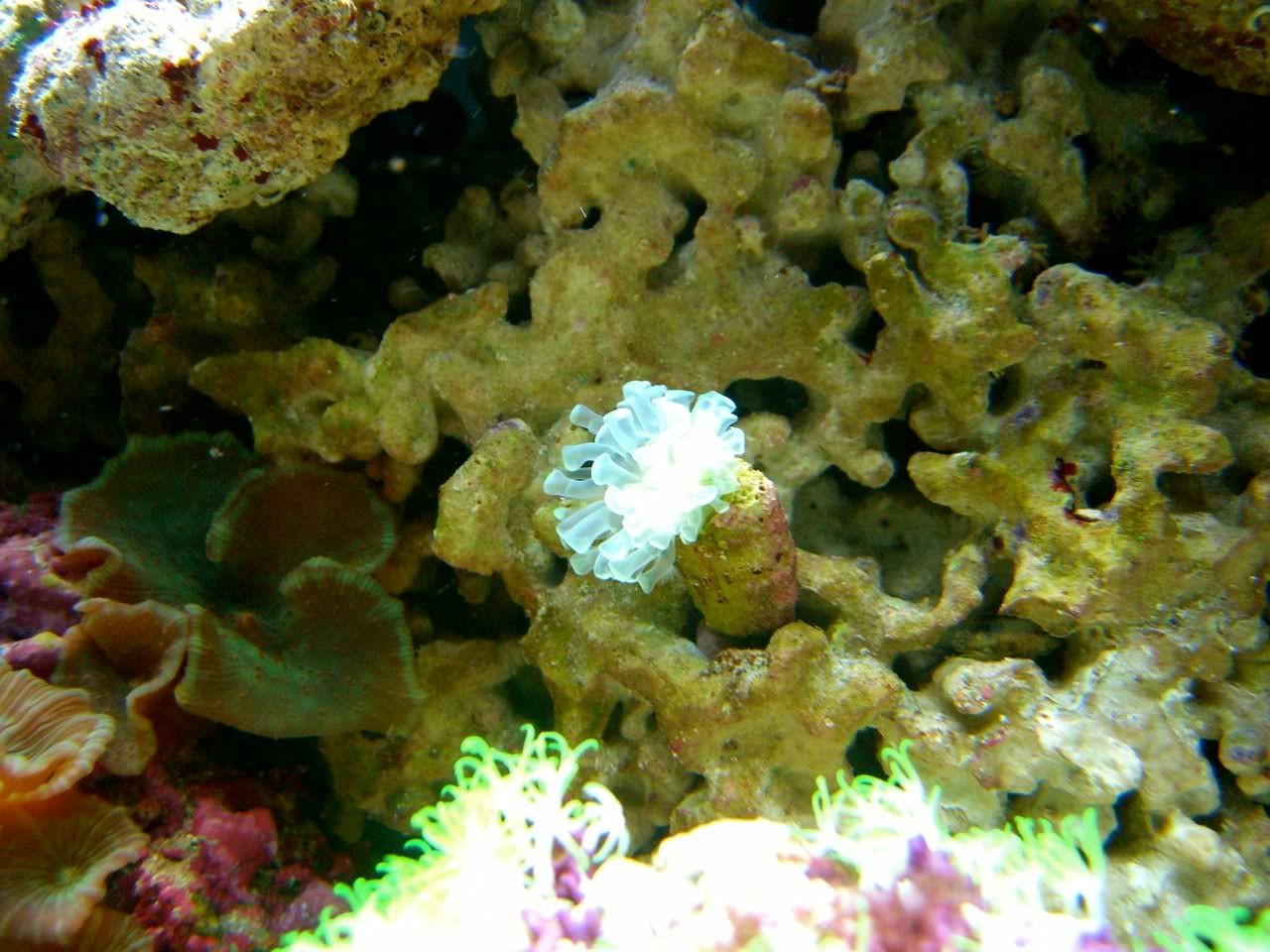 What was left were the hardy mushrooms and the toadstool which had all turned bright white and transparent but continued to survive.
It wasn't until around the end of September and October that things began to cool off in the tank and the temperature finally stabilized. The corals got their color back and things were getting back to normal. I tested my water regularly to see where my levels were at and everything seemed stable. But for some reason anything I put in the tank ended up bleaching over night and I couldn't figure it out. Eventually I ended up neglecting the tank, even more after the elephant ear mushroom that my black ocellaris had been hosting for months ended up eating him.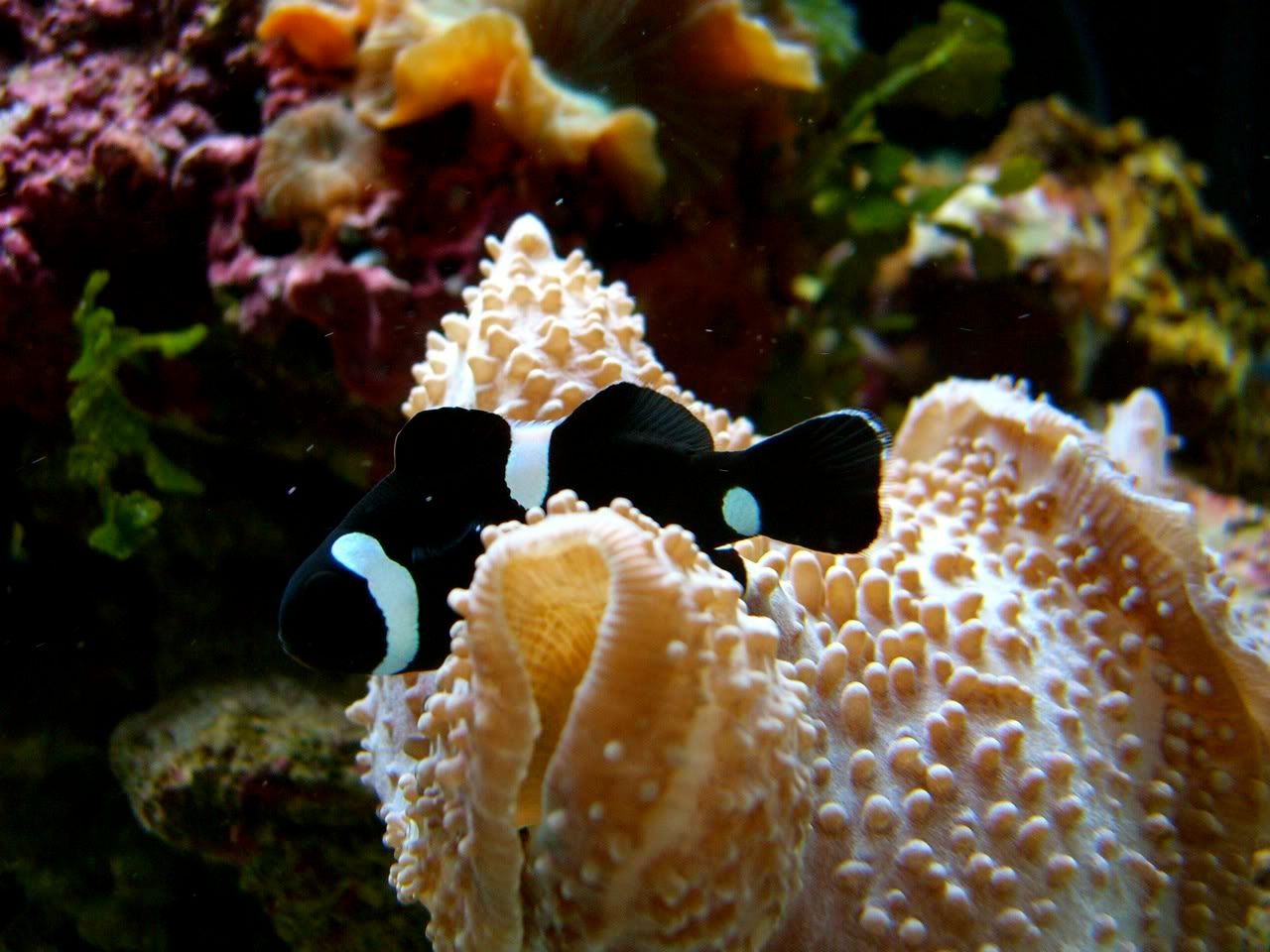 At this point I figured there were no more mouths to feed and the tank was abandoned completely. I had given up on water tests, water changes and even top offs. Aside from the Koralia 3 and Koralia Nano pumping from the back corner, the tank was pretty much at a stand still. Meanwhile my pico was overgrown with SPS and completely out of free space. My original plan was to use the MAX as a grow out tank for my pico but this didn't happen since anything I moved into the MAX died overnight. So I thought about giving the tank another chance and gave it a good scrub down. To my surprise, there wasn't that much nuisance algae at all (aside from the grape caulerpa and massive chaeto ball that I had not weeded out in a long while) and was mostly covered with hard coralline algae. This was a good sign.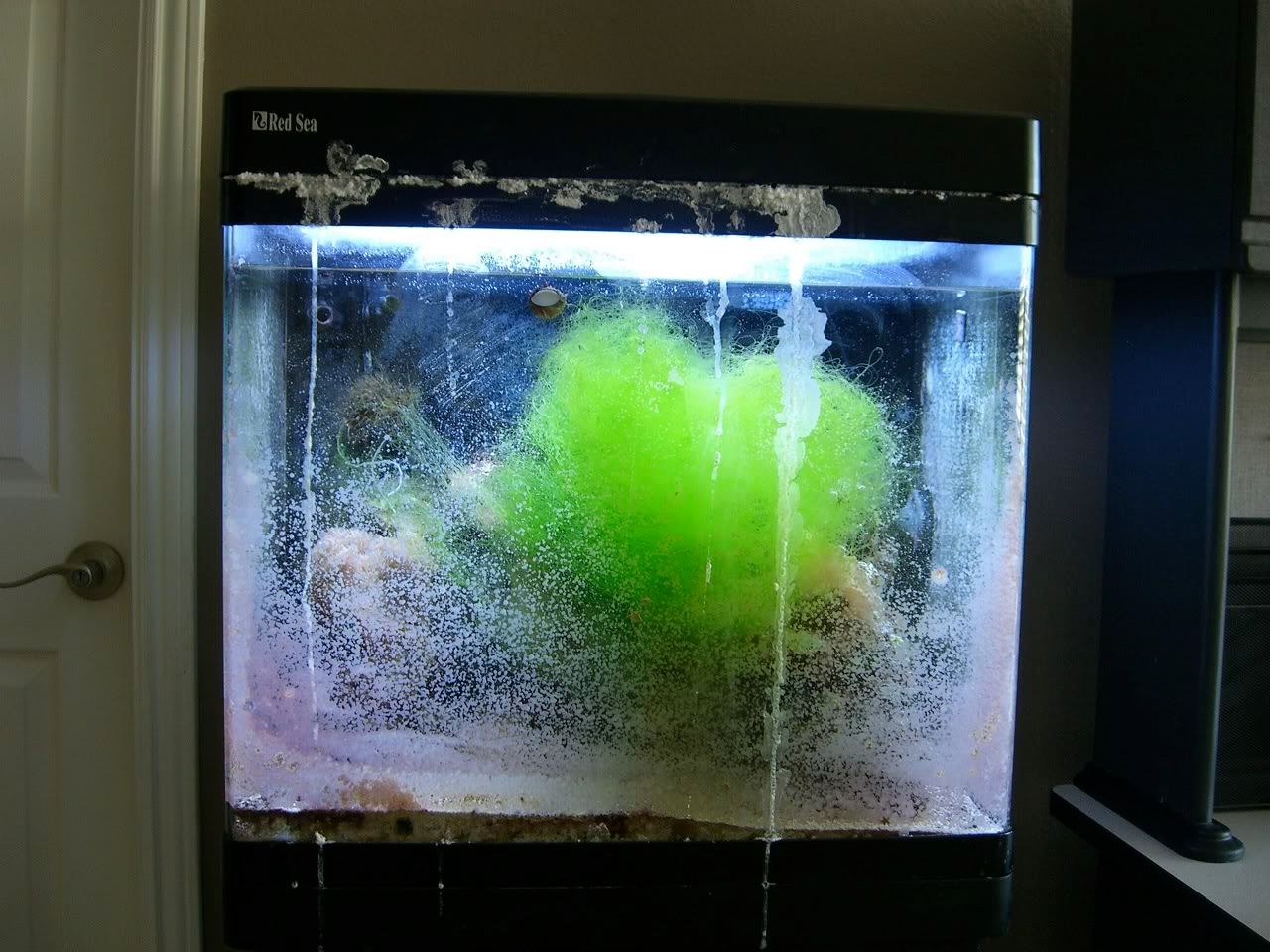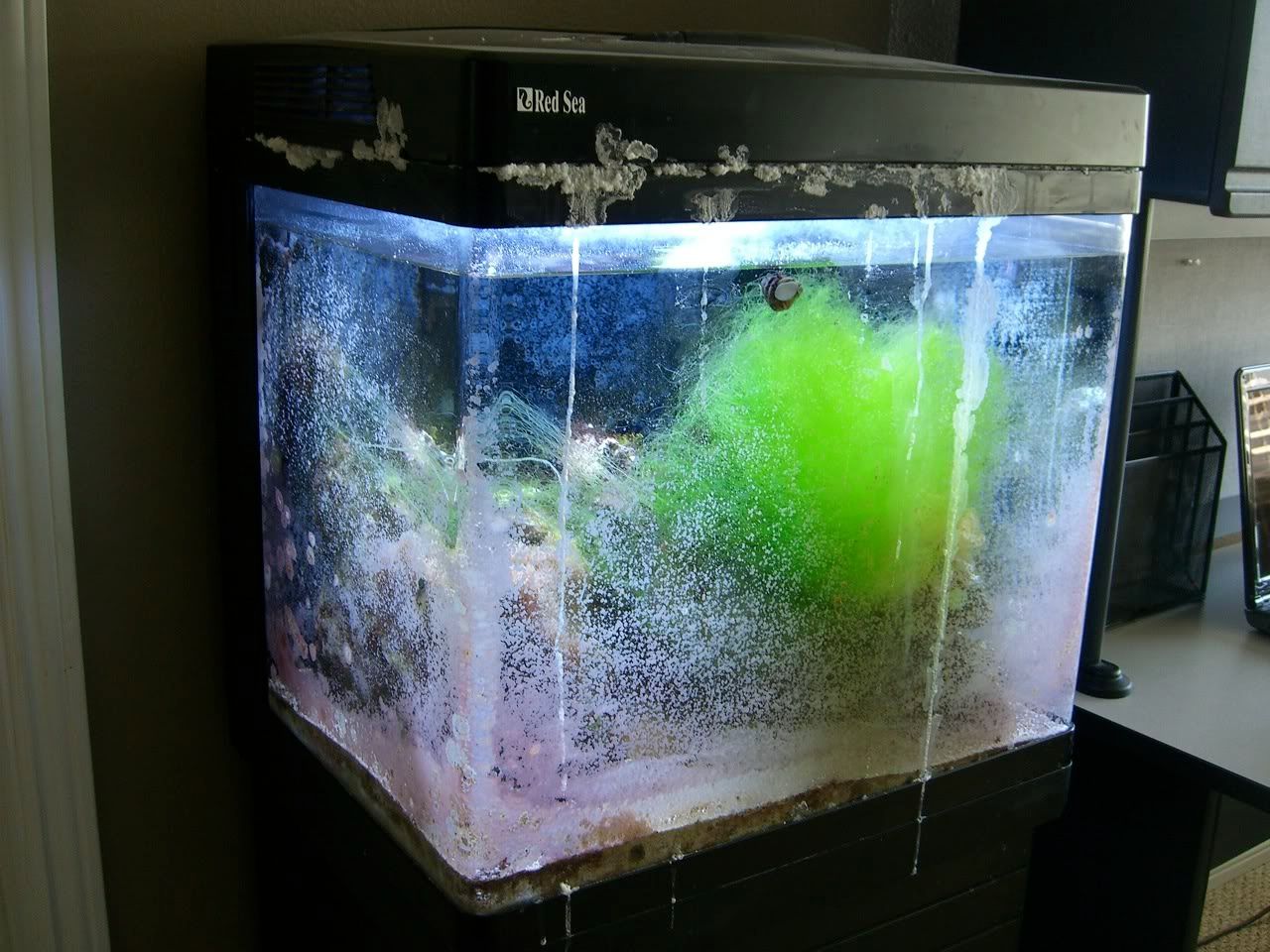 Two hours and two sharp razor blades later, I finally got most of the coralline algae out and got the tank back up to speed. I tried a couple of monti frags to test for stability and after a week of them not dying, I decided the tank was finally ready for some new transplants from my pico.
Montipora/Millepora colony that have fused together:
Hollywood stunner chalice:
Blastomussa colony:
Green favia: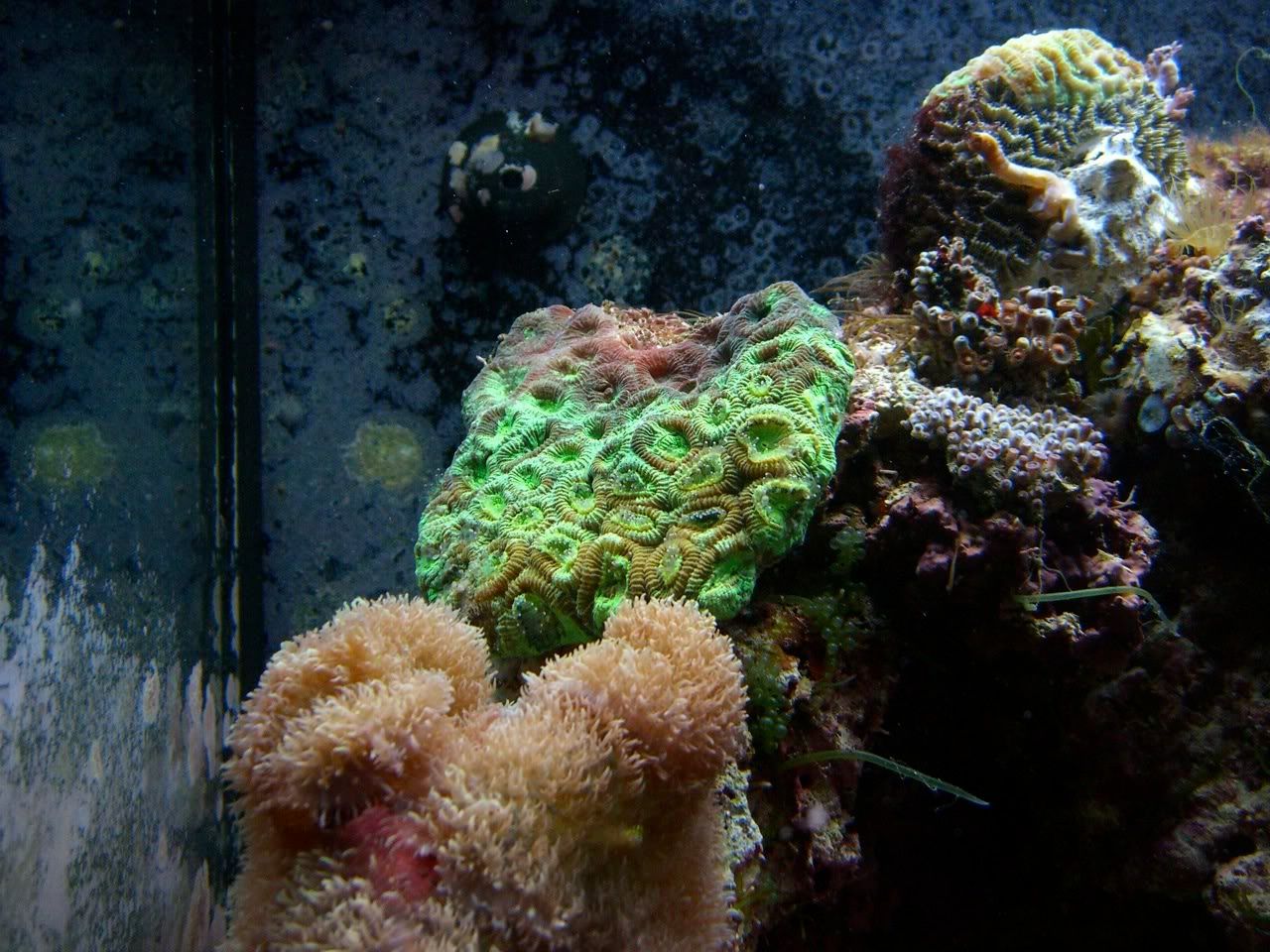 Maze brain coral: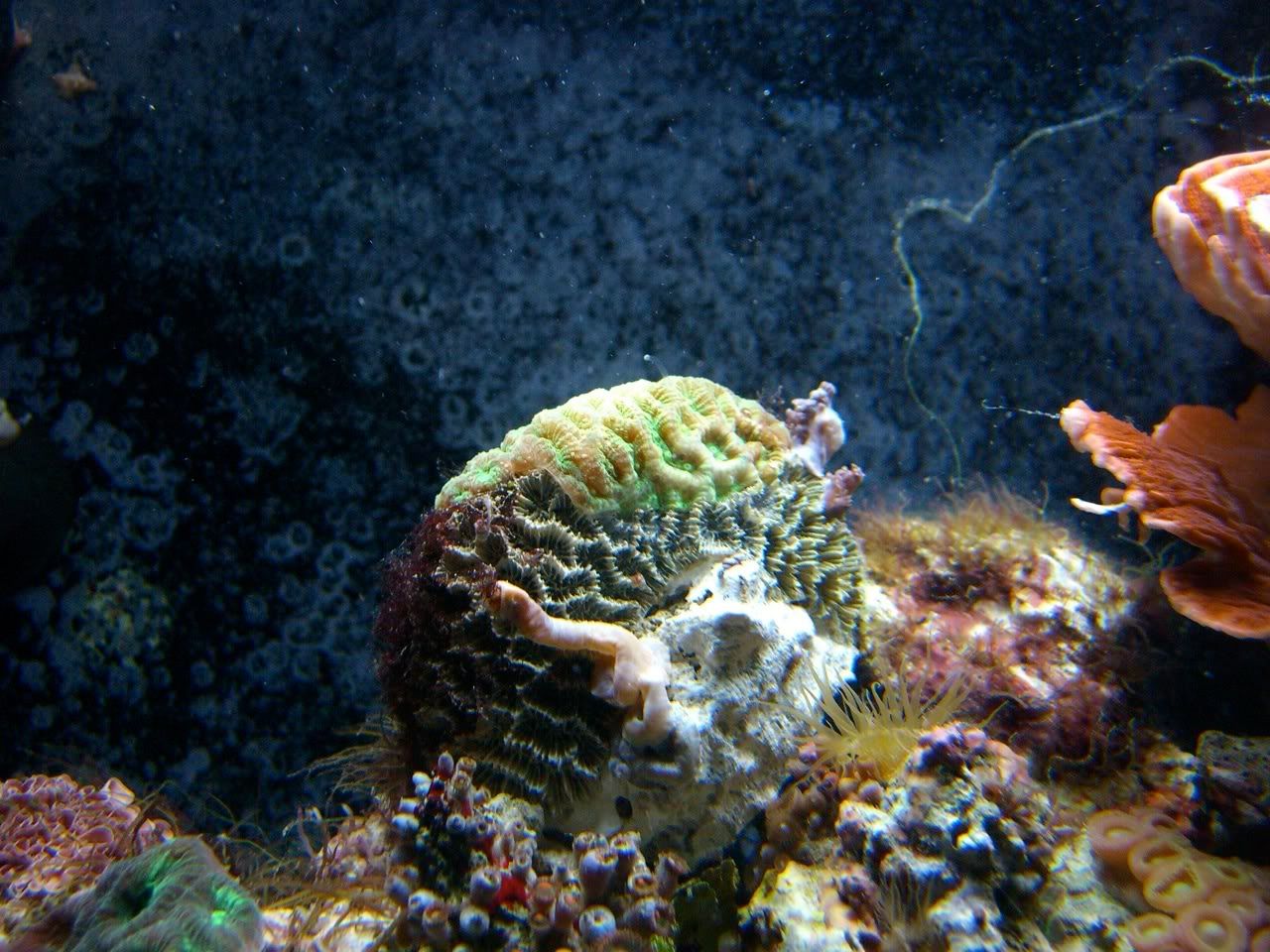 Orange yuma and blue cloves:
A day later and no bleaching! They're all doing well though I am a little worried how the SPS will cope with the T5's coming from LED's but so far so good.
FTS: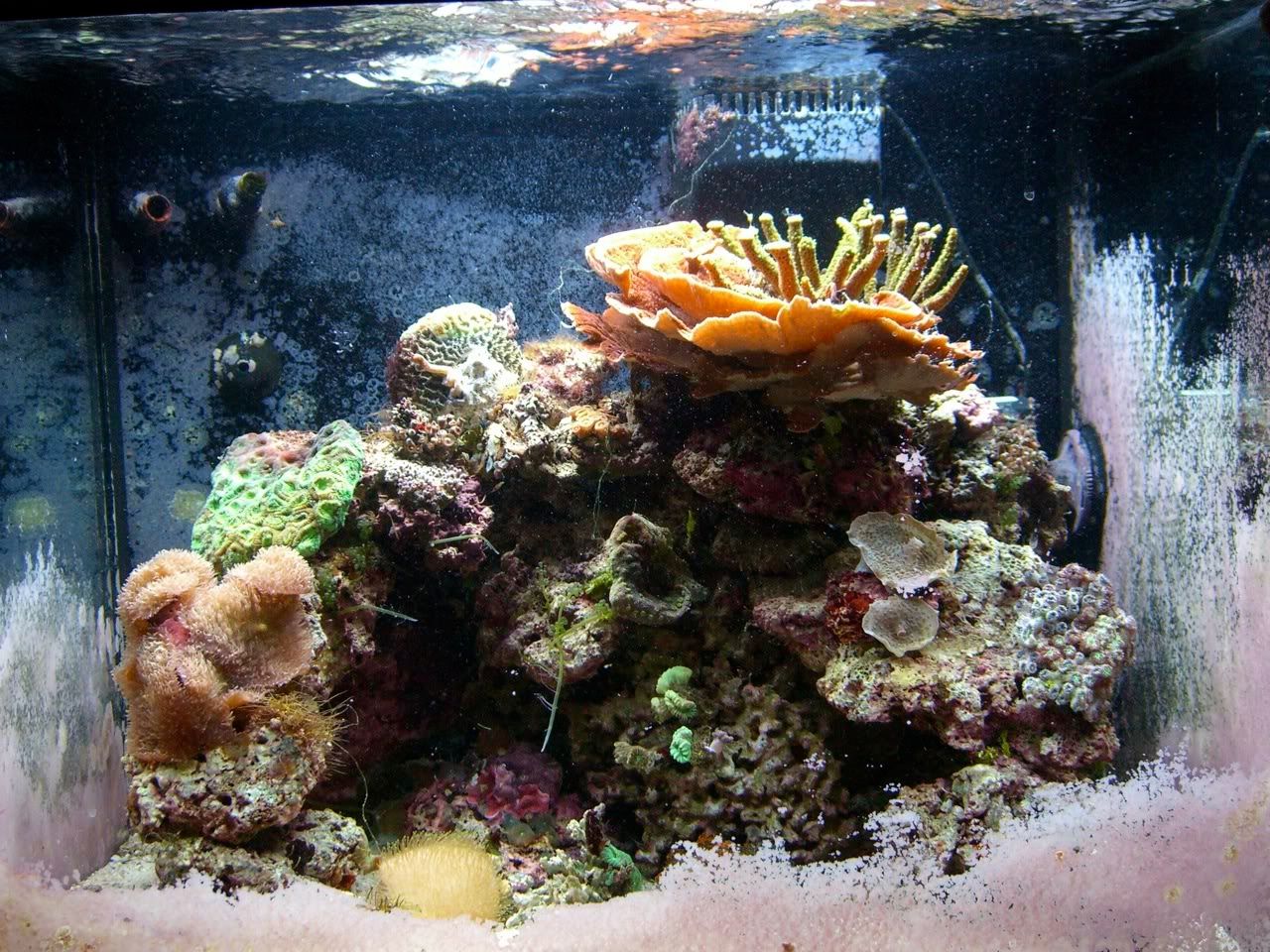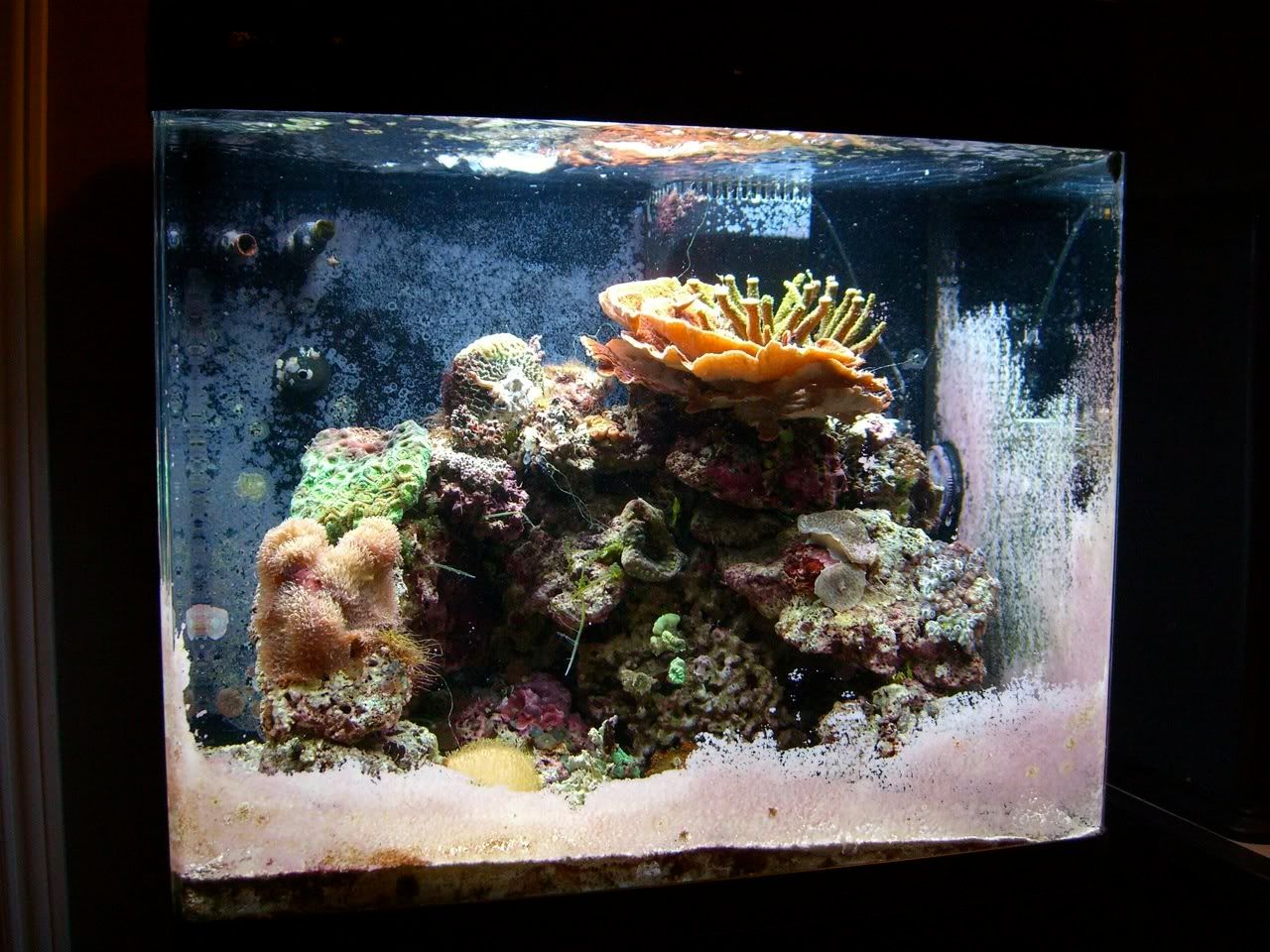 From the left: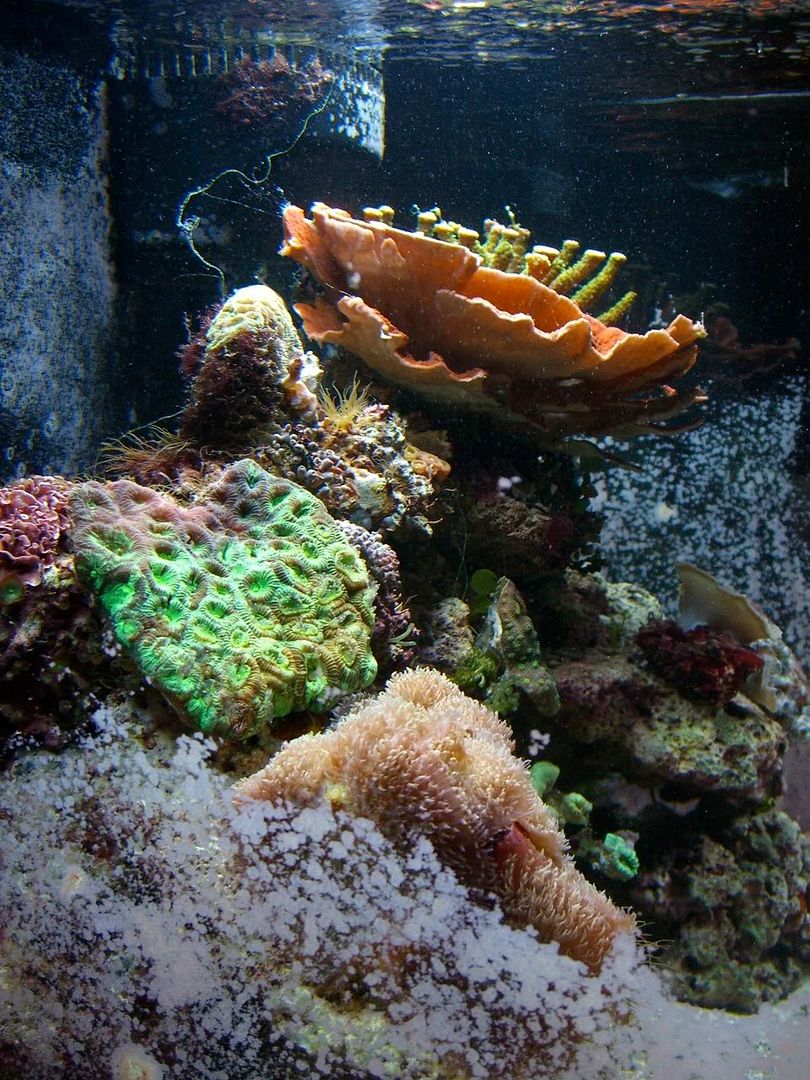 Seeing just how much these corals have filled up a 34g, I can't imagine how I had them in a 3g tank in the first place! I still have to go in and finish scraping off all the coralline algae off the front and the sides but other than that, everything seems to be stable and all the corals are acclimating nicely. So the lesson I learned? Sometimes neglecting a tank can lead to some unexpected miracles.