Hi all!
I've had a ton of fun on NR, and in my time here, started with a biocube 14, progressed to a 90g, and also have a 2.5g AIO pico. I am moving to a one bedroom apartment in 6 weeks, and would like to step back into the world of nano reefing. Here is my 90g as of now: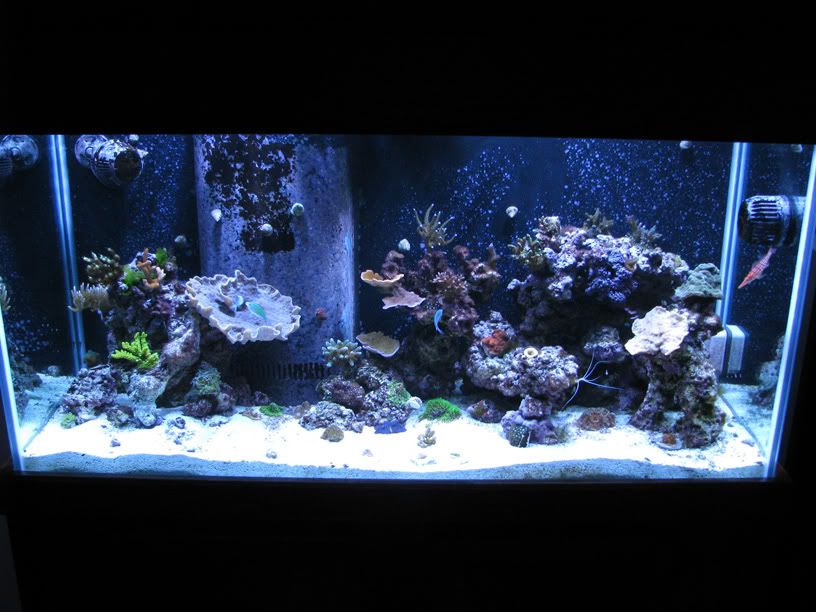 While the apartment is pretty large at 1000 sqft, and I have room for the 90, there are several reasons I am going back to nano reefing:
1)
Energy efficiency.
Right now I'm running 500w of light, and probably 100-200 more of various pumps. With my move to the cad 39, I plan to have 100w of light, and probably 50-100w of accessories. Major power savings! Not to mention the heat the large tank generates, prompting more work of the household A/C.
2)
Maintenance.
Lots of people say larger tanks are lower maintenance than nanos, but in today's world of efficiency and automation, that is BS! With the 90, all the in-tank maintenance has to be done standing on a chair, I have to mix and change 10g of water a week, and evaporation is 15g per week. I have to top up my 5 gallon ATO reservoir every 2 days, on average. With the nano, since I am going to be using T5, I am hoping that ATO reservoir will stay full for perhaps a week. That means I can even take a little vacation once in a while
. I really feel tethered to the 90 since it needs me every day, either for dosing or for reservoir top off.
3)
Cost.
While I'll probably lose money transferring over to the cad initially, I think I will save money in the long run. I will need to dose less two part, use less salt for water changes, and make less RO/DI. Also, the money saved on energy is real.
I'm also tired of the sump with the 90. I know most nano reefers that don't have sumps think they are really beneficial, and indeed they are, but there is a lot to be said about being able to do maintenance standing up
. This is the primary reason I went for the signature. I am going to be using the cabinet space for my ATO reservoir and for the two part reservoirs.
I hope I don't sound like I really hate the 90, I don't! It's been a lot of fun, I just want a smaller system at this point. I went for the largest cadlights model to keep most of our fish with personalities, like the hawkfish and jawfish. The tank should give me some growing room too.
So, here's my plan:
I have the cad tank and stand already ordered. I got it from one of our sponsors, OceanReeflections, and Ken there is a great guy! One thing I really appreciated was the super fast response to e-mail, which is crucial when dealing with and online business, IMHO. As some of you know, this tank is an AIO like a biocube, and comes with a skimmer.
For lighting, I am going with the 24" 4 bulb ATI Sunpower. I am trying to source one right now, but will be ordering as soon as I do.
In the future, I want to automate two part dosing with one of those pumps that has the spinning part that pulls the liquid (forgot what they are called), but for now I think I'll be fine doing it by hand. I am also really considering a RKL for only $100, mostly just for heater insurance. There's not much else I need one for, to be honest. I am worried the $100 controller will turn into $500 after buying all the extra accessories I'd need to truly automate the system with it.
I'm thinking right now about how to transfer the 90g into the 39. Obviously, I can't transfer the whole thing! My goal is to have the 90 broken down and dry (with extra rocks and coral sold) by move out day, and the 39 setup. I'll have to break down the 39 to move it, of course, so I'm not going to spend a ton of time aquascaping. Here is my transfer plan, for now:
1) Remove frags from rocks of 90, place on sandbed.
2) Remove half the rocks from the 90, place in a large rubbermaid,
3) Scoop out sand from half the 90 (the side the jawfish isn't in), rinse once or twice in a 5g bucket, and add to the 39.
4) Pile some rocks in the 39
5) Add 10g of used water from the 90 to the 39 at this time as part of a water change, and top it off with 30g of freshly made saltwater.
6) Keep the 90 running as is, and 39 running as is for a few days.
7) Sell the remainder of rock, sand, and frags I don't want from the 90 to local reefers.
8) Add frags to 39, acclimate to light, and move the vortech at this time.
9) when all the rock is out of the 90, trap and transfer the fish.
10) drain the 90 and store it!
Any advice on this?
Thanks for reading my thread! I know it will get interesting once the tank arrives!
Edited by becact, 22 January 2010 - 02:01 PM.